Democratic candidates enjoy windfall of out-of-state cash, as liberal donors bet big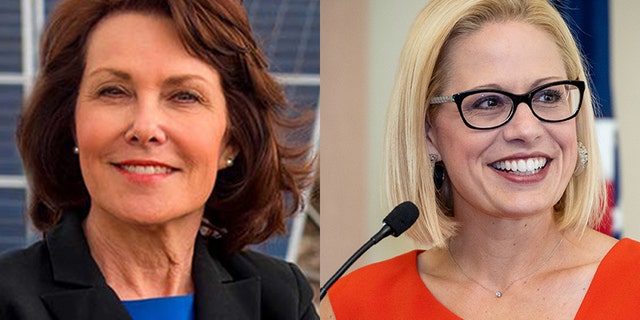 Democrats are outraising Republicans in this year's tight Senate races. Their secret: out-of-state donors.
The cash flood underscores how key races have become nationalized – influenced not only by President Trump or Nancy Pelosi, but by big political investments from well-heeled donors in Manhattan and Silicon Valley.
In Nevada, the numbers are most stark: While Republican incumbent Sen. Dean Heller has raised more than twice as much money from Nevadans as Democratic rival Jacky Rosen, she more than made up for it outside the state.
More than 85 percent of Rosen's donations come from out-of-staters, according to the nonpartisan Center for Responsive Politics, compared with 59 percent for Heller.
Thanks to the outside money, Rosen beats Heller in total fundraising by more than a million dollars.
The Heller campaign, in turn, has accused Rosen of being funded by liberal-state interests.
"Jacky Rosen's campaign is fueled and propped up by millions of dollars from California and New York," campaign spokesman Keith Schipper told Fox News. "She is bought and paid for by the progressive elites who know they can count on her to be a reliable vote."
According to the Center for Responsive Politics, Rosen's top-five donor zip codes are:
10023 (New York, N.Y.) $127,757
20815 (Chevy Chase, Md.) $121,542
10024 (New York) $119,611
94301 (Palo Alto, Calif.) $86,591
94027 (Atherton, Calif.) $80,138
Heller's top-five donation sources are:
89135 (Las Vegas, Nev.) $255,845 
89511 (Reno, Nev.) $182,820
89134 (Las Vegas) $115,076 
89052 (Henderson, Nev.) $111,943
89509 (Reno) $110,883
That doesn't include money from outside groups, which also favor the Democrat by $23 million to $15 million, according to The Campaign Finance Institute.
Rosen's campaign did not respond to a call and email for comment. But campaign finance experts suggested the out-of-state donations merely speak to the significance of this year's midterms.
"It's not about coastal elites. That's a caricature," Michael Malbin, director of The Campaign Finance Institute, told Fox News. "It's because donors all over country understand that control of the whole Senate chamber is at stake."
Another big reason: The rise of a Democratic fundraising tool called "ActBlue," which facilitated more than $1 billion in donations to Democrats this election cycle.
"ActBlue has created a vehicle that allows people to give even to candidates they know very little about. The GOP has not been able to create anything like that," Malbin said.
The donations coming through ActBlue are often small-dollar donations. So Rosen gets a greater proportion of her funds from small donors than Heller does.
Nevada is hardly the only place getting political money from all over the country.
In every state rated a "toss up" by the Fox News Senate Power Rankings, the Democrat received more donations, including more out-of-state donations. The five toss-up states are Arizona, Florida, Indiana, Missouri, and Nevada.
In all but one toss-up – Missouri – the Democrat also received more funding from outside groups, according to data from The Campaign Finance Institute.
The groups range from the pro-choice Emily's List to Giffords PAC, a Bloomberg-funded group backing candidates that support gun control, to the NRA.
All sources combined, Democrats have a money lead in Arizona, Indiana and Nevada (where the nominees are Kyrsten Sinema, Joe Donnelly and Rosen, respectively), but not in Missouri.
In Florida, while Democrats have the edge in fundraising, Republican candidate and Gov. Rick Scott (a former businessman) put up $38 million of his own money to flip the tables.
The fundraising trend goes beyond toss-up states. In Montana, more than twice as much money went toward Democratic Sen. Jon Tester than his Republican rival Matt Rosendale. The state is currently ranked as lean Democrat.
In Texas, more money went to Democrat Beto O'Rourke than Republican Sen. Ted Cruz, even as Cruz leads in the polls. Tennessee is the odd state out, as the money slightly favors Republican Marsha Blackburn. She also leads in the polls.
Some who study the political process say out-of-state contributions are understandable.
"I'm a big proponent of allowing this money to flow across borders," Mark Crain, an economics professor at Lafayette College, told Fox News.
"The politician that has the biggest influence on your life is probably not the politician elected in your district."
Asked if local voters might see that as outsiders trying to meddle, Crain said politicians would need to weigh that problem and could even reject the money.
Fundraising does not always determine winners. In 2016, the Clinton campaign and outside supporters out-raised Trump's campaign and backers by nearly 2-to-1, yet lost.
In Nevada, Heller's campaign spokesman says he's confident outside money won't sway the election.
"The amount of money they are pouring in to buy this U.S. Senate seat is unprecedented," Schipper said. "But make no mistake, this is Nevada's seat and it's not for sale."
The author, Maxim Lott, is Executive Producer of Stossel TV and creator of ElectionBettingOdds.com. He can be reached on Twitter at @MaximLott