Democrat Lincoln Finds Voice, Holds Strong in Face of Primary Challenge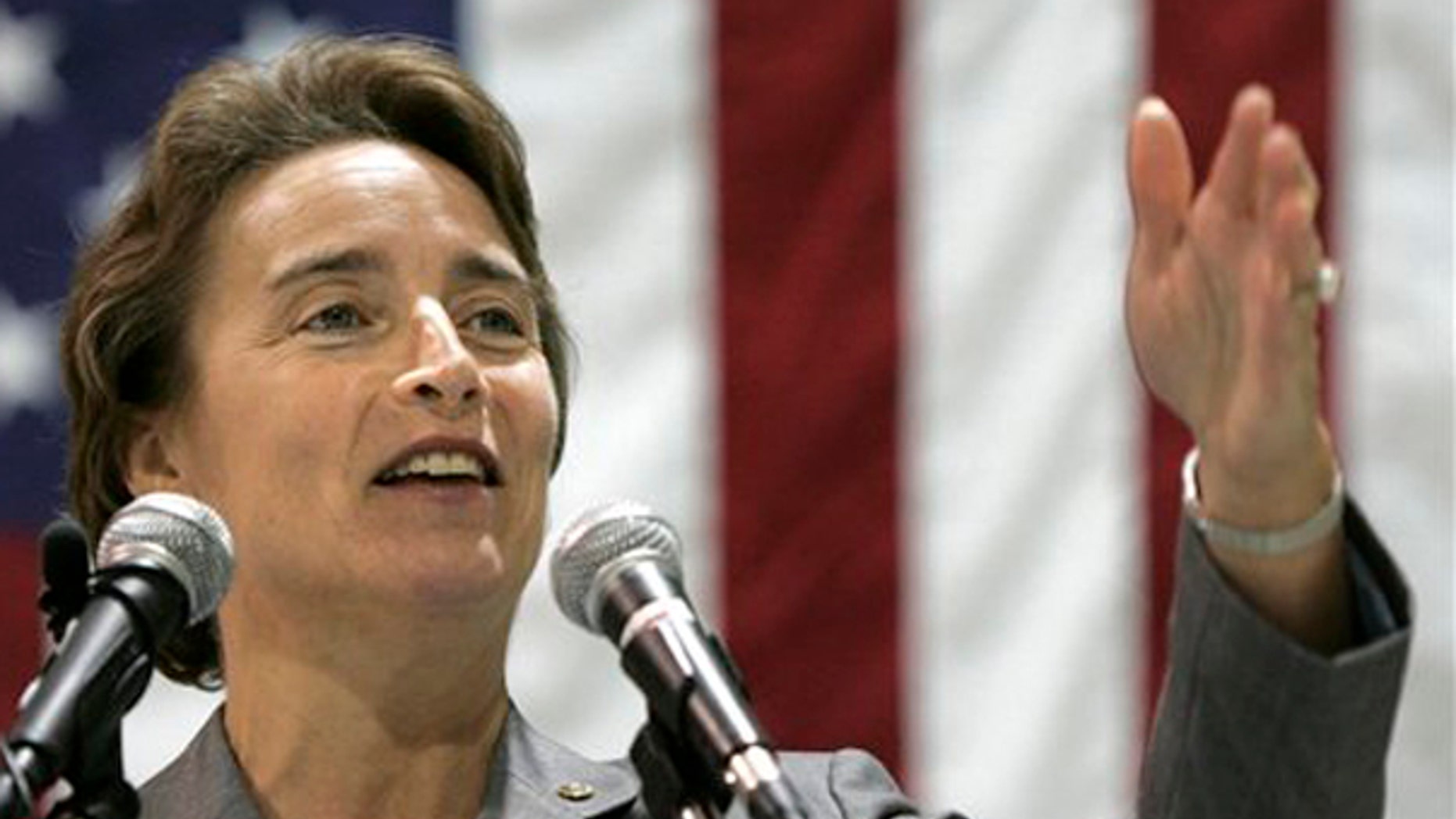 LITTLE ROCK, Ark. -- Name calling. Negative ads. Reminders of ancient votes and long-ago business dealings. Large sums of money pouring in from out-of-state players. An embattled incumbent and a well-financed challenger from within her own party, both hounded by an obscure third candidate who could trigger a costly and bruising run-off.
By any measure, the contest for the Democratic Party nomination in Arkansas' Senate race is shaping up as a brutal example of modern primary campaigns.
The surprise in all of it has been two-term Sen. Blanche Lincoln, who has weathered a rough political climate and emerged, on the eve of the contest's first televised debate, in a stronger position than many analysts would have predicted for her at this point.
Lincoln's main threat in the state's May 18 primary comes from Lt. Gov. Bill Halter, a former Clinton administration official favored by many party officials in the Arkansas Democratic establishment.
But a significant role could also be played by D.C. Morrison, a little-known businessman who could conceivably attract enough support to prevent Lincoln or Halter from securing 50 percent of the primary vote -- a scenario that would plunge the top two vote-getters into a June 8 runoff.
Statewide polling shows Lincoln trailing all of the Republicans vying for the Republican nomination but maintaining a large lead over Halter. A survey of likely Democratic primary voters conducted between April 12-14 -- and commissioned by the liberal political website DailyKos, whose founder, Markos Moulitsas, is a declared supporter of Halter -- shows Lincoln leading Halter 45 percent to 33 percent, with 22 percent undecided or favoring another candidate. That reflected a largely unchanged dynamic from three weeks earlier, when Lincoln led Halter 44 percent to 31 percent. The survey contained a margin of error of 5 percent.
Another poll, conducted by Talk Business on April 14 and targeting 1,167 likely Democratic voters, found Halter closing the gap to single digits, trailing Lincoln by a margin of 38 percent to 31 percent. Morrison netted 10 percent and 20 percent remained undecided, with a margin of error of 3 percent.
Lincoln aides dismissed the survey because it was conducted via automation and because they claimed it over-sampled from particular congressional districts seen as favorable to Halter.
Still, Halter is well financed, having raised upwards of $2 million in the first quarter of 2010, and he enjoys the support of many in the state's Democratic Party apparatus. National labor unions have also spent heavily to attack Lincoln.
Although Lincoln has been fending off Halter's attacks since he declared his candidacy in early March, the race has taken on an even sharper tone in the week since the Securities and Exchange Commission filed civil charges against the New York investment bank Goldman Sachs.
Halter has called on Lincoln -- whom he derides as "Bailout Blanche" -- to return or donate to charity the $10,000 her campaign has received over the last two years from the Goldman Sachs political action committee.
"She's on a committee charged with oversight of Wall Street," Halter told Fox News Friday. "If you talk to Arkansans, they have real concerns about the power and influence of all this money in politics."
The Lincoln campaign counters that Halter, whom the senator has dubbed "Dollar Bill" in reference to the alleged outsourcing of American jobs to India undertaken by a company on whose board of directors Halter formerly sat, is distorting the senator's records and promises.
In what has become legendary in local politics as "the Lincoln memo," a September 2009 document posted on the Lincoln campaign website, campaign manager Steve Patterson explained that the senator had only promised not to accept campaign contributions from firms that still owed TARP money to the federal government. Goldman Sachs repaid its TARP loan in June 2009, and began making its contributions to the Lincoln re-election campaign later in the year.
Still, the Lincoln campaign evidently regarded the prospect of further support from Goldman Sachs -- and the likelihood of continued attacks on the issue by Halter -- as cause for worry. On Wednesday, Lincoln's campaign announced it would no longer accept contributions tied to the bank and that it was scrapping a planned fundraising event with bank personnel.
"In light of the SEC lawsuit against Goldman Sachs," said campaign spokeswoman Katie Laning Niebaum, "Senator Lincoln will schedule no future campaign-related events with the firm and will accept no further contributions from the firm's political action committee or its employees."
Lincoln is also chairman of the Senate Agriculture Committee, and hopes to use that position to demonstrate both her seniority in Washington and her aggressiveness in efforts to rein in Wall Street excesses.
On Wednesday, the very day Lincoln's campaign aides announced their new policy toward Goldman Sachs, the Agriculture Committee approved, largely along party lines, the senator's proposal for tough new regulations on the derivatives industry, a major factor in the country's financial meltdown.
"Financial market oversight reform is the single most important factor in our long-term economic recovery," Lincoln said after gaveling the committee to order. "The greed and excess on Wall Street spiraled out of control and families and small businesses were left to pay the price. ... To contemplate inaction is unacceptable."
Interviewed by Fox News this week outside the hearing room, Lincoln gave no indication she plans to return any of the campaign money already received from Goldman Sachs, notwithstanding Halter's demands.
"It was a $4,500 dollar contribution," she said with a shrug. "I've had contributions from the ag community, from, you know, every other community out there. It clearly has had no impact on my decision-making. You raise money from a lot of different people in order to be able to run good campaigns -- and that's what we're trying to do."
Asked if she thought Halter was simply playing politics, Lincoln shot back: "It sounds like it."
For his part, Halter, who spent six years working at the White House Office of Management and Budget under President Clinton, applauded the senator's derivatives bill but said it "comes far too late for millions of Americans and thousands of Arkansans."
"Senator Lincoln only saw the light and chose to take action when facing a tough challenge from Bill Halter," added Halter manager Carol Butler. "It's taken Senator Lincoln 17 years to finally take a stand, all while taking over $1.3 million in contributions from Wall Street."
Friday night's televised debate will see the two square off face-to-face, alongside the potential spoiler Morrison, at the University of Arkansas at Little Rock. The three will field questions from a panel of local reporters and from selected TV viewers whose e-mails will be read aloud by the moderator, KATV anchor Scott Inman.