Dem state officials refusing to cooperate with Trump voter fraud probe
Democratic state officials already are refusing to cooperate with the voter fraud investigation ordered by President Trump, saying they will not hand over the extensive "voter roll data" the commission is seeking.
The response comes after Kris Kobach, the Kansas secretary of state serving as vice chair of the Presidential Advisory Commission on Election Integrity, wrote to all 50 states this week asking for their input as well as voter registration data.
"I have no intention of honoring this request. Virginia conducts fair, honest, and democratic elections, and there is no evidence of significant voter fraud in Virginia," Virginia Democratic Gov. Terry McAuliffe countered in a statement Thursday, claiming the commission is based on the "specious and false notion that there was widespread voter fraud last November."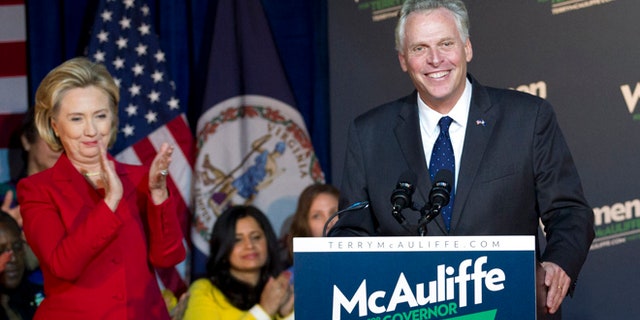 Trump created the panel via executive order in May to review alleged voter fraud, after making the explosive claim that 3 million to 5 million people illegally voted in the 2016 presidential election.
TRUMP LAUNCHES VOTER FRAUD PROBE
In his letter, Kobach had asked for recommendations on how to improve election integrity and for guidance on which laws "hinder" that goal. But what rankled Democratic officials was his request for voter information including names, dates of birth, political party, the last four digits of Social Security numbers, voter history ("elections voted in"), felony convictions, military status and more.
Kobach specified in the letter he would only request "publicly-available voter roll data" under each state's laws.
Connecticut Secretary of the State Denise Merrill said in a statement that her office would provide such information "in the spirit of transparency." But, suggesting some of the requested data would not be sharable under state law, she said she would ensure "the privacy of voters is honored by withholding protected data." Merrill also voiced concern that state officials "have not been told precisely what the Commission is looking for."
Virginia and California were more brazen in their response.
ACLU SEEKS EVIDENCE FOR TRUMP VOTER FRAUD CLAIMS
McAuliffe, a former Democratic National Committee chairman and longtime Clinton family ally, said, "At best this commission was set up as a pretext to validate Donald Trump's alternative election facts, and at worst is a tool to commit large-scale voter suppression."
The governor declared he would not "divert resources" to this.
California Secretary of State Alex Padilla struck a similar chord, saying in a statement he would "not provide sensitive voter information to a commission that has already inaccurately passed judgment that millions of Californians voted illegally."
He added, "California's participation would only serve to legitimize the false and already debunked claims of massive voter fraud made by the President, the Vice President, and Mr. Kobach."
Kentucky Secretary of State Alison Lundergan Grimes – a Democratic official in a state with a Republican governor – also said she does "not intend to release Kentuckians' sensitive personal data to the federal government."
"Kentucky will not aid a commission that is at best a waste of taxpayer money and at worst an attempt to legitimize voter suppression efforts across the country," she said in a statement.
Kobach told The Kansas City Star he's just looking for the "best data possible."
He rejected as "nonsense" any claims that the data could be used to suppress the vote, saying, "The purpose of the commission is to quantify different forms of voter fraud and registration fraud and offer solutions. And so you have to have this data in order to do any meaningful research."
Trump's voter fraud claims and commission have been controversial from the start.
He originally called for a major investigation into voter fraud back in January, after telling congressional leaders that 3 million to 5 million people illegally voted in the November election.
Trump said the probe would focus on those registered to vote in two states, "those who are illegal" and registered voters who are actually dead.
The commission was not created until months later and was panned by critics as a vehicle to pursue his claim about millions voting illegally. Trump won the Electoral College vote, and with it the presidency, but lost the popular vote to Democratic nominee Hillary Clinton by about 3 million votes.
House Speaker Paul Ryan said back in January he had seen "no evidence" to back up Trump's claim of millions of illegal votes. Trump has since said the issue mostly revolves around voter registration problems.
A 2012 Pew study indeed found evidence of outdated voter registration forms, though the author of that study tweeted earlier this year there is "zero evidence" of fraud.
There have been some documented cases of voter fraud, however, including cases Kobach has pursued in Kansas.
Kobach told Fox News' "Sunday Morning Futures" in May that the commission, chaired by Vice President Pence, would look beyond the 2016 election to cover voting irregularities and fraud and registration problems.
"We'll be gathering data from all 50 states and we'll be using the federal government's databases which can been very valuable," he said at the time.
Asked Friday about the state-level pushback, Pence Press Secretary Marc Lotter said the commission is "seeking publicly available information per state law" and noted that no one on the bipartisan commission itself objected.