Dem reps want senator statue removed from Capitol over 'xenophobia' claims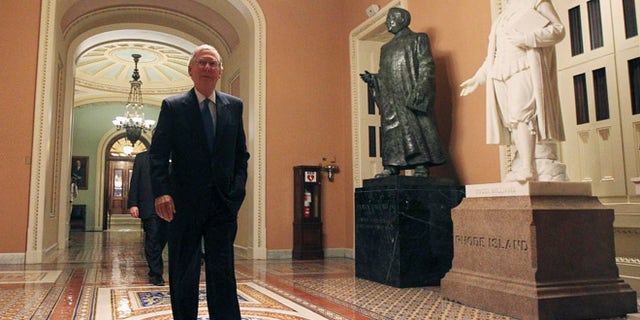 NEWYou can now listen to Fox News articles!
Three Democratic lawmakers are asking to have a statue of the late Nevada Sen. Patrick McCarran removed from the U.S. Capitol's Statuary Hall, alleging the senator stood for a "legacy of racism, anti-Semitism, and xenophobia."
Nevada Reps. Dina Titus, Ruben Kihuen and Jacky Rosen raised their objections in a letter to Republican Gov. Brian Sandoval. The request amounts to the latest battle over artwork on Capitol grounds, amid an ongoing and separate dispute over a student painting that portrays police officers as pigs.
McCarran served as a Democratic senator from 1933–1954 and was influential in promoting the advancement of aviation. Las Vegas's international airport is named after him. He also was an ardent anti-communist and sponsored legislation enacting a quota on immigrants and was one of a few Democrats to oppose FDR's New Deal program.
The three lawmakers opposing his statue now want to feature a person they say better represents American values.
But replacing the statue – something retired Sen. Harry Reid also fought for – is a heavy lift. The Nevada State Legislature would have to vote on choosing another worthy Nevadan to honor. They then would have to form a special committee to determine who would sculpt it and how it would be paid for.
The matter would then fall to the Architect of the Capitol. According to the website of the Architect of the Capitol, "A duly authorized State official, typically the governor, shall submit to the Architect of the Capitol a written request to provide a new statue and a description of the location in the State where the replaced statue will be displayed after it is transferred."
Statuary Hall in the U.S. Capitol has two statues of prominent Americans from each state. The other Nevadan statue depicts 19th Century Native American author and educator Sarah Winnemucca.