Dem Rep. Gutierrez owes John Kelly an apology, House majority leader says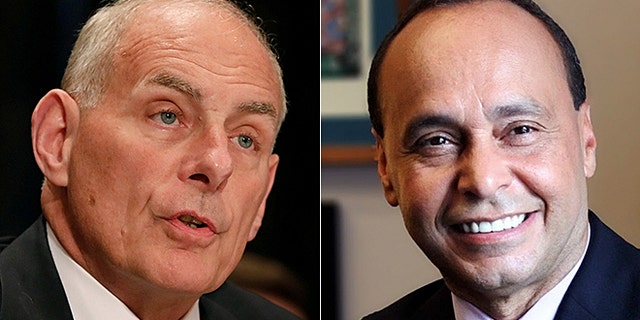 NEWYou can now listen to Fox News articles!
House Majority Leader Kevin McCarthy is calling on Illinois Democratic Rep. Luis Gutierrez to apologize for saying White House Chief of Staff John Kelly, a retired Marine general, is "a disgrace to the uniform."
"What is disgraceful is to attack the character of such an honorable man, who has dedicated his life to serving this country and whose family gave the ultimate sacrifice. I believe Rep. Gutierrez owes General Kelly and his family an apology," McCarthy told reporters Wednesday.
McCarthy noted how Kelly, whose son was killed in Afghanistan in 2010, is the highest-ranking servicemember to lose a child in Afghanistan or Iraq.
"General Kelly has served his country in the Marines," McCarthy said. "He is serving his country again in this administration. He is truly an American patriot."
Gutierrez attacked Kelly last week after expressing anger over President Trump's decision to end the Deferred Action for Childhood Arrivals, or DACA, program that shielded young illegal immigrants from deportation.
"General Kelly is a hypocrite who is a disgrace to the uniform he used to wear," Gutierrez said.
The Democrat also said Kelly "has no honor and should be drummed out of the White House along with the white supremacists and those enabling the president's actions by 'just following orders.'"
In an email to Fox News late Sunday, Kelly responded to Gutierrez by saying Congress did "nothing" to help the young illegal immigrants in the DACA program when they had the chance.
JOHN KELLY FIRES BACK AT DEMOCRAT WHO CALLED HIM 'DISGRACE TO THE UNIFORM'
"As far as the congressman and other irresponsible members of Congress are concerned, they have the luxury of saying what they want as they do nothing and have almost no responsibility," Kelly said. "They can call people liars but it would be inappropriate for me to say the same thing back at them. As my blessed mother used to say 'empty barrels make the most noise.'"
He concluded, "The congressman has a right to his opinion."
But Gutierrez isn't backing down. He doubled down on his attack at a Congressional Hispanic Caucus Institute event on Tuesday.
"He's a politician, okay, not a general," Gutierrez said, according to the Washington Post. "I don't see a uniform. He's a politician who works for Donald Trump."
Fox News' Christopher Wallace and Mike Emanuel contributed to this report.