Dem Joe Manchin suffers biggest plummet in job approval of any senator: poll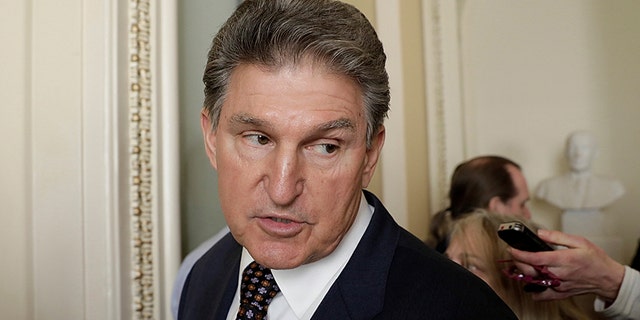 Sen. Joe Manchin, D-W.Va., had the sharpest plummet in job approval of any senator in the country according to a poll out Thursday, marking more bad news for a senator already labeled vulnerable in November and facing an ethics complaint.
The Morning Consult poll found that Manchin's approval rating fell to 43 percent for the first quarter of 2018 – a 17-point drop from the fourth quarter of 2017, with a 44 percent disapproval rating.
Representing coal country, Manchin voted for President Donald Trump's top two nominees to run the Environmental Protection Agency. The website FiveThirtyEight ranks Manchin as having a 60.3 percent pro-Trump voting record. Manchin, however, voted against tax reform and stood with Democrats in defending ObamCare.
In the once solidly-blue state previously represented in the Senate by unapologetic liberals Robert Byrd and Jay Rockefeller, Manchin is trying to cling to his seat in a year projected to be good for Democrats.
"It's been trending red since the 2000 presidential election when the catalyst was guns first and then coal and the carbon tax," said Jennifer Duffy, senior editor with the Cook Political Report, which ranks this Senate race a tossup.
"By 2012, the die was cast. The only Democrats who could survive were ones like Manchin," Duffy told Fox News. "If he loses, it would cement the idea that Democrats could not elect anyone statewide. The presidential performance has a lot to do with how a party performs in a state. He's still a blue dog in a Senate where it's hard to be in the middle. But, when push comes to shove, he usually votes with Senate Democrats."
Trump carried West Virginia by 42 points in 2016, and has had the highest approval rating there than in any other state, according to Gallup. And, the president made an aggressive case against Manchin last week during a visit to White Sulphur Springs, W.Va.
"He votes against everything, and he voted against our tax cuts, and that was bad. He also voted against medical help and healthcare. And that's bad, and we can't have it," Trump said, later adding, "You're going to have a chance to get a senator that's going to vote our program."
What Manchin has going in his favor is a divided Republican field. West Virginia Attorney General Patrick Morrisey, Rep. Evan Jenkins and former coal executive Don Blankenship are competing in the May 8 primary.
Business and labor endorsements could also sharpen the incumbent's image as a centrist. The state's AFL-CIO, United Mine Workers, the West Virginia Hospitality & Travel Association and HuntPAC, the political action committee for the Huntington Regional Chamber of Commerce, have each endorsed him for re-election.
"It means so much to have the support of both business leaders and labor in this campaign because there is so much more we can do when we are united," Manchin said in a press release. "All sides must come together to create good-paying jobs with benefits for our people."
"He votes against everything, and he voted against our tax cuts, and that was bad. He also voted against medical help and healthcare. And that's bad, and we can't have it. You're going to have a chance to get a senator that's going to vote our program."
Manchin campaign spokesman Grant Herring did not respond to phone and email inquiries from Fox News for this story.
Manchin also faces a potential probe by the Senate Select Committee on Ethics over his interest in West Virginia hotels facing default and litigation, after the conservative government watchdog group Foundation for Accountability and Civic Trust (FACT) filed an ethics complaint.
The election will likely be long over before the ethics committee takes up the case, Duffy said.
"Republicans have been hitting that for months," Duffy said. "But it fits into their larger message that this isn't the Joe Manchin you knew as governor."
Manchin is the co-owner of AA Properties, LLC, along with his longtime political aide Larry Puccio. The company was reportedly listed among borrowers in the original $15 million loan for the Hilton Garden Inn in Morgantown, which went into default. They were also listed as investors in a case of default regarding a $19.6 million loan on hotels in Clarksburg and Elkins.
The state government is suing to gain hundreds of thousands of dollars in taxes collected by the hotels but not passed along to the state coffers. Magnolia and Harrison county governments also are trying to collect thousands in unpaid taxes collected by the hotels.
Manchin's Senate disclosure form reportedly states he had between $50,001 to $100,000 invested in AA Properties, with earnings of $11,200 in 2016.
Asked about the complaint, Manchin Senate spokesman Jonathan Kott told Fox News, "I ignored your email for a reason. I have nothing to say." Minutes later, he replied in an email, "Your questions have been asked and answered."
Kott told the Charleston Gazette-Mail in August, "Senator Manchin and Larry Puccio have no affiliation or stake in AA Property Group and no ownership interest or stock in Mountain Blue Hotel Group or the Hilton Garden Inn." However, Kott later clarified his statement, telling the Washington Free Beacon, "Senator Manchin has part ownership in AA, but AA has no ownership or affiliation with the hotels."
Also in August, West Virginia Metro News reported Manchin said he was unaware because his investments are in a blind trust. "The only thing I'm told is that we have no involvement whatsoever."
Puccio has also reportedly denied involvement.
The complaint, filed in February, says Manchin has had a stake in AA Properties since he was elected to the Senate in 2010, but didn't provide details about the "underlying assets."
"From a natural human perspective he may be embarrassed by the bankruptcies and litigation, Clearly, without a hard assessment, we don't know what all those assets are," Kendra Arnold, executive director of FACT, told Fox News. "Full disclosure is the only way to assess potential conflicts of interests. We need to know exactly the businesses and business entities."
The ethics complaint says failure to provide required information on financial disclosure forms is subject to a fine of up to $11,000.
"Instead, Senator Manchin has profited from AA Properties while repeatedly failing to tell his constituents about the nature and origin of those profits," the FACT ethics complaint states.
"In recent court filings AA Properties has been identified as having an investment interest in Emerald Coast Realty, Mountain Blue Hotel Group, and Mountain West Hospitality LLC. Each of these companies were involved in multi-million dollar lawsuits in which AA Properties was identified as an investor, evidenced by loan documents filed in the cases of Mountain Blue and Mountain West."
Fred Lucas is the White House correspondent for the Daily Signal.