Declining Security Conditions in Haiti Could Complicate Rescue Efforts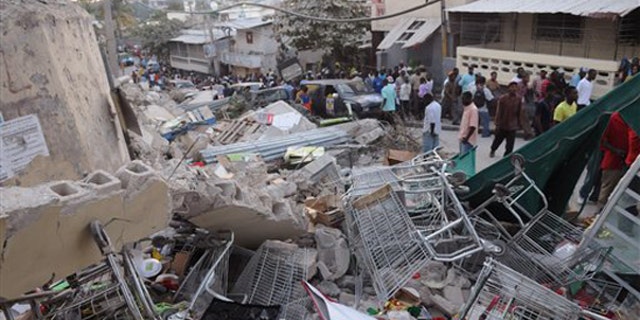 The devastating earthquake in Haiti that left thousands homeless without power, electricity and water could lead to rapidly deteriorating security conditions there, complicating U.S. rescue and aid efforts in the poorest nation in the Western Hemisphere.
Fears are mounting that tens of thousands could try to flee the country, as happened when Haitians faced oppression and poverty throughout the 1970s, '80s and early '90s. In the 1990s, thousands of Haitians interdicted by the U.S. Coast Guard were sent to the U.S. base at Guantanamo Bay, Cuba, before being repatriated home.
The United Nations has kept a peacekeeping mission in Haiti since 2004, when the country's president at the time, Jean-Bertrand Aristide, resigned and the international agency deemed the threat of anarchy in Haiti could destabilize the region.
But the U.N. peacekeeping missions is under serious strain following the earthquake, which also led to the collapse of the main prison and reports of escaped inmates.
The U.N. said Wednesday that 17 U.N. personnel were killed and 150 workers were still unaccounted for, including the mission chief, Hedi Annabi, whom Haitian President Rene Preval said died in the quake.
Deputy National Security Adviser Denis McDonough told Fox News that the area is still calm.
"So far, we haven't heard much in terms of increased insecurity," he said. "But obviously we want to make sure we're seeing this whole package."
Gen. Douglas Fraser, head of the U.S. Southern Command, told reporters Wednesday that he wasn't sure yet if U.S. troops might be needed to provide a peackeeping force. But he added that the U.N.'s security force, United Nations Stabilization Mission in Haiti (MINUSTAH), has done a "significant job in sustaining and maintaining stability and security within the country."
"So we will work with MINUSTAH and get assessments and figure out what the security situation is and then decide what to do from there," he said.
State Department Counsel Cheryl Mills said eight of the 172 U.S. embassy personnel in Haiti were injured in the quake, and the State Department has ordered the departure of approximately 80 embassy spouses, children, non-essential personnel.
Homeland Security officials said the U.S. will halt for now the deportation of Haitians who are living in the United States illegally. Those who were to be deported to Haiti will remain in U.S. detention centers.
Meanwhile, military planners are considering housing Haitian refugees at "Camp Justice," the guest quarters for media, U.S. officials and military commissioners at Guantanamo Bay detention facility.
"It's a resource that's available if we need to take advantage of it for various reasons," Fraser said. "We're looking across the region to just understand what the possibilities are there."
Two senior Defense Department officials told Fox News on Wednesday that no final determination has been made since the military is still in its "assessment" mode, but it is a possibility.
"We are certainly keeping that option open," one official said.
A Coast Guard spokesman said four Americans from the U.S. embassy in Haiti have already been brought to Gitmo, which is about 180 miles away, the closest U.S. base to Port -au-Prince.
"They required medical evacuation. We were able to get a helicopter in there, and they were medically evacuated from the embassy to Gitmo," the spokesman said.
The Guantanamo Bay prison has been at the center of a debate on U.S. national security as the administration struggles to find homes for the remaining terror suspects so it can close the facility. Critics of the plan say the facility should stay open and oppose the transfer of detainees to the U.S. or unstable countries such as Saudi Arabia.
Military officials at the base have said in recent months that even if the detention facility closes, Camp Justice might remain open so that refugees from the Caribbean could be housed there, when necessary.
On Capitol Hill, Sen. Kirsten Gillibrand, D-N.Y., called on President Obama to grant temporary protected status for Haitians who fled to America because of past violence and disaster.
"Many of these families have experienced far too much anguish already," she said in a letter to Obama Wednesday. "It is for that reason I am renewing my call to President Obama to grant these families temporary protected status so they do not have to lie in fear of having to immediately return to a country ravaged with devastation.
The deliberation on Haitian refugees comes as the U.S. rushes emergency aid to the country. The U.S. Coast Guard and the Federal Emergency Management Agency are leading the Department of Homeland Security's efforts to provide emergency relief.
"I am being kept closely apprised of the developing situation, and the department will continue to support the people of Haiti and others affected by this tragedy," Homeland Secretary Janet Napolitano said, urging Americans to donate what they can to disaster relief groups such as the American Red Cross.
Fox News' Justin Fishel, Mike Levine and The Associated Press contributed to this report.