DEA chief Leonhart to retire amid fallout from scathing inspector general report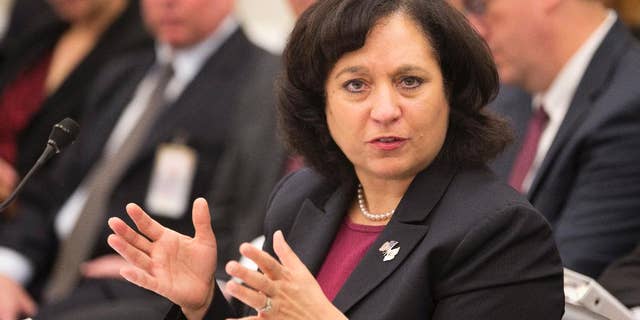 NEWYou can now listen to Fox News articles!
Drug Enforcement Administration chief Michele Leonhart has decided to retire and will leave the agency in mid-May, Attorney General Eric Holder announced Tuesday.
The move follows a scathing federal watchdog report about sexual misconduct within the agency and a growing lack of confidence in her ability to lead and make changes.
Leonhart served 35 years in the DEA and has led the agency since 2007.She is the second woman to hold the job of DEA administrator.
"Michele has led this distinguished agency with honor," Holder said. "And I have been proud to call her my partner in the work of safeguarding our national security and protecting our citizens from crime, exploitation and abuse."
Her decision follows the recent release of an inspector general's report detailing sexual misconduct within several Justice Department agencies and Leonhart's response last week to Congress about the findings.
Lawmakers have been pushing for Leonhart's ouster since her appearance last Tuesday before the House Committee on Oversight and Government Reform, when she attempted to respond to the scathing government watchdog report.
A majority of committee members later said in a letter they had lost confidence in her and that she "lacks the authority and will to make the tough decisions required to hold those accountable who compromise national security and bring disgrace to their positions."
The IG report recounted allegations that drug agents attended sex parties with prostitutes, some funded by local drug cartels, in a foreign country. The DEA said the incidents happened in Colombia.
The no-confidence statement was signed by 13 House Democrats and nine Republicans, including committee's chairman, Rep. Jason Chaffetz, R-Utah, and its top Democrat, Rep. Elijah Cummings, of Maryland.
Chaffetz went a step further, calling for Leonhart to resign or be fired.
"In light of the DOJ inspector general's report and the testimony we heard before our committee, Ms. Leonhart's retirement is appropriate," Chaffetz and Cummings said in a joint statement. "With the opportunity now for fresh leadership, we are hopeful that the DEA can restore itself to an agency of distinction and excellence."
On Tuesday before Holder's announcement, White House spokesman Josh Earnest decline to comment on at least one administration source telling reporters that Leonhart was set to leave the agency.
He instead reiterated that the Obama administration has concerns about the material in the inspector general report "that raised legitimate and serious questions about the conduct of some DEA officers."
Leonhart has previously been the target of online petitions calling for her ouster after she distanced herself from the administration's stance on legalized marijuana, seen as a hands-off approach that lets states legalize marijuana so long as it is state regulated.
Marijuana remains illegal under federal law and is classified by the DEA as a Schedule 1 drug, along with drugs such as heroin and peyote.
Leonhart also declined to fully endorse sentencing reform efforts supported by the Justice Department.
Fox News' Matthew Dean and The Associated Press contributed to this report.