Dayton Wins Democratic Primary for Minn. Governor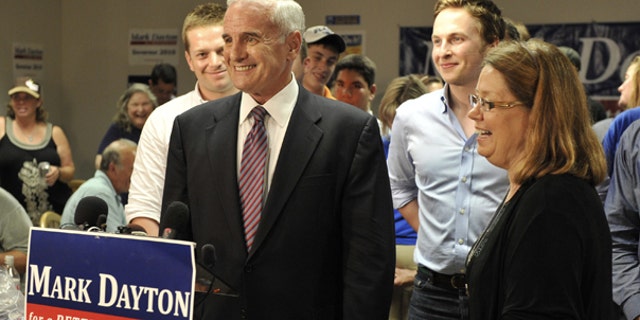 MINNEAPOLIS -- Mark Dayton won the Democratic nomination for Minnesota governor Tuesday in a bid to rebuild a political career scarred by a frustrating six years in the U.S. Senate.
Dayton beat the Minnesota House speaker and a former Democratic legislator in a primary race during which he ran hard to the left. He advances to face his polar opposite in Republican Tom Emmer, a conservative legislator who coasted to the GOP nomination.
Minnesota voters will have a sharp contrast when they choose a replacement for Republican Gov. Tim Pawlenty, who didn't seek a third term. The state hasn't had a Democratic governor in two decades. A potential complication for both sides is Tom Horner, a former GOP strategist running on the Independence Party ticket.
Emmer says he would balance the books through spending cuts alone, while Dayton promises a new top tax bracket to help deal with a massive deficit.
"He wants everybody to pay their equal share," Jerry Sundahl, 58, a Minneapolis resident who described himself as between jobs, said after voting for Dayton.
The "tax the rich" theme echoed through the Democratic primary campaign but Dayton took it further than his opponents. His new taxes would come into play on incomes starting at $130,000.
"For every dollar of revenue you don't raise by raising taxes on the richest Minnesotans, a dollar of funding for education, health care or human services is going to have to be cut," Dayton reasoned during the final debate Sunday.
The Democratic Party backed House Speaker Margaret Anderson Kelliher, who was trying to become Minnesota's first female governor. But Dayton relied on personal wealth and high name ID to beat Kelliher and the race's top spender, Matt Entenza.
Entenza dropped early, but Kelliher led Dayton for most of the night. He finally took the lead near midnight on late returns from northeastern Minnesota's union-strong Iron Range. With 95 percent of precincts reporting, he led Kelliher 41 percent to 40 percent.
The Dayton name is widely known in Minnesota, where the former senator's great-grandfather opened a dry goods store that ultimately grew into Target Corp. The 63-year-old Dayton also has a lengthy past in Minnesota politics.
Dayton won elections as state auditor in 1990 and for the Senate seat in 2000. He lost a race for Senate in 1982 and a Democratic primary for governor in 1998. He served in the cabinet of Minnesota's last Democratic governor, Rudy Perpich.
Dayton spent $12 million of his own money toward his Senate victory a decade ago, and already has supplied his campaign with $3.3 million this time around.
At the outset of this campaign, Dayton revealed he had long suffered from mild depression and taken medication for it. A recovering alcoholic, he also disclosed that he slipped late in his Senate term and sought treatment in 2007. He said he has been sober since and insisted neither issue would hinder his competence to lead the state.