Cuba celebrating reopening of D.C. embassy; Marco Rubio shouldn't wait for invite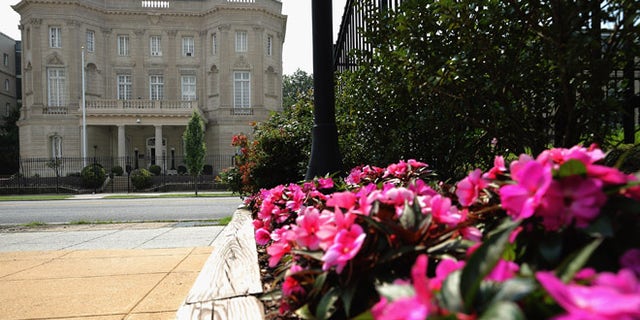 NEWYou can now listen to Fox News articles!
Havana – Cuba announced details of the ceremony that will mark the reopening of its embassy in Washington, D.C. after more than 50 years of Cold War enmity.
The current Cuban Interests Section on 16th Street in the Adams Morgan neighborhood will become the Cuban Embassy on July 20, an occasion for which a delegation of some 30 people – headed by the island's foreign minister, Bruno Rodríguez – are traveling from Havana.
"The reopening of the embassy," Gustavo Machin, assistant director for North America at the Cuban Foreign Ministry, told a group of reporters in Havana on Thursday, "will be a significant event. After 54 years of broken relations, the Cuban flag will be raised again."
The date of any similar celebration at the American Embassy in Havana is still to be announced. Secretary of State John Kerry, who will meet with Rodríguez during his trip, is expected to be on hand for the Havana event.
Machin said that Rodríguez and about 30 Cuban officials – which will include former diplomats and representatives of sectors such as culture, education, health care and science, along with other organizations and the Cuban Council of Churches.
Also attending the ceremony will be around 500 people in the United States – members of Congress, NGOs, businessmen, representatives of activist groups with an interest in the island and members of various U.S. churches.
Asked whether Cuban-American lawmakers like Sen. Marco Rubio and Rep. Ileana Ros-Lehtinen who fervently oppose normalizing relations with Cuba, were expected at Monday's ceremony, he said, "No, they aren't invited."
"You don't invite into your home people who want to harm you," he added.
Machin said that the ceremony will begin at 10:30 a.m. and Rodríguez – the first Cuban foreign minister to visit the United States in more than half a century – will deliver the main speech.
With the re-establishment of diplomatic ties, the current heads of the Cuban and U.S. Interests Sections, José Ramón Cabañas and Jeffrey DeLaurentis, respectively, will become charges d'affaires until the two countries name ambassadors.
Based on reporting by EFE.
The Associated Press contributed to this report.
Like us on Facebook
Follow us on Twitter & Instagram