Cruz super PAC inaccurately accuses Kasich campaign of accepting Soros donation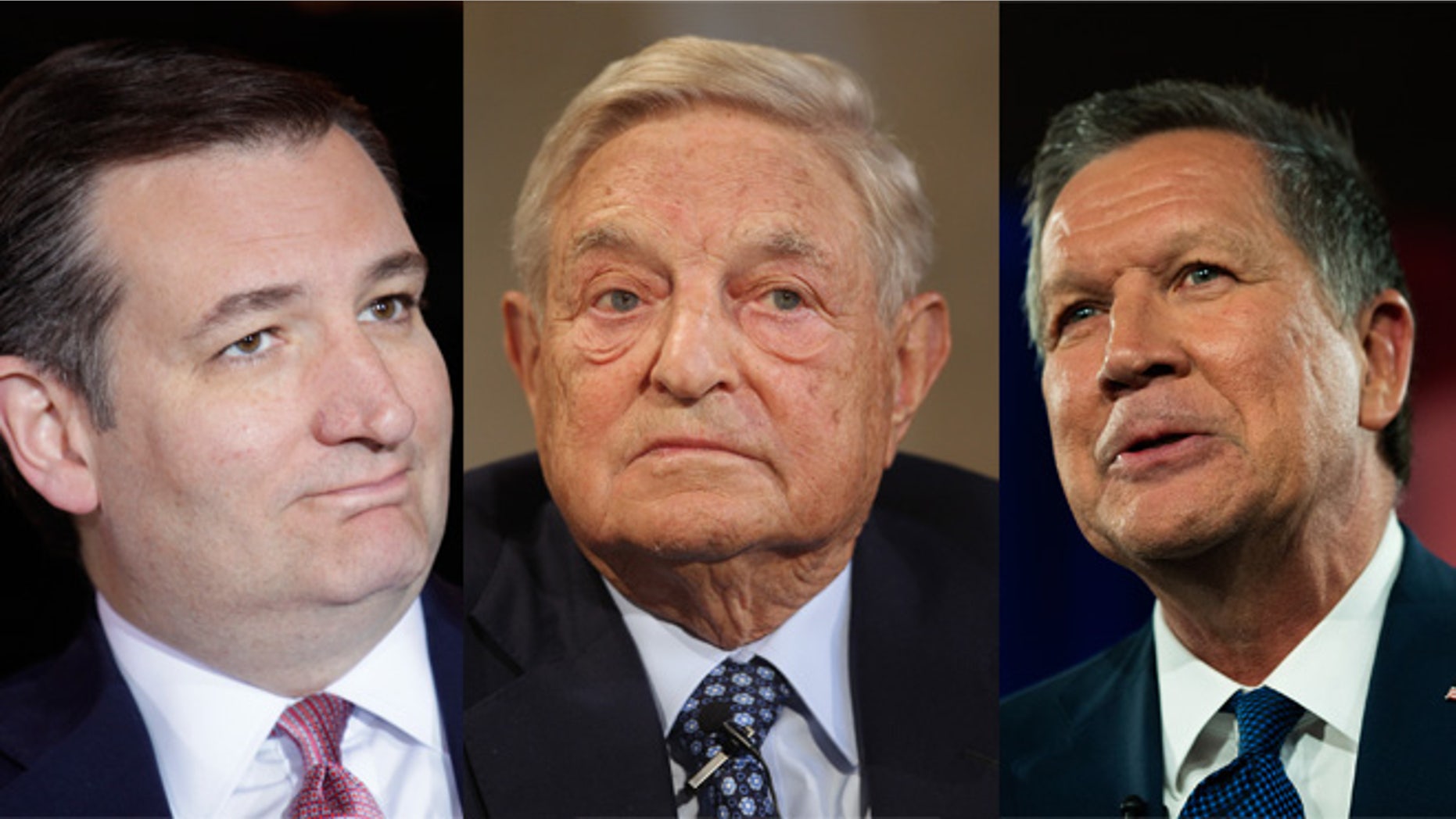 Billionaire George Soros is known to have given millions of dollars to liberal causes and is a strong backer of Democratic front-runner Hillary Clinton. However, a super PAC supporting GOP candidate Ted Cruz charges Soros of $500,000 worth of negative advertising that links him to rival John Kasich.
"Hundreds of thousands of dollars from George Soros," reads the text of a new ad by Trusted Leadership, a super political action committee backing Cruz.
The commercial's narrator offers more nuance in the accompanying audio: "Millionaires working side by side with George Soros are bankrolling his super PAC."
The ad, which hit the airwaves Tuesday and continues through Wisconsin's winner-take-all election next week, was put forth by Trusted Leadership, a super PAC backing the Texas senator.
And it drew immediate complains from a Kasich group for its inaccuracy. While there is some truth to what the narrator says, it's still misleading as Soros himself has not donated to the Kasich campaign, finance records show.
Scott Bessent, who was chief investment officer at Soros Fund Management until the end of last year, gave $200,000 to the pro-Kasich super PAC New Day for America. One contribution arrived in October and another in December.
In addition, former Soros investment manager Stanley Druckenmiller has contributed $450,000, an amount that includes two checks just last month. Druckenmiller last managed investments for Soros in 2000.
The pro-Kasich super PAC raised about $10 million from more than 200 donors through the end of February. Kasich, the governor of Ohio, was an investment banker for Lehman Brothers in the 2000s, until its collapse in 2008.
Soros himself has not contributed to Kasich or any Republican groups.
New Day for America filed complaints late Tuesday with television stations, demanding they pull the Trusted Leadership ads because of the "false, misleading, and deceptive statement" that Soros is funding Kasich.
Both Bessent and Druckenmiller have long histories of giving big money to Republicans, and both also have given to Democrats on occasion, campaign finance records show.
Until this bruising GOP primary, no one had alleged that Bessent or Druckenmiller were giving at the behest of Soros. Michael Vachon, a spokesman for Soros, said Soros has never asked his employees to make any political contributions.
Matt David, senior strategist for New Day for America, called the pro-Cruz ad claims "absurd."
"It's like saying a contribution from the Cavs owner Dan Gilbert is a contribution from LeBron James," David said, invoking Ohio's professional basketball team, the Cleveland Cavaliers.
Based on reporting by the Associated Press.