Cracks in Iran deal coalition? Europeans fume over Tehran missile test
UNITED NATIONS – Diplomats from European countries on Tuesday blasted a recent Iranian missile test as "inconsistent" with a key U.N. Security Council resolution, as they struggle to keep the Iran deal intact amid U.S. pressure to get tough on the Islamic regime.
Iran test-fired a medium-range ballistic missile on Saturday, which the U.S. said had the capability to strike parts of Europe and the Middle East.
Secretary of State Mike Pompeo said the missile was capable of carrying multiple warheads and was in violation of Security Council Resolution 2231 -- which calls on Iran to refrain from "any activity related to ballistic missiles designed to be capable of delivering nuclear weapons, including launches using such ballistic missile technology."
POMPEO SAYS IRAN TESTED BALLISTIC MISSILE IN VIOLATION OF UN RESOLUTION
Resolution 2231 was the Security Council's enshrinement of the 2015 Iran nuclear deal, known as the Joint Comprehensive Plan of Action (JCPoA) -- which the Trump administration withdrew the U.S. from in May. The other signatories were Germany, U.K., France, China and Russia.
But the missile test has posed challenges to those countries trying to uphold their end of the deal despite the U.S. withdrawal -- drawing condemnation from European countries that otherwise have been supportive of the Iran pact. Consequently, the U.K. and France called a closed-door meeting of the Security Council on Tuesday to discuss the issue, though diplomats declared the test "inconsistent" with rather than "in violation" of 2231.
U.K. Ambassador Karen Pierce called the actions "part and parcel of Iran's destabilizing activities in the region." Her comments echo U.K. Foreign Secretary Jeremy Hunt, who said Saturday that he was "deeply concerned by Iran's actions," even as he reiterated support for the nuclear deal.
"Provocative, threatening and inconsistent with UNSCR 2231. Our support for JCPoA in no way lessens our concern at Iran's destabilising missile programme and determination that it should cease," he tweeted.
The claim that the move was "inconsistent" with 2231 was echoed by other diplomats at Turtle Bay.
"This kind of ballistic missile activity is inconsistent with the JCPoA , especially Annex B which calls on Iran not to engage in these kinds of activities," Dutch Ambassador Karel van Oosterom said.
French Ambassador François Delattre also said Iran's actions were "inconsistent" with the resolution and called on Iran to "immediately cease any activity related to ballistic missiles designed to be able to carry nuclear weapons, including launches using ballistic missile technology."
The resolution's text only "calls upon" Iran to refrain from ballistic activity, rather than demanding it. It was that weaker language that kept diplomats from outright declaring Iran in violation of the resolution.
Israeli Ambassador Danny Danon told reporters, separately, that Israel, which does not sit on the Council, believes the test to be a violation of the resolution and called on the Security Council to condemn Iran for its actions.
The test marks the latest blow in Europe's efforts to keep the 2015 accord alive, particularly after the U.S. withdrawal from the pact in May. The U.S. has since re-imposed multiple rounds of sanctions on the regime, including on crude oil exports last month, and has urged European allies to join them.
U.S. Ambassador Nikki Haley said in a statement Tuesday that the Iranian test was "dangerous and concerning, but not surprising" and called on the Council to act.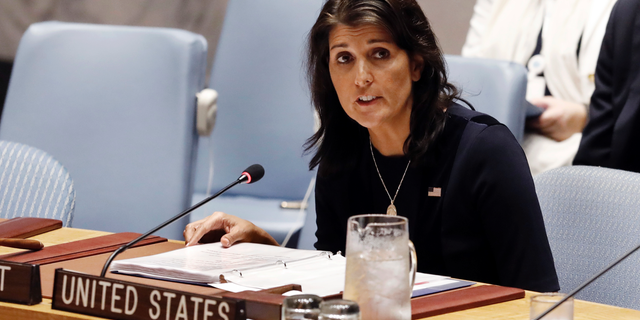 "The United States has repeatedly warned the world about Iran's deliberate efforts to destabilize the Middle East and defy international norms. The international community cannot keep turning a blind eye every time Iran blatantly ignores Security Council resolutions," she said.
"If the Security Council is serious about holding Iran accountable and enforcing our resolutions, then at a minimum we should be able to deliver a unanimous condemnation of this provocative missile test."
However, diplomats emerging from the closed-door meeting said while there were expressions of concern about Iran's activity, there were no immediate plans for any action against Iran in response.
The Iranians, meanwhile, argued they were in line with 2231: "Portraying Iran's ballistic missile program as inconsistent with resolution 2231 or as a regional threat is a deceptive and hostile policy of the U.S."
Even as it re-imposed sanctions, the U.S. has warned that it will continue to act unilaterally if necessary. President Trump, at a U.N. Security Council meeting in September, warned that the U.S. "will pursue additional sanctions, tougher than ever before, to counter the entire range of Iran's malign conduct."
On Tuesday, Sen. Ted Cruz, R-Texas, called for more U.S. action to combat Iranian aggression.
"The United States has only begun to reverse the damage done by Obama's Iran nuclear deal, which gave the Ayatollahs the resources and diplomatic breathing room to build more and better ballistic missiles," Cruz said in a statement to Fox News. "The last round of sanctions, while important, clearly failed to deter Iran from advancing their missile program. It's time to totally cut off Iran from the global financial system and deny them the resources they're using to threaten us and our allies."
Some European leaders have recently opened the door to sanctions on Iran after the emergence of terror plots on European soil, which leaders say originate from Tehran.
The Wall Street Journal reported last month that a call for sanctions by Danish diplomats won broad support at a meeting of E.U. ambassadors, after Denmark's intelligence agency foiled an Iranian plot to kill an opposition activist and arrested a Norwegian of Iranian descent.
EUROPE OPENS DOOR TO SANCTIONS ON IRAN AFTER TERROR PLOTS IN DENMARK, PARIS
That alleged plot came after an Iranian diplomat based in Vienna was arrested in July for a plot to bomb an annual gathering of Iranian dissident groups in Paris, which Trump lawyer Rudy Giuliani attended.
Fox News' Ben Evansky contributed to this report.