Covering his bases? Sen. Paul asks Ky. for approval to run for re-election, president in 2016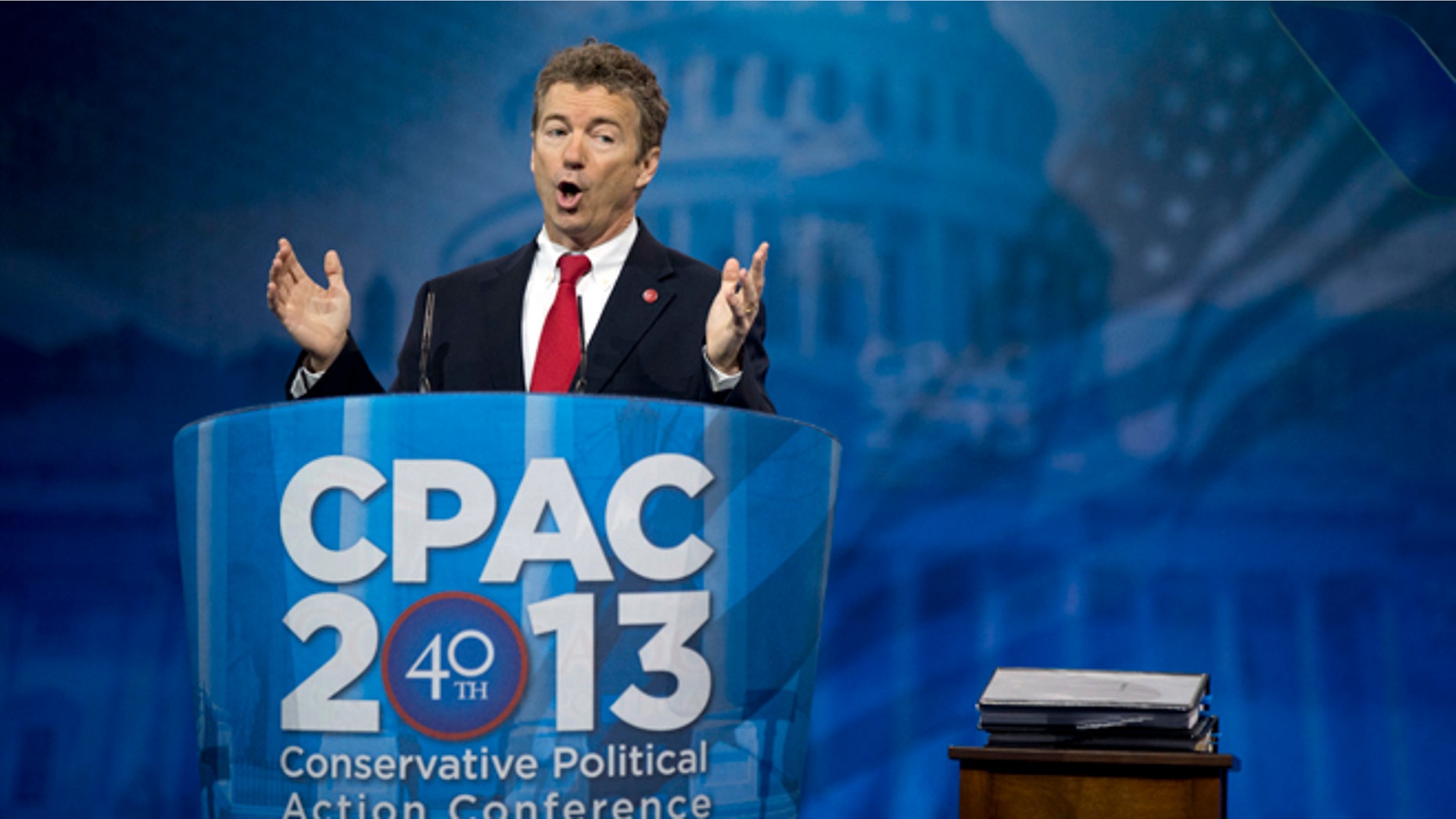 Tea Party favorite Sen. Rand Paul, R-Ky., may insist he has not yet decided on a 2016 presidential run, but he sure is preparing the groundwork.
Just in case, Paul has asked Kentucky Senate Majority Leader Damon Thayer to clarify that state law does not forbid him -- or any other Kentucky lawmaker -- from running for the White House and Senate at the same time.
Kentucky state law says a candidate's name cannot appear on the ballot twice, except in very specific circumstances, according to the National Conference of State Legislatures (NCSL).
However, Thayer told FoxNews.com this provision only applies to candidates running for state office, and the state cannot legally forbid a candidate from running for more than one federal office.
Thayer said Paul asked him to make this distinction clear, and he was happy to oblige. He has written a draft of a bill that he is considering filing by the end of the legislative session on Thursday that states the statute only applies to state offices. Thayer said he has not yet filed the bill because he has not decided whether to take that route, or attach the clarification as an amendment to an existing bill.
Thayer told FoxNews.com he is a strong supporter of Paul's and hopes he does run, saying he wants to make sure Kentucky residents have the opportunity to vote for "one of their own" for president if they so choose.
A spokeswoman for Paul did not respond to requests for comment. The clarification, if approved, would ensure that Paul can run for president, but still retain his Senate seat (as long as he wins that race) if he loses the race for the White House.
Paul would be far from the first politician to run for president or vice president and seek re-election to his current office at the same time.
According to the NCSL, some states have enacted provisions that specifically allow for a candidate to run for both an office such as the U.S. Senate and president or vice president.
Such provisions are known as "LBJ Laws," after Texas legislation passed in 1959 that allowed future President Lyndon Baines Johnson to run for re-election to the Senate and seek the Democratic nomination for president simultaneously.
Notable examples of politicians who have utilized their states' "LBJ Laws" since are now-Vice President Joe Biden in 2008 and Wisconsin Rep. Paul Ryan in 2012, when he ran as the Republican nominee for vice president.