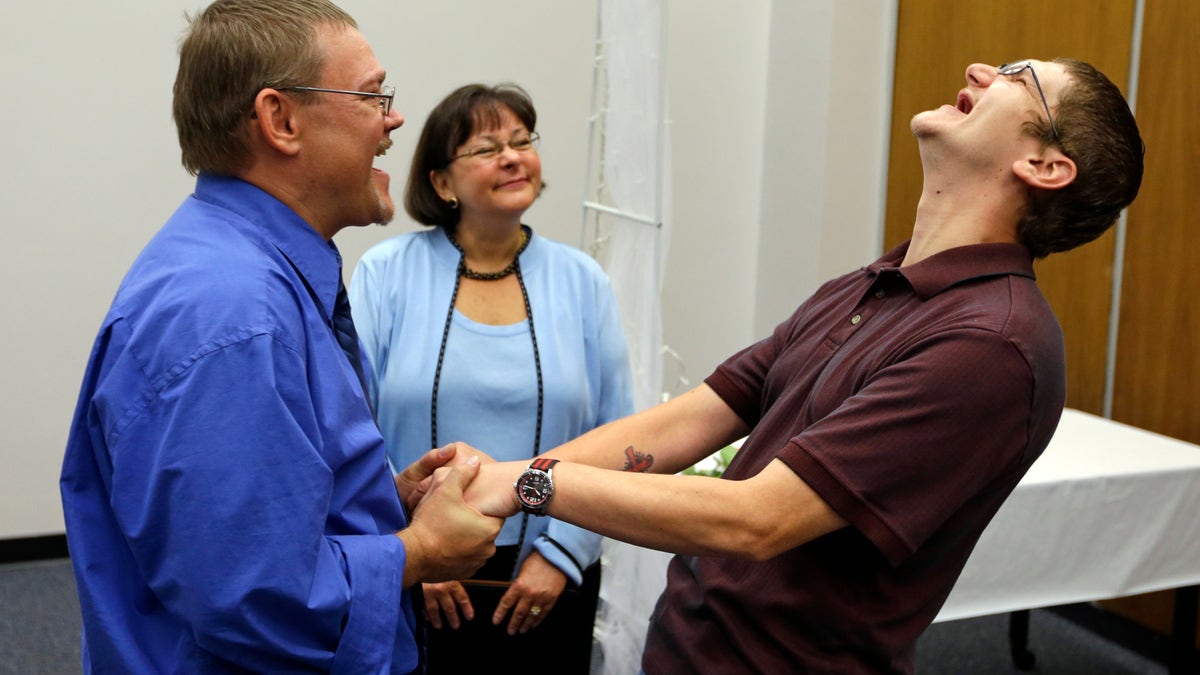 INDIANAPOLIS – A federal appeals court on Friday put on hold a judge's order striking down Indiana's gay marriage ban, bringing same-sex marriages to a halt and leaving those who've already tied the knot in legal limbo.
The U.S. 7th Circuit Court of Appeals in Chicago issued the order two days after U.S. District Judge Richard Young had ruled that Indiana's prohibition on same-sex marriage was unconstitutional. The decision came shortly after Indiana Attorney General Greg Zoeller, tired of waiting for Young to rule, appealed to the 7th Circuit.
Zoeller's spokesman, Bryan Corbin, said the attorney general's office would immediately let county clerks know about the decision. The Marion County clerk's office in Indianapolis, which handed out 120 marriage licenses to same-sex couples on Friday, had planned to open on Saturday so gay couples could get married, but announced after the ruling that it would not.
Ken Falk, legal director of the American Civil Liberties Union of Indiana, said he was disappointed but not surprised by the stay. Hoosiers Unite for Marriage spokesman Kyle Megrath said the group had delivered more than 12,000 petition signatures asking Zoeller not to pursue any appeals.
"More than anything, this is a terrible blow to the legally wedded Indiana couples and their families who were finally, after so long, recognized this week under Indiana law," Megrath said.
The attorney general's office argued it was premature to require Indiana to change its definition of marriage until the U.S. Supreme Court weighs in on the issue, as is widely expected.
In staying Young's order requiring the state to allow same-sex marriages, the appeals court followed the lead of courts across the country, which have granted stays of similar rulings at either the district or appellate level until appeals can decide the issue.
Indiana law defines marriage as between a man and a woman, and the state has refused to recognize same-sex marriages performed in states where it is legal. Young wrote in his ruling that such restrictions violated the Equal Protection Clause of the U.S. Constitution and noted that courts across the country have agreed.
"In time, Americans will look at marriages of couples such as Plaintiffs, and simply refer to it as a marriage -- not a same-sex marriage," he wrote. "These couples, when gender and sexual orientation are taken away, are in all respects like the family down the street. The Constitution demands we treat them as such."
Young's ruling allowed same-sex couples to file joint tax returns, receive pension benefits and have their partners listed as spouses on death certificates.
But how the stay will affect them remains to be seen. Legal experts say couples may need to enlist legal help to sort through the process.
Falk said he believes the marriages are still valid.
"If it's a valid marriage when you enter into it, it should stay valid," he said.