Counterterrorism analysts want US mass transit security tightened in wake of plots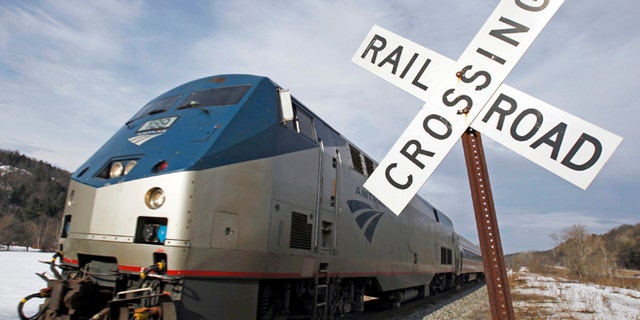 WASHINGTON – Counterterrorism experts have renewed calls to tighten security on America's mass transit lines following two would-be terrorists' foiled plot to blow up a Toronto passenger train.
The alleged plan to attack Canada's transit system has shed light on the vulnerabilities that still exist in America's commuter system and the challenges involved in keeping it safe for travelers.
"The millions of Americans who take public transportation need to be assured that everything possible is being done to ensure their security and safety," American Public Transportation Association President and CEO Michael Melaniphy told FoxNews.com on Monday, adding that federal funding should be increased.
Security analysts note that the very nature of public transit systems makes them hard to defend because of their open architecture, multiple access points and heavy volume of passengers. But a string of recent plots, including the latest out of Canada, underscore the need to make changes.
Scott Weber, former counsel for the Department of Homeland Security, told Fox News that "the threat lies everywhere."
"This country has to change its outlook on day-to-day life," he said. "We can't let out guard down."
Melaniphy thinks more money should be spent on state-of-the-art surveillance systems, explosive- and chemical-detection systems, and enhanced communication technology -- as well as anti-terrorism patrol teams, first responder training and public education campaigns.
"These enhancements are crucial in order to effectively combat and deter potential attacks," he said.
In the nearly 12 years that have passed since the Sept. 11 attacks, terrorists have plotted more than 700 attacks on surface transportation systems internationally. There have been more than 50 foiled attacks in the U.S.
In the U.S., New York police uncovered a 2003 Al Qaeda plot to release cyanide gas in New York City's subway system. In July 2006, the Federal Bureau of Investigation said it had stopped an attack on the PATH – specifically the commuter rail's tunnel connecting New York and New Jersey. They discovered a plan to place suicide bombers on the train and to destroy the retaining wall separating the Hudson River from the World Trade Center site in hopes of causing massive flooding to lower Manhattan – the city's financial district.
Authorities in Cleveland arrested five self-described anarchists last May. They were accused of plotting to blow up a four-lane highway bridge. An undercover FBI agent had sold the men inoperable detonators and plastic explosives.
In 2009, seven defendants came within days of executing a plot to conduct coordinated suicide bombings in the New York City subway system. When authorities foiled the attack, one of the defendants tried to crash his car on the Whitestone Expressway in an effort to kill himself and others.
Terrorists have been more successful attacking mass transit hubs and transportation centers internationally.
In 2005, three bombs on subways in London and one on a double-decker bus went off, killing at least 37 people in coordinated rush hour attack. In 2004,191 people were killed and another 1,500 were wounded in Spain when 10 bombs exploded on four trains in three Madrid-area train stations.
"Although attacks similar to those in London, Madrid, Israel or Japan have yet to occur in the United States, the threat is real and chances of an attack succeeding are high," Daniel Prieto, research director of the Homeland Security Partnership Initiative, said during a hearing before the joint committee on Public Safety and Homeland Security in Massachusetts. "There are over 140,000 miles of train routes in the U.S. and more than 500 major urban transit operators."
Prieto added that Americans take public transit 32 million times a day, "16 times more than they travel on domestic airlines." She also noted that 9/11 terror mastermind Khalid Sheik Muhammed "told his interrogators that Al Qaeda had plans to attack the metro system in Washington, D.C."
A 2010 report from the Obama administration stressed the need for more work to be done to maintain safety on the nation's mass transit lines. The recommendations included modernizing the information technology infrastructure used to vet the identity of travelers and transportation workers and completing blast analyses for all underwater passenger rail tunnels.
But some say that's just lip service from the president and point to cuts in federal funding over the years as security concerns.
"The APTA has urged Congress to significantly increase funding for public transportation security to the levels called for in the 9/11 Commission Act of 2007," Melaniphy said. "Instead, from 2010 to 2012, federal investment in transit security decreased by 65 percent, while public transportation ridership increased by 300 million trips. This decrease in federal funding is just short-sighted."
During the last several federal budget cycles, the APTA has urged Congress to raise funding for public transportation security.
To date, through its Transit Security Grant Program, the Department of Homeland Security has given $547 million to 60 of the country's mass transit and passenger rail systems in 25 states and D.C. The TSA divided the money based on "a risk-based prioritization in determining eligible passenger rail and transit agencies, funding allocations and evaluations for award," according to its website.
Last year, the grant program provided $87.5 million to beef up security measures at the country's passenger rail, intra-city bus networks and ferry systems. Amtrak received an additional $10 million.
Funding revolves around 17 security and emergency preparedness action items and six core fundamentals that focus on emergency evacuation plans, security patrols, counterterrorism training for front-line staff and public awareness and preparedness campaigns, among others.
"A transit agency's awareness campaign should also extend to its employees," according to the TSA site. "Appropriate counter-terrorism training, couples with a strong security awareness campaign, will yield significantly heightened security awareness in transit systems."