Cortez Masto wins Nevada Democratic primary, sets up showdown for Reid's senate seat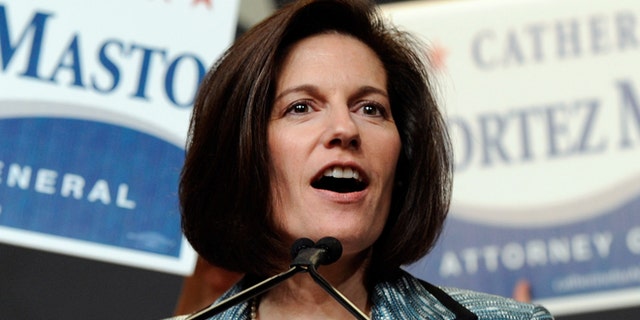 Former Nevada Attorney General Catherine Cortez Masto easily won Tuesday night's Democratic primary to set-up a showdown in November against U.S. Rep. Joe Heck for Harry Reid's U.S. Senate seat.
Cortez Masto's win on Tuesday puts her one step closer to becoming the first Hispanic woman elected to the Senate.
"So grateful to all the Nevadans who voted for me in this primary!" Masto tweeted on Tuesday evening. "I'm honored to have your support. Now, on to Nov.!"
Cortez Masto won more than 80 percent of the vote in the primary, according to the New York Times. Her closest competitor was Allen Rheinhart, a Philadelphia-born Sanders supporter who received only 5.6 percent of the vote.
Heck, a popular Republican congressman, defeated tea party challenger Sharron Angle, who jumped into the race in March, by a comfortable 65-23 margin.
The victories for Cortez Masto and Heck set up a battle for one of the most hotly-contested races outside of the presidency this election. Reid, the retiring Senate Minority Leader, has been a major player in Washington politics for almost 30 years and helped raise Nevada's stature in presidential elections by making it an early battleground state.
The race for to replace Reid is expected to be close, but some analysts are giving the edge to Cortez Masto, who is trying to capitalize on presumptive Republican presidential nominee Donald Trump's unpopularity with Hispanics – around 17 percent of the state's population – by playing up the fact that she would be the first Latina elected to the U.S. Senate. (Rep. Loretta Sanchez also has a chance to win a Senate seat from California in November.)
Nothing less than control of the Senate may rest on Cortez Masto's success.
"The question is how can she handle a tough fight," David Damore – a political science professor at the University of Nevada, Las Vegas – told Fox News Latino. "If Democrats want to get back the Senate, they have to win this seat."
Reid, who has said he wished he could stay in the Senate forever, is actively campaigning for Cortez Masto and other Democrats in Nevada.
The moves are vintage Reid, who has long meddled in races in his small state, cementing his status as an unparalleled political animal by winning his own re-election race in 2010 against all odds.
"Reid would love nothing more than to leave the U.S. Senate with a Democratic majority and to right the ship at home in Nevada," said Rebecca Lambe, the senator's top political adviser in Nevada.
While one Latina was able to continue her push in Nevada on Tuesday night, another's campaign met an early demise.
Lucy Flores, a former Democratic state assemblywoman who was backed by Vermont Sen. Bernie Sanders, finished second in a three-way primary for the state's 4th Congressional District.
The district, which includes parts of North Las Vegas and rural central Nevada, saw state Sen. Ruben Kihuen finish with 39.9 percent, ahead of Flores (25.7%) and philanthropist Susie Lee (20.9). The primary was competitive and all candidates raised comparable funds, but Kihuen had backing from Reid and President Bill Clinton, as well as the hospitality workers of the Culinary Union, which mobilized a massive ground effort to round up the vote.
"My deepest gratitude to so many amazing supporters," Flores tweeted Tuesday night. "I'm eternally grateful. The fight for a progressive agenda continues. #DownButNotOut."
The Associated Press contributed to this report.