Cortez Masto pulls ahead of Heck in Nevada Senate race to succeed Reid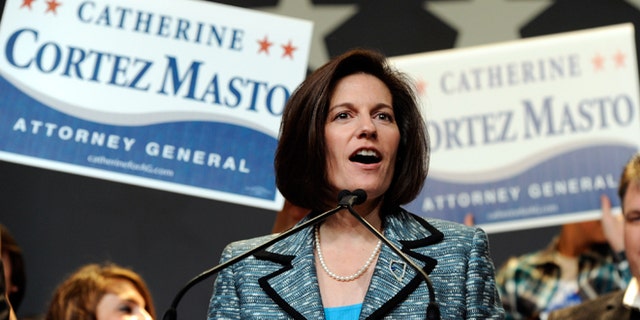 NEWYou can now listen to Fox News articles!
In a turnaround in what is one of the most closely-watched congressional races in the country, Nevada's Democratic candidate seeking to replace retiring Sen. Harry Reid now appears to be in the lead, according to recent polls.
Former state Attorney General Catherine Cortez Masto, Reid's hand-picked successor, had been trailing her Republican opponent, U.S. Rep. Joe Heck, in polls until recently.
Two recent polls show Heck behind Cortez Masto. A poll by the Las Vegas CBS affiliate showed Cortez Masto ahead by 5 points, and a CNN/ORC survey showed her leading Heck by 7 points, according to The New Yorker.
A recent Monmouth University poll, however, showed Heck still ahead by a tight 3 points.
Cortez Masto would be the first Latina elected to the U.S. Senate. (Rep. Loretta Sanchez of California, also has a chance to earn that distinction, although she trails Kamala Harris in the polls by a double-digit margin.)
Nevada is considered a key battleground state for both the presidential and senatorial races.
President Barack Obama is scheduled to be in Las Vegas Sunday to campaign for both Cortez Masto and Hillary Clinton.
The Senate race is seen as one of a handful around the country that could determine which party has control of the upper chamber.
Cortez Masto had assailed Heck for endorsing GOP presidential nominee Donald Trump. Heck rescinded that endorsement after a controversial audio recording emerged of Trump speaking to a television show reporter off camera about grabbing women without their permission.
Heck said at a recent rally that he believed Trump should end his run for the presidency because "the American people deserve better."
"I can no longer look past the pattern of behavior and comments that have been made by Donald Trump," said Heck, who has served three terms in Congress. "I cannot in good conscience continue to support Donald Trump."
"My wife, my daughters, my mother, my sister and all women deserve better."
The Senate race between Cortez Masto and Heck has been marked by attacks, with each candidate accusing the other of kowtowing to special interests.
About 36 percent of voters responding to the Monmouth poll said special interests have too much influence with Heck, and 35 percent said the same about Cortez Masto.
Like us on Facebook
Follow us on Twitter & Instagram