Conyers admits settlement after report on sexual conduct with ex-staffers – but denies allegations
Hours after outright denying an explosive report on alleged sexual harassment, powerful Democratic lawmaker John Conyers admitted Tuesday that he settled a complaint with an ex-staffer -- who reportedly said she was fired for rebuffing his advances.
Rep. Conyers, D-Mich., initially had told the Associated Press on Tuesday that he hadn't settled any such harassment complaints. The AP also reported that Conyers answered the door at his Detroit home and said he knew nothing about claims of inappropriate touching, all of which were made in an extensive BuzzFeed article.
Conyers' office issued a detailed clarification Tuesday afternoon, acknowledging the complaint was real, though the lawmaker adamantly denied the underlying claims.
"The Associated Press made an unannounced visit to the home of Congressman Conyers this morning," a spokesperson for Conyers said Tuesday. "Congressman Conyers was under the impression the reporter was speaking of recent allegations of which he was unaware of and denied."
Conyers said he has been a "fierce advocate for equality in the workplace" and supports the rights of his employees, but noted that it was "important to recognize that the mere making of an allegation does not mean it is true."
"In this case, I expressly and vehemently denied the allegations made against me and continue to do so," Conyers said, adding that his office resolved the allegations. "That should not be lost in the narrative. The resolution was not for millions of dollars, but rather for an amount that equated to a reasonable severance payment."
Conyers added that he would "fully cooperate with an investigation," once the House determines the "extent" they will look at "these issues."
The allegations against Conyers amounted to yet another bombshell rocking Capitol Hill.
In documents obtained by BuzzFeed News, several former staff members reportedly accused Conyers of requesting sexual favors, rubbing their hands sexually and rubbing their legs and backs.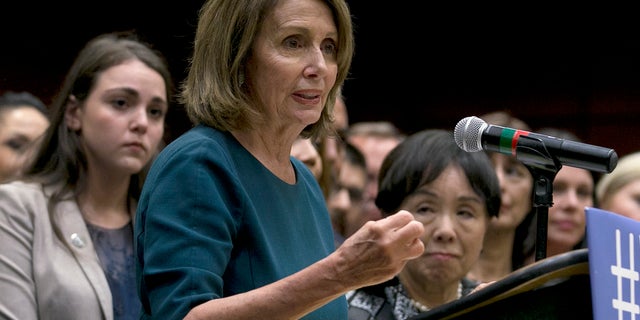 The woman who complained about her firing reportedly claimed she was dismissed because she did not "succumb to [his] sexual advances." She reportedly believed she had no other option than to remain quiet and take the settlement in 2015.
TOP CALIFORNIA DEM STEPPING DOWN AMID NEW SEXUAL HARASSMENT CLAIMS
"I was basically blackballed. There was nowhere I could go," she told Buzzfeed News.
Her identity remains anonymous reportedly due to fears of retribution.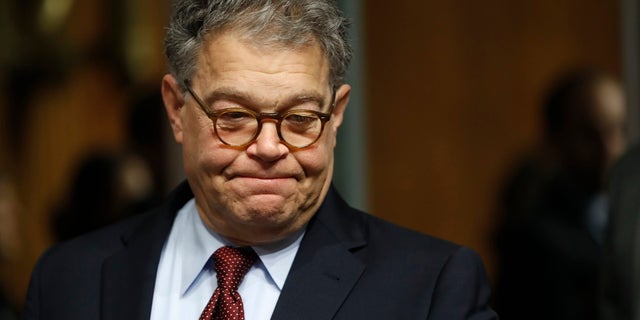 Conyers, 88, the longest-serving House member, has served in the House for decades. He was active in the civil-rights movement and helped found the Congressional Black Caucus; he's now the top Democrat on the House Judiciary Committee.
House Speaker Paul Ryan, R-Wis., called the report "extremely troubling" in a statement released Tuesday. He noted he already had directed "the Committee on House Administration to conduct a full review of all policies and procedures related to workplace harassment and discrimination."
Fox News has not independently confirmed the allegations.
According to BuzzFeed News, the Congressional Office of Compliance did not confirm or deny dealing with the case.
"Pursuant to the Congressional Accountability Act, the OOC cannot comment on whether matters have or have not been filed with the office," Laura Cech, publications and outreach manager at the Office of Compliance, told BuzzFeed.
House Minority Leader Nancy Pelosi, D-Calif., said she was not aware of the reported settlement involving Conyers.
"No," Pelosi told Fox News in a statement. "The current process includes the signing of non-disclosure agreements by the parties involved."
TAXPAYER PIGGY BANK LETS CONGRESS SETTLE SEX HARASSMENT CLAIMS IN SECRET
Pelosi pointed to new legislation put forth by Democratic Rep. Jackie Speier which the Democratic leader said would provide "much-needed transparency on these agreements" and make "other critical reforms."
"I strongly support her efforts," Pelosi said.
The report said the woman who settled with Conyers ended up with a confidentiality agreement in exchange for a roughly $27,000 settlement -- which reportedly came from Conyers' office budget as opposed to a massive fund that has been used to settle hundreds of cases with federal employees.
Chairman of the Michigan Democratic Party Brandon Dillon said in a statement Tuesday that the allegations against Conyers are "incredibly serious and disheartening to learn," but also said that media reports of the case also "point to other troubling allegations of misconduct, including the potential misuse of congressional resources."
"That is why we are calling for a full investigation by the House Ethics Committee into all of the allegations against Mr. Conyers, and we urge the Speaker to order a full-scale inquiry into the abuse of authority that has pervaded the halls of power in Washington, along with state capitols across the country, for far too long," Dillon said.
The revelations about Conyers' alleged conduct are just the latest in a series of allegations shaking the halls of Capitol Hill in recent days.
AL FRANKEN HIT WITH GROPING ALLEGATION FROM SECOND WOMAN
Last week, a TV and Radio broadcast host based in California, LeeAnn Tweeden, accused Sen. Al Franken, D-Minn., of groping and kissing her without her consent. On Monday, a second woman, Lindsay Menz, accused Franken of groping her in 2010 while they took a photo together.
And Senate Republican candidate Roy Moore in Alabama is battling multiple allegations. The woman whose account started the controversy spoke Monday to NBC's "Today" show, and said she was "absolutely not" paid to go public.
Leigh Corfman claims Moore had sexual contact with her when she was 14 and he was in his 30's. Moore has denied the allegations against him.
Fox News' Mike Emanuel contributed to this report.