Controversial Nevada tea party figure, Sharron Angle, running to succeed Harry Reid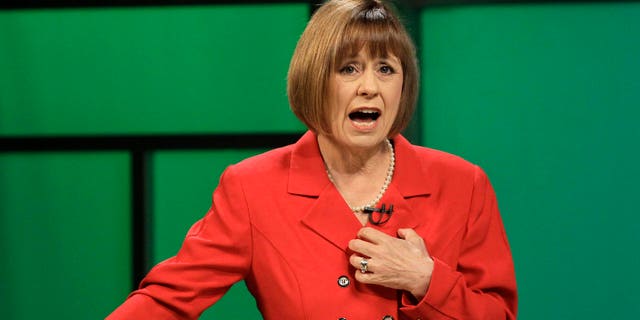 NEWYou can now listen to Fox News articles!
A tea party Republican whose hardline stance on immigration during a 2010 campaign for U.S. Senate was cited as having spurred Latinos to vote in large numbers for her rival, incumbent Sen. Harry Reid, is throwing her hat in the ring again.
Sharron Angle is entering the GOP primary to challenge Rep. Joe Heck, both of whom are aiming to succeed the retiring Reid, according to the Las Vegas Review-Journal.
Reid is supporting the candidacy of fellow-Democrat Catherine Cortez Masto, the state's former attorney general. A Cortez Masto victory would bring the first Latina to the U.S. Senate.
In her 2010 run, Angle did well among conservative voters, garnering 40 percent of the vote in the primary.
Angle stirred controversy when her campaign ran ads critical of Reid's pro-immigrant positions and used images of menacing-looking, dark-skinned men and a map of Mexico to raise fears. Hispanic groups assertively launched a get-out-the-vote drive to support Reid, who won by 6 percentage points.
Republican leaders are largely backing Heck, a third-term lawmaker who is their best bet, they believe, at beating Cortez Masto.
"[Heck] can win. It is about winning elections after all," said the Majority Whip, Sen. John Cornyn of Texas, who chaired the National Republican Senatorial Committee during Angle's run, according to published reports. "So my money is with him."
Angle, who has expressed admiration for GOP presidential candidate Donald Trump, says the public wanted her to give the senate another try.
"It was the clamor of the people," Angle told the Associated Press. "People would walk up to me in the grocery store. People would say, 'I sure hope you run.' People all over the U.S."
A former state assemblywoman, Angle also lost a GOP primary race for the U.S. House in 2006.
"Nevada Republicans now have a choice between an anti-immigrant tea party Republican known for saying outlandish things like calling Social Security a 'pyramid scheme' and Sharron Angle," the Nevada State Democratic Party said in a statement after the announcement.
Heck's campaign didn't have immediate comment.
Angle has remained active in politics since her 2010 loss and has been pushing for ballot measures this cycle to ban a statewide health insurance exchange and impose voter ID requirements at the polls. She spoke enthusiastically Friday about the prospect of a Donald Trump-Ted Cruz presidential ticket.
"I think there is a window of opportunity right now for any conservative who is not part of the D.C. establishment," she said in a recent interview. "We have seen that with the presidential race. I think that's why Donald Trump has gotten so much traction."
Various Nevada Republicans in Washington, Sen. Dean Heller and Reps. Mark Amodei and Cresent Hardy, have endorsed Heck, who's raised millions so far for his bid.
"I do think it hurts Joe, but again, it's not a devastating day," a longtime conservative strategist told The Hill. "This is not going to be Joe fighting for his life, but he is going to have to keep an eye on it and spend some resources and time he wouldn't otherwise spend to make sure he wins that primary."
The Associated Press contributed to this report.
Like us on Facebook
Follow us on Twitter & Instagram