Conservatives concerned Boehner could build coalition with Dems on hot-button bills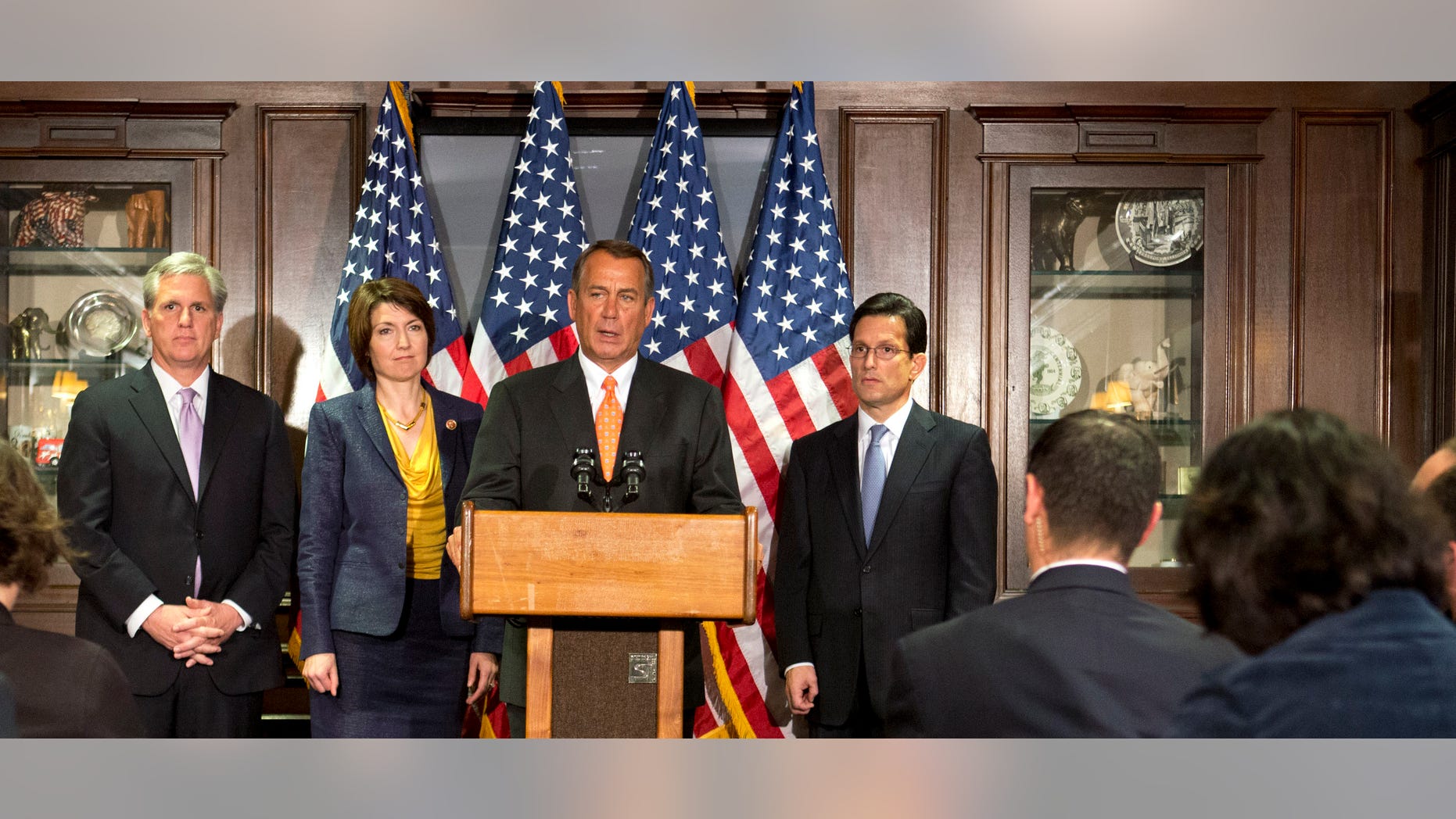 House Speaker John Boehner is being pressed by the conservative wing of the Republican Party not to allow a vote on major pieces of legislation -- from gun control to immigration -- without majority Republican support, after recent signals that he could be open to building a coalition with Democrats.
Tea Party favorite and second-term Rep. Tim Huelskamp is among the most recent to express concern, saying Tuesday that Boehner "assured us" that he'd seek a majority Republican coalition before proceeding on controversial bills.
"Why do we have the majority if we don't do what the majority wants?" the Kansas Republican told FoxNews.com. "I didn't come to Washington to give over the House to (Democratic Leader) Nancy Pelosi and moderate Republicans. This really concerns me."
Last Thursday, Boehner addressed concerns about the so-called Hastert Rule. The "rule," named after former House Speaker Dennis Hastert, holds that Republican leadership should allow votes only on bills that have a "majority of the majority" on board -- in other words, only if a majority of Republicans support them. Boehner has skirted this "rule" four times in the past four months.
The Ohio Republican said Thursday he intended to "always pass bills with strong Republican support" but argued the rule "was never a rule to begin with."
The gun debate may not reach the House anyway, with the Senate taking up key amendments to the bill Wednesday, and Democrats struggling to gain enough support. A major part of the proposal, expanded background checks, was defeated first.
But immigration, the budget and the debt ceiling are all on the horizon. Boehner's comments marked what appears to be a continuing power struggle between House leadership and some of the conference's most conservative members.
Prior the comment, Boehner allowed floor votes without majority support on the fiscal crisis deal, aid for Superstorm Sandy victims, the Violence Against Women Reauthorization Act and on a bill to allow the federal government to buy and protect historic battlegrounds.
After the April 5 Violence Against Women Act vote, Boehner tried to assure the House Republican Conference that he attempted to get the majority and was left with no other options, saying that breaking the rule was not something he would "expect to continue long term."
That same day, two of the conference's strongest conservatives -- Reps. Paul Broun of Georgia, and Steve Stockman of Texas -- drafted a letter that asked Boehner not to bring new gun measures to the floor without the majority.
A Broun spokeswoman said Tuesday the congressman is also urging Boehner and others House leaders to respect the rule, especially on the gun-control issue. She said the letter now has 47 signatures from conference members.
Hastert has also weighed in.
"Here is the problem," Hastert told Fox News Radio in January, after the fiscal crisis deal vote. "Maybe you can (break the rule) once, maybe you can do it twice. But when you start making deals, when you have to get Democrats to pass the legislation, you are not in power anymore."
Hastert violated the edict as many as a dozen times while serving as speaker.
This is not the first time Huelskamp, who voted against Boehner for speaker in January, has wrestled with House leadership over votes.
After winning re-election in November 2012, he was removed from the chamber's budget and agriculture committees.
Republican Reps. Justin Amash, Michigan; David Schweikert, Arizona; and Walter Jones, North Carolina, also had a history of voting against leadership and were removed from committee assignments.
"The GOP leadership might think they have silenced conservatives, but removing me and others from key committees only confirms our conservative convictions," Huelskamp said in December, after losing his assignments. "This is clearly a vindictive move."
Huelskamp said Tuesday that he "saw some progress" toward closing the divide after a House Republican retreat in January.
But the bigger divide, he said, is between the Republican establishment and its voters back home.
"The establishment is out of touch," Huelskamp said.