Connecticut pols strike deal to expand assault-weapons ban, restrict high-capacity magazines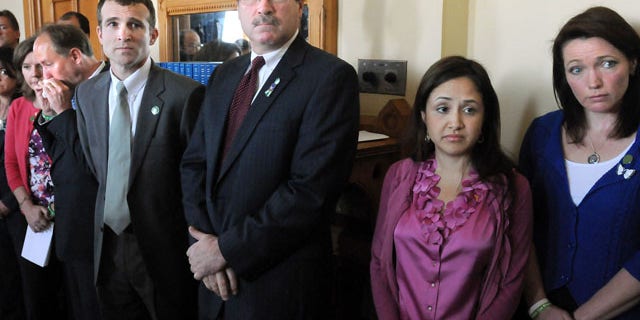 Connecticut lawmakers reached a bipartisan deal Monday on what they consider some of the toughest gun laws in the country and hope will be a model for other capitals, pushing to expand the state's assault-weapons ban and impose new restrictions on high-capacity magazines.
The proposal came hours ahead of the release late Tuesday morning of the National Rifle Association's report on school safety proposals. The NRA commissioned the study in the wake of the Newtown shooting, as the group pushed for enhanced school security rather than measures to curb gun ownership.
The Connecticut deal, by contrast, focuses on gun control measures -- though it left some on both sides of the debate unhappy. Gun control advocates, and particularly families of those killed or injured in the December Newtown shooting, were disappointed the proposal only included a ban on new high-capacity magazines -- and not existing ones.
And gun-rights groups argued that the latest proposal would not have prevented the deadly shooting at Sandy Hook Elementary School.
"They can register magazines and do all the rest of this stuff. It isn't going to do anything," said Robert Crook, executive director of the Connecticut Coalition of Sportsmen.
Gun owners, who've packed public hearings at the state Capitol in recent months, voicing their opposition to various gun control measures, are concerned they've been showing up "for virtually nothing" after learning about the bill, Crook said.
"Clearly we've made our point," Crook said. "But I don't know what anybody can do at this point in time."
Connecticut lawmakers announced a deal Monday which would include a ban on new high-capacity ammunition magazines like the ones used in the massacre that left 20 children and six educators dead. The proposal includes new registration requirements for existing magazines that carry 10 or more bullets.
The package also creates what lawmakers said is the nation's first statewide dangerous weapon offender registry, creates a new "ammunition eligibility certificate," imposes immediate universal background checks for all firearms sales, and extends the state's assault weapons ban to 100 new types of firearms and requires that a weapon have only one of several features in order to be banned.
The newly banned weapons could no longer be bought or sold in Connecticut, and those legally owned already would have to be registered with the state, just like the high-capacity magazines.
"No gun owner will lose their gun," said House Minority Leader Lawrence Cafero Jr., a Norwalk Republican. "No gun owner will lose their magazines."
The bill also addresses mental health and school security measures.
The shooting Dec. 14 at Sandy Hook Elementary School reignited the gun debate in the country and led to calls for increased gun control legislation on the federal and state levels. While some other states, including neighboring New York, have strengthened their gun laws, momentum has stalled in Congress, whose members were urged by President Obama last week not to forget the shooting and to capitalize on the best chance in years to stem gun violence.
Connecticut should be seen as an example for lawmakers elsewhere, said Senate President Donald E. Williams Jr., a Brooklyn Democrat.
"In Connecticut, we've broken the mold," he said. "Democrats and Republicans were able to come to an agreement on a strong, comprehensive bill. That is a message that should resound in 49 other states and in Washington, D.C. And the message is: We can get it done here and they should get it done in their respective states and nationally in Congress."
The proposal was revealed to rank-and-file lawmakers Monday after weeks of bipartisan, closed-door negotiations among legislative leaders. A vote was expected Wednesday in the General Assembly, where Democrats control both chambers, making passage all but assured. The bill would then be sent to Gov. Dannel P. Malloy, who has helped lead efforts to strengthen the state's gun laws but has not yet signed off on the proposed legislation.
Earlier in the day on Monday, Malloy voiced support for the Newtown families and their desire to ban the possession of large-capacity magazines.
Ron Pinciaro, executive director of Connecticut Against Gun Violence, said his group will live with the lawmakers' decision not to ban them as other states have done. He said the leaders made their decision based on what was politically feasible.
"We have to be satisfied. There are still other things that we want, we'll be back for in later sessions," he said. "But for now, it's a good thing."
Six relatives of Newtown victims visited the Capitol on Monday, asking lawmakers to ban existing high-capacity magazines. Some handed out cards with photographs of their slain children.
Allowing magazines that carry 10 or more bullets to remain in the hands of gun owners would leave a gaping loophole in the law, said Mark Barden, whose 7-year-old son, Daniel, was killed in the shooting.
"It doesn't prevent someone from going out of the state to purchase them and then bring them back. There's no way to track when they were purchased, so they can say, `I had this before,"' Barden said. "So it's a big loophole."
Jake McGuigan, a spokesman for the National Shooting Sports Foundation, which is based in Newtown, said he wouldn't comment on the proposal until he saw it in the writing, but he questioned the mechanics of a registry for magazines.
"How will they register a magazine? It seems a little weird," he said.
The Associated Press contributed to this report.