Congressional Calendar September 28, 2010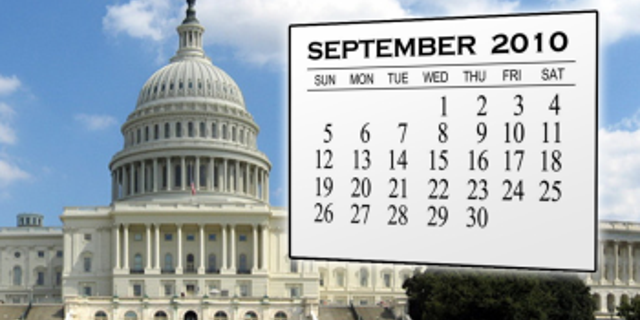 The Senate will have an 11:30 a.m. ET roll call vote on whether to invoke cloture to proceed to the outsourcing bill the body debated on Monday. The measure is expected to get fewer than the 60 votes necessary to consider the bill further.
If cloture is not invoked, the Senate will then hold another roll call vote on whether to proceed to what is known in Washington-speak as the continuing resolution. The continuing resolution, or CR, is a stopgap-funding bill Congress uses to keep the government operating in lieu of a formal appropriations process. The CR will keep the federal government running at 2010 funding levels starting on October 1, when the new fiscal year begins.
In other budget news, the Director of the Congressional Budget Office, Douglas Elemendorf, lays out his agency's outlook for the economy and fiscal policy before the Senate Budget Committee at 10:00 a.m. ET.
House Majority Leader Steny Hoyer, D-Md., continues to push his party's "Make It in America" manufacturing agenda before the Conference on the Renaissance of American Manufacturing. House Democrats have a series of pending bills that they say will boost and reinvigorate the American manufacturing sector, which they contend has been declining due to a steady influx of cheap imports from countries like China. The event begins at 9:15 a.m. ET.
A Senate Commerce, Science, and Transportation subcommittee holds a hearing on the San Bruno pipeline explosion at 3:00 p.m. ET. The panel will be investigating the possible causes of the blast, which killed seven people on September 9.
We'll be covering all these stories and more, so be sure to stay with Fox News for the latest.