Comey admits drafting Clinton exoneration before interview, defends move as routine
Former FBI Director James Comey, in his newly released memoir, admitted drafting what Republicans have dubbed an exoneration statement for Hillary Clinton, months before federal investigators interviewed the former secretary of state as part of the email probe.
But Comey used his book to defend the move, describing it as a routine step that any competent investigator might take.
"Any investigator or prosecutor who doesn't have a sense, after nearly a year of investigation, where their case is likely headed, is incompetent. Prosecutors routinely begin drafting indictments before an investigation is finished if it looks likely to end up there, and competent ones also begin thinking how to end investigations that seem likely to end without charges," Comey explained in "A Higher Loyalty," which hit the shelves Tuesday. "In neither case are minds closed to a different outcome if subsequent evidence dictates, but competent people think ahead."
Republican lawmakers last year raised questions about the draft statement essentially clearing Clinton in the email case. It was written before investigators interviewed Clinton and other key figures or reviewed her laptops.
Comey, in his book, acknowledged that "one weekend in early May" 2016, he "typed a draft statement laying out the findings of this case with the most aggressive transparency possible assuming the investigation ended in the current position."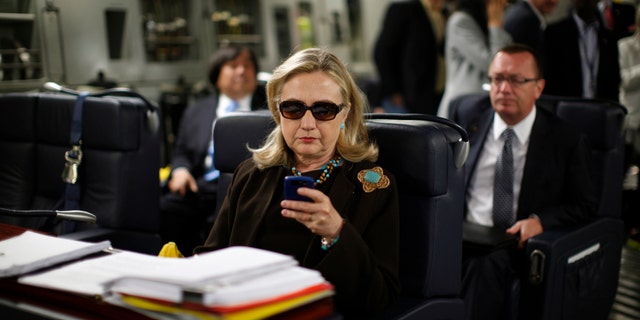 "Unless we suddenly found a smoking-gun email or directive clearly pointing to Clinton's intent, or unless she lied to us in an FBI interview, both of which were possibilities, this was the way I expected the case to end," Comey explained. "In such a poisonous political environment, I knew we needed to think far in advance how best to present our decision."
Comey noted that "many changes" were made to the early drafts of the statement. At one point, Comey wrote, the draft described Clinton's behavior with classified information as "grossly negligent," but explained that the term was "inappropriate and potentially confusing."
"After looking at multiple drafts, I settled on 'extremely careless' as the best way to describe the conduct," Comey wrote.
The drafts were then given to senior FBI officials for review, without notifying the Justice Department, Comey explained.
"So we kept it inside the FBI and continued debating it as the investigation moved toward the final step—interviewing Hillary Clinton," Comey wrote.
In August 2017, Senate Judiciary Committee Chairman Chuck Grassley, R-Iowa, and Sen. Lindsey Graham, R-S.C., learned about Comey's draft statement after reviewing interview transcripts with former top FBI officials.
"According to the unredacted portions of the transcripts, it appears that in April of early May of 2016, Mr. Comey had already decided he would issue a statement exonerating Secretary Clinton," the senators wrote. "... The outcome of an investigation should not be prejudged while FBI agents are still hard at work trying to gather facts."
Grassley and Graham, at the time, noted that Comey's draft statement was written before the FBI interviewed 17 key witnesses, including Clinton herself and other top aides.
Comey explained that following the draft of the statement, the investigation "got bogged down" over Clinton's "process for deciding which of her emails to return to the State Department after State requested she turn over work-related emails."
"By her account, there were about sixty thousand total emails on her personal server as of late 2014, when State asked for work emails. The secretary's personal lawyers reviewed those emails, producing about half of them and deleting the rest," Comey wrote.
Comey suggested he got tough with the State Department at that point.
"I, and the entire FBI Midyear team, believed our investigation would not be credible if we did not dive into that culling process. We weren't just going to take their word for it. We needed to know firsthand how the lawyers made those decisions and we wanted to see the devices they used so our experts could look for traces of the deleted emails," Comey explained.
Comey said Clinton's legal team was not willing to produce their laptops to the FBI, but, "The FBI could not, with a straight face, tell the American people we had done a competent investigation if we didn't move heaven and earth to understand that email review and deletion process."
"I would not agree to complete the investigation without seeing those laptops and interviewing those lawyers. Period," he wrote. "If Secretary Clinton wanted to still be under criminal investigation for the next two years, fine."
Comey wrote that he asked then-Assistant Attorney General Sally Yates to push the Clinton team for the laptops.
"We got the access we wanted and found nothing that changed our view of the case, but I was now satisfied that we had done what a credible investigation required," Comey wrote.
In his exclusive interview on Sunday night with ABC News' George Stephanopoulos, Comey first addressed the statement and the critics blasting him for having "prejudged the matter" before conducting critical steps of the investigation.
"Here's my reaction. And the reason I smile a little bit is anybody who's actually done investigations knows that if you've been investigating something for almost a year and you don't have a general sense of where it's likely to end up, you should be fired because you're incompetent," Comey said in the interview, echoing what he explained in his book. "But after nine or ten months of investigating, it looked like on the current course and speed, this is going to end without charges. And so what will we do? Smart people, competent people plan ahead. If you're going to charge you, you plan ahead. If you're not going to charge, you plan ahead."
It wasn't until July 5, 2016, just two weeks ahead of the Democratic National Convention, that Comey called Clinton's behavior with classified information on her private email server "extremely careless," and announced he would not recommend criminal charges.
Fox News' Judson Berger and Alex Pappas contributed to this report.