Colorado judge strikes down state's gay marriage ban but puts ruling on hold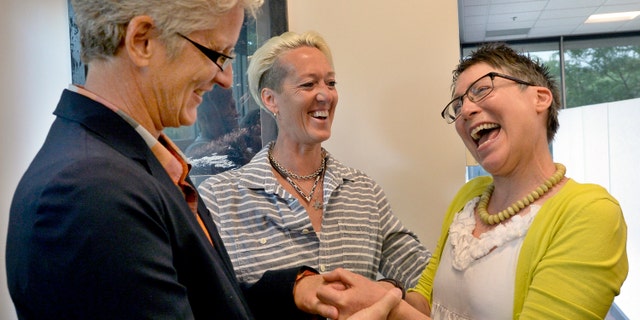 DENVER – A Colorado judge on Wednesday struck down the state's gay marriage ban, making Colorado the 16th state to invalidate a prohibition on same-sex marriages in the past year.
District Judge C. Scott Crabtree put his ruling on hold pending an appeal.
The decision came in two lawsuits challenging the constitutionality of the Colorado law, which was passed by voters in 2006. Crabtree found the measure violates both the state and federal constitution.
It is likely the ruling will be appealed by Attorney General John Suthers' office, which defended the ban. The case is the 16th in a row in which a state ban was voided by a judge following last year's U.S. Supreme Court ruling that struck down the federal Defense of Marriage Act.
In a separate challenge to a gay marriage ban in Utah, a three-judge panel of the Denver-based 10th U.S. Circuit Court of Appeals found that gay couples have a constitutional right to marry.
On Wednesday, Utah Attorney General Sean Reyes' office announced it will appeal that decision directly to the nation's highest court.