Colorado Governor To Sign Law Allowing Undocumented Students To Pay In-State College Tuition Rates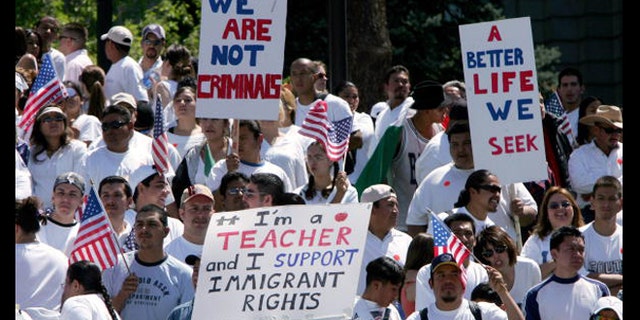 In the latest of a series of moves to relax restrictions for undocumented immigrants, Colorado's governor plans to sign a law allowing them to pay in-state college tuition rates.
Undocumented students who graduate from Colorado high schools will be able to attend public college in the state at tuition rates that other residents pay.
Gov. John Hickenlooper, a Democrat, will make the law official once he signs it, as is expected, at a ceremony Monday. The signing ceremony comes a decade after lawmakers first tried to pass the measure, which in the past has been opposed by both parties.
This year, Democrats unanimously supported the bill and a handful of Republicans joined them.
Students in the country illegally who grew up in Colorado have had to pay for college at the out-of-state rate, which is more than three times higher than the in-state rate.
Thirteen states already allow in-state tuition for students living illegally in the U.S.
Colorado is close to joining just three other states that allow undocumented immigrants to obtain driver's licenses.
On Friday, Hickenlooper signed a bill repealing a 2006 law that requires police to alert federal authorities about immigrants suspected of living illegally in the United States.
In 2006, it passed with bipartisan support during a year lawmakers approved some of the strictest immigration enforcement policies the state had ever seen.
The law was a precursor to more controversial policies later adopted in Arizona and Alabama.
Those who wanted the law repealed argued it made immigrants afraid of police. They also say the law is now duplicative because a federal program checks fingerprints during arrests to check immigration status.
Colorado's law, known as SB-90, required police to report people they arrested and they suspected to be undocumented to Immigration and Customs Enforcement (ICE).
On Thursday, the state Senate approved a measure allowing restrict driver's licenses for undocumented immigrants. The next step is the state House.
Licenses would be labeled to say the immigrants are not legal residents, and the identification could not be used to board a plane, vote, or to obtain public benefits.
New Mexico, Illinois and Washington allow driver's licenses for those illegally in the country. Utah grants immigrants a driving permit that can't be used for identification.
Colorado's county sheriffs and police chiefs support the bill.
The Associated Press contributed to this report.
Follow us on twitter.com/foxnewslatino
Like us at facebook.com/foxnewslatino