College basketball player with terminal brain cancer honored on Capitol Hill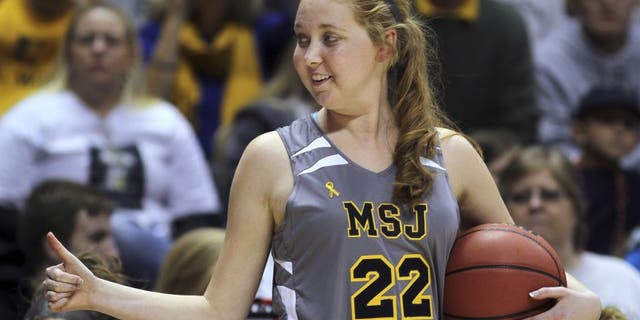 NEWYou can now listen to Fox News articles!
Lauren Hill, a college basketball player whose battle with terminal brain cancer has put her in the national spotlight, was honored Tuesday by lawmakers on Capitol Hill.
Rep. Luke Messer, R-Ind., praised Hill, 19, for raising $1 million for brain cancer research.
"Lauren, you make your community, state and your country proud," Messer said.
Hill gained national attention for her efforts to play at Division III Mount St. Joseph in Cincinnati and raise money to research and treat Diffuse Intrinsic Pontine Glioma (DIPG), the type of brain cancer she has.
Hill, a freshman at Mount St. Joseph, was told last fall she would likely not live past December. Mount St. Joseph petitioned the NCAA to move the team's first game to an earlier date so Hill would have the chance to play.
Hill scored 10 points in four basketball games this season.
Following her first game, she gave her jersey to Cincinnati Bengals defensive lineman Devon Still, whose young daughter is also battling cancer.
In a December interview with USA Today, Hill talked about her health.
"I have hour spurts when I feel fine and I can walk normal and stuff," she said. "Other hours, I'm wobbling. I feel like there's somebody behind me kicking my legs out from underneath me. The whole tumor symptom thing is crazy. It's unpredictable. It really messes with your life."