Cochran Leads Congress in Earmarks, $16.5B Total Set Aside for Pet Projects in 2010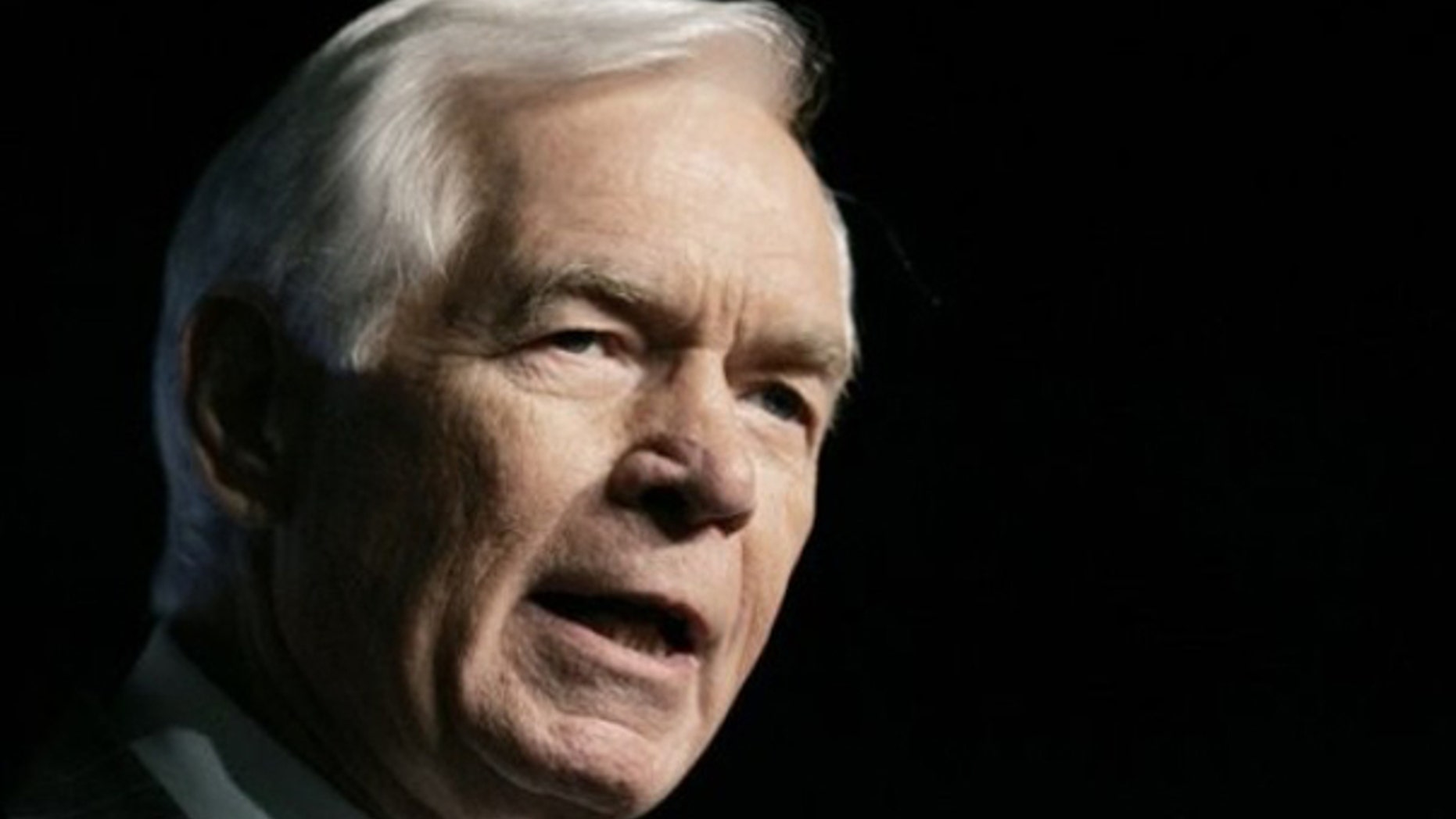 Drumroll, please.
And the king of pork is ... Sen. Thad Cochran. The Mississippi Republican ranks at the top this year of the Citizens Against Government Waste's list of congressional earmarkers.
Cochran, the ranking Republican on the Senate Appropriations Committee, is typically a leading pork-seeker and in 2010 had his name on 240 projects worth $490.2 million The runner-up was Appropriations Committee Chairman Daniel Inouye, D-Hawaii, with 151 projects worth $387.5 million.
Taken together, earmarked projects in fiscal year 2010 accounted for $16.5 billion of the federal budget. Congress has authority to approve $1.2 trillion in discretionary spending.
Leading the the 50 states was Hawaii, which enjoyed $251 per capita, thanks in large part to the help of Inouye. On the House side, Rep. Earl Pomeroy, D-N.D., took home the gold with 50 projects worth $148.4 million.
Citizens Against Government Waste President Tom Schatz said Cochran has earned the nickname of "Thad the Impaler" for his persistent earmarking.
"Senator Cochran has been number one for three years in a row and his total exceeds $2 billion during that three-year period of time," he said.
The good news was the number of earmarks declined -- the 9,129 projects listed marked about a 10 percent decline from last year. But that's still more than 15 times the number of projects when Citizens Against Government Waste first started tracking in 1991.
And according to the annual "Congressional Pig Book" released Wednesday by the watchdog group, some oddball projects were on the receiving end. Shrimp research, local museums and military projects that even the Pentagon didn't want were among the beneficiaries this year of billions of dollars in pork-barrel spending, according to the guide.
Here's a look at some of the more peculiar projects on the extensive "Pig Book" list:
-- Shrimp must be in vogue this year. The budget set aside $2.9 million in seven states for shrimp aquaculture research. Elsewhere in the budget was $700,000 requested by several senators and representatives for fishing research by the Southern Shrimp Alliance.
-- Five senators and four representatives across four states requested $2.6 million for potato research. Along those lines, several lawmakers also set aside $775,000 for the Institute for Food Science and Engineering, which, as CAGW notes, has a program for researching "Pickle Science and Technology."
-- The wool industry has attracted millions in funding over the past decade and 2010 was no different. Montana, Texas and Wyoming were the recipients of $206,000 for wool research.
-- Talk about a war on drugs. Among the projects requested by Cochran was $500,000 for the University of Southern Mississippi for a cannabis eradication program.
-- The Camden Police Department, which reportedly was not eligible for stimulus funding because of prior grant violations, was awarded $200,000 in earmarks from New Jersey's two senators, Frank Lautenberg and Robert Menendez, for a Mobile Communications Center.
-- The Pentagon was awarded billions for programs Defense Secretary Robert Gates spoke out against as unnecessary. One earmark worth $2.5 billion was for 10 C-17 cargo jets. Another was worth $465,000 for development of a Joint Strike Fighter alternative engine. Lawmakers fought administration attempts to cut those programs out of concern over lost jobs.
-- Somehow, the Edward M. Kennedy Institute for the Senate also made its way into the defense budget. The institute is expected to include exhibits, classrooms and a replica of the U.S. Senate chambers -- at a price of $18.9 million.
-- Local museum and educational center funding was also popular this past year. The budget included $100,000 for the Cabot's Pueblo Museum in Desert Hot Springs; $250,000 for the Wistariahurst Museum in Massachusetts; $500,000 for the Czech and Slovak Museum and Library in Cedar Rapids, Iowa; and another $500,000 for the National Mississippi River Museum and Aquarium in Dubuque, Iowa.
-- Several educational campaigns also received funding. Among them was $250,000 for an anti-steroids awareness program at the I Won't Cheat Foundation in Salt Lake City.