CNN's Acosta slammed for saying Trump held 'fake news conference'
CNN reporter Jim Acosta took heat Thursday from conservatives on Twitter after the combative correspondent accused President Trump of holding a "fake news conference" -- and later spewed some "fake news" of his own when he claimed Trump misstated the number of intelligence agencies that concluded Russia meddled in the presidential election.
During a joint news conference with President Andrzej Duda in Poland, Trump took questions from reporters from The Daily Mail and MSNBC. But that apparently wasn't good enough for Acosta, who's no stranger to sparring with Trump and White House Press Secretary Sean Spicer.
"Trump finally held a news conference overseas. But he took a question from a friendly reporter and then attacked CNN as 'fake news,'" Acosta tweeted, adding: "Isn't it a 'fake news conference' to take a question from a reporter who is essentially an ally of the White House?"
Acosta apparently was referring to The Daily Mail's U.S. political editor David Martosko, who was considered last month for a gig in Trump's communications department but pulled out of consideration.
But right-leaning social media watchers quickly blasted Acosta's snarky messages, noting the Obama administration enjoyed no shortage of reporter-aide crossovers and suggesting former President Barack Obama and his team routinely called on friendly journalists.
"So by that logic, was every news conference for the last 8 years #fakenews Jim?" Donald Trump Jr. wrote.
Ex-Bush White House Press Secretary Ari Fleischer added: "Jim – care to guess how many questions I took from reporters who went on to join the Obama WH??"
Conservative radio host Steve Deace picked up on the thread: "Jim, over two dozen 'journalists' went to work in the Obama WH, including the former WH spokesman."
An Atlantic article from 2013 noted Time managing editor Rick Stengel was "at least the 24th journalist to work for the Obama Administration." Former Obama White House Press Secretary Jay Carney also had worked for Time as its Washington Bureau Chief, which Deace alluded to. Others defected from outlets such as Politico, The Washington Post, National Journal and the Chicago Tribune to take roles under Obama.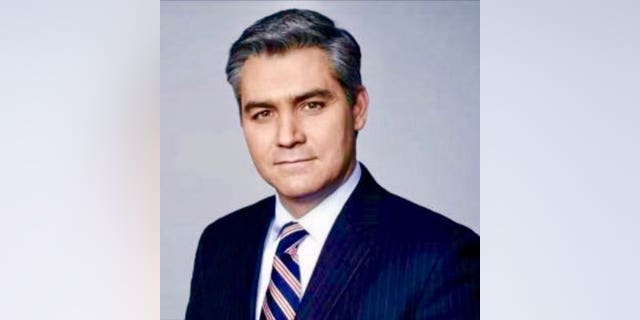 Aside from the Twitter battles, Acosta also ran into some trouble on air Thursday.
While on CNN's "New Day" after Trump's joint press conference, Acosta repeated the "fake news" line – a phrase Trump often uses when he refers to CNN, including on Thursday – to describe an answer Trump gave to a question about Russian meddling in the U.S. presidential election.
"The other thing that was 'fake news' coming from President Trump is when he said, 'Well, I keep hearing it's 17 intelligence agencies that say Russia meddled in the election, I think it's only three or four,'" Acosta said. "Where does that number come from? Where does this 'three or four' number come from? My suspicion…is that if we go to the administration and ask them for this question, I'm not so sure we're going to get an answer."
However, there is an answer.
The New York Times – and other outlets – had reported for months that "17 American intelligence agencies" agreed Russia orchestrated cyber-attacks before the election.
But The Times on June 28 issued a correction, noting "the assessment was made by four intelligence agencies – the Office of the Director of National Intelligence, the Central Intelligence Agency, the Federal Bureau of Investigation and the National Security Agency." The Times bluntly concluded: "The assessment was not approved by all 17 organizers in the American intelligence community."