'Clueless' co-star and ex-Fox commentator Dash, Compton mayor heat up California House race
Former "Clueless" co-star and Fox News contributor Stacy Dash's decision to run for Congress is shaking up a race for a Los Angeles-area congressional seat, with Compton's high-profile mayor now also challenging Democratic incumbent Rep. Nanette Barragan.

Dash, running as a Republican, faces long odds in winning, to be sure.
The seat is a Democratic stronghold. Hillary Clinton won there in 2016 with nearly 85 percent of the vote. And the district has only about 10 percent registered Republican voters.
But Dash's entry into the race is at least causing some unnecessary attention for Democrats, considering Compton Mayor Aja Brown has also joined, which has resulted in a party primary challenge for the incumbent, Barragan.
Several California Democratic sources say the party cannot divert time and resources to the race and remain focused on trying to win a handful GOP-held House seats throughout Orange County -- a key part of the party's grand plan to win roughly 26 seats to take control of the chamber.
And there's the long-shot possibility that Barragan and Brown could split votes in the June primary, sending Dash to the November election to compete against the other top-place finisher.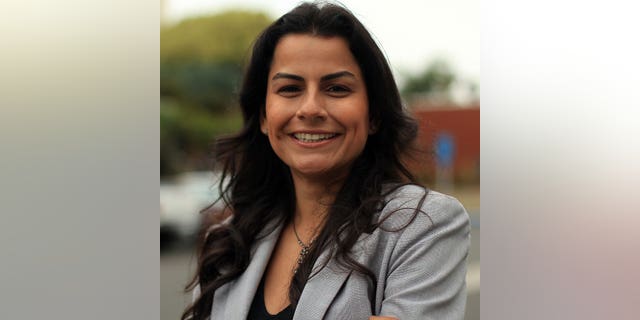 As late entries, Brown and Dash will each have to hurry to put together a federal-level campaign operation and raise money ahead of the primary, in the state's 44th congressional district.
"The money machine against me will ramp up after this week after an announcement," Dash tweeted after recently filing paperwork to run.
She tweeted earlier this week that the flu has slowed the start of her campaign but that "a donation to my campaign through my site is the best, as the liberal money machine is what I need to fight."
The 35-year-old Brown, who in 2013 became Compton's youngest mayor, could have an easier time.
Her successful efforts to reduce homicides and unemployment in the south Los Angeles city, notorious for gang violence, has garnered support from Compton natives like rapper Kendrick Lamar and tennis stars Venus and Serena William, whose potential endorsements could boost Brown's name recognition and fundraising ability.
The star athletes in 2016, for example, used their group, the Williams Sisters Fund, to establish a resource center in Compton named after older sister Yetunde Price, killing in a 2003 drive-by shooting on the streets of their hometown. And Vogue magazine profiled her 2013 mayoral win.
Brown has dismissed speculation that Dash's entry in the race was a motivating factor in her decision to run, suggested her overarching goal is to continue to serve the under-served and bring fresh, new leadership to Congress.
Some California Democrats, however, speculate that Brown was eying the seat and used the Dash candidacy as cover to challenge a Democratic incumbent.
"My decision to enter this race was not predicated on one person, but on the 700,000 residents of the 44th congressional district," she said earlier this week. "There is no doubt that our nation is in perilous times. … I believe our nation is headed for a brighter future. But in order to realize these visions of a greater nation, it requires the next generation of leaders to come forward."
Jessica Levinson, a professor at Loyola Law School, in Los Angeles, thinks Brown is a serious candidate with a solid elected-office record on which to run, but she questions the strength of big-name endorsements.
"It might be great to say, 'My favorite tennis star is voting for her.' But those endorsements don't supplant a well-run campaign and a message to voters that says, 'This is what I want to do to make your lives better,' " said Levinson, whose focus includes election law, campaign finance and ballot initiatives.
Brown's campaign did not comment for this story. Dash's could not be reached for comment.
Dash, 51, co-starred in the 1995 coming-of-age comedy "Clueless" before working as a Fox News on-air contributor until 2016. She voted for Democrat Barack Obama in the 2008 presidential election, then Republican Mitt Romney in 2012.
Barragan recently won endorsements from the state Democratic Party and California Democratic Sen. Kamala Harris. And she has had support in Washington from Latino members of the House Democratic Caucus, including fellow California Rep. Linda Sanchez.
Democratic strategists in California acknowledge that Barragan doesn't have huge name recognition -- pointing out the plight of a freshman Democrat in a Republican-controlled Congress.
But they also argue she's has a solid first term, including proposed legislation calling for sexual harassment training on Capitol Hill, while critics argue her only other elected office was on the Hermosa Beach council, outside the 44th district, and that her management style has created some turmoil inside her Washington office.
"We are facing great challenges here at home and an awful president in the White House who has kept our communities and our values under constant assault," Barragan told Fox News on Saturday, through her district office. "We must continue the fight for economic equality, environmental justice and protections for our Dreamers."
Recent population numbers show the district is roughly 15 percent African-American and 70 percent Hispanic, which makes the battle to win the minority vote difficult for all three candidates and a couple of others in the race.
Brown is African-American, Barragan's parents are Mexican immigrants. Dash's mother is Mexican-American and her father is African-American.
"Voters say every two years that they want somebody new in Congress, but we keep reelecting incumbents," Levinson said. "They are tough to beat. Sometimes it can just be a voter looking down the ballot and seeing the word 'representative' next to their name."