Clinton's high fashion makeover sends mixed messages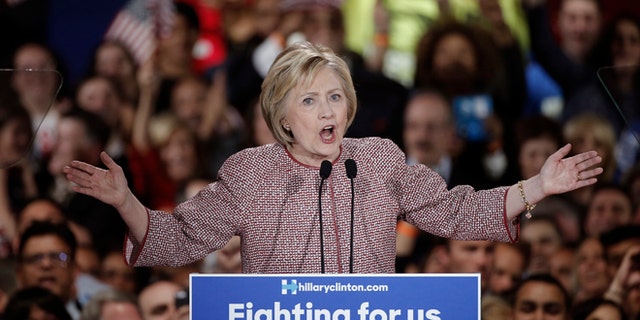 NEWYou can now listen to Fox News articles!
Hillary Clinton's once-dowdy wardrobe has been given a major fashion reboot -- but some say the new designer duds are sending mixed messages.
Clinton, whose go-to outfit for more than a decade has been the pantsuit, has recently traded up to pricier polished ensembles.
The problem is that her campaign to close the gap on income inequality takes a credibility hit when she pushes it in a $12,495 Giorgio Armani jacket. (The jacket has since gone on sale to $7,497.)
The day coat, made of "napa lambskin cut into strips and woven on the loom with contrasting silk thread and bonded to technical tule" from the designer's spring/summer 2016 collection, was on display when Clinton gave her New York primary victory speech in April.
Clinton has not only upgraded the designers she wears but has also hired a team of image consultants to help with the transition including Kristina Schake, tasked with making the former first lady and secretary of state look more presidential.
Of course, shelling out for high fashion isn't a new trend.
The Republican National Committee came under fire for spending $150,000 for a new wardrobe for Sarah Palin in 2008. And Donald Trump, this year's presumptive GOP nominee, is frequently seen wearing Brioni suits, which can retail upwards of $7,000.
"Trump favors suits… He is not the sort of candidate having beers with voters at the neighborhood watering hole, and so he has little use for warm fuzzy sportswear, unless it is golf gear and he is promoting one of his golf courses," wrote The Washington Post.
It is unclear where Bernie Sanders buys his clothes.