Clinton critic's book bumps Hillary memoir from top of bestseller list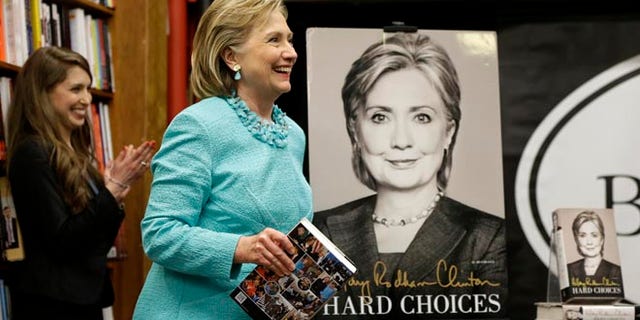 Ouch.
Hillary Clinton's memoir, which the former secretary of State has promoted relentlessly on a rocky book tour, just got bumped from the top of the bestseller list -- by a lurid account written by one of her most outspoken critics.
According to the latest rankings in The New York Times bestseller list, Edward Klein's "Blood Feud: The Clintons vs. the Obamas" has catapulted to the top of the charts, nudging his subject's memoir down to the second slot.
"Blood Feud," as the title suggests, is a journey of sensational anecdotes about tensions between Bill and Hillary Clinton, and the current occupants of the White House. The 300-page book is replete with ugly name-calling (Michelle Obama, according to the book, refers to Hillary Clinton as "Hildebeest," while Clinton supposedly calls President Obama a "joke") and gossipy anecdotes befitting Bravo television.
But while the contents have been called into question by Clinton allies and others, Klein has defended his reporting -- and the book sales suggest that, at the least, "Blood Feud" is a page-turner.
By contrast, Clinton's memoir "Hard Choices" has been criticized as dry and not incredibly revealing. (The Economist, for instance described it as a "stodgy memoir" meant for surrogates.)
"Hard Choices" still leads the list of Hardcover Nonfiction, but trails when print and e-books are combined.
And on Amazon.com, Klein's book has shot up to #13 overall, while Clinton's has fallen out of the top 100.
In another curious detail in the book wars, conservative commentator and neurosurgeon Ben Carson's book has crept into the Times' Top 10 list. According to The Daily Caller, the book's overall sales are also approaching Clinton's.
Nielsen Bookscan figures reportedly show Carson has sold 162,000 books, while Clinton has sold 177,000.