Clinton bashes Trump over Russia praise, but emails show she praised Putin
Though Hillary Clinton has bashed Donald Trump over his alleged fondness for Russia, excerpts from her purported post-State Department speeches in the WikiLeaks files show she also sought "a positive relationship" with Moscow and praised President Vladimir Putin as recently as 2014.
Clinton, the Democratic presidential nominee, called Putin "engaging" and said he was a "very interesting conversationalist" in some of those speech excerpts, which were revealed when WikiLeaks began releasing alleged emails belonging to Clinton Campaign Chairman John Podesta.
"I would love it if we could continue to build a more positive relationship with Russia," Clinton said during a speech to Goldman Sachs on June 4, 2013. In the same speech, Clinton said "obviously we would very much like to have a positive relationship with Russia and we would like to see Putin be less defensive toward a relationship with the United States so that we could work together on some issues."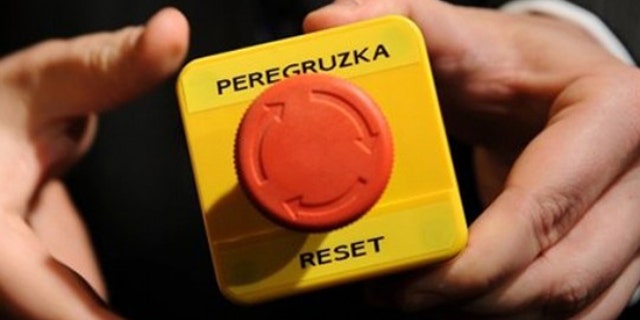 It was no secret that Clinton, who famously tried to "reset" U.S. relations with Russia when she became secretary of state in 2009, pushed for warmer ties with the Cold War foe. But the excerpts suggest Clinton maintained some optimism toward that goal after leaving office and found ways to praise Putin, though her campaign condemns Russia now -- and accuses the country of being tied to the WikiLeaks dump.
"I sat next to [Putin]. He's an engaging and, you know, very interesting conversationalist," she told international trade consultant Sanford Bernstein on May 29, 2013. "We talked about a lot of issues that were not the hot-button issues between us."
Clinton went into detail during remarks to the Jewish United Fund of Metropolitan Chicago on Oct. 28, 2013.
"In terms of interesting, Vladimir Putin is always interesting," she said. "You're never quite sure what he's going to do or say next, and he's always – he walks around with, you know, a redwood chip on his shoulder defending and promoting, you know, Mother Russia. So he and I have had our interesting moments."
Later in the speech, Clinton recalled bonding with Putin over his interest in protecting tiger habitats.
"One time, I was visiting with him in his dacha outside of Moscow, and he was going on and on, you know, just listing all of the problems that he thinks are caused by the United States," Clinton said. "... I said, 'You know, Mr. Prime Minister, we actually have some things in common. We both want to protect wildlife, and I know how committed you are to protecting the tiger.' I mean, all of a sudden, he sat up straight and his eyes got big and he goes, 'You care about the tiger?'"
Clinton said Putin then took her into his "private inner sanctum" and began showing her a huge map of Russia, pointing out "the habitat of the tigers and the habitat of the seals and the whales."
"And it was quite something," she said.
Now, Clinton's campaign derides Trump, the GOP presidential nominee, for his overtures to Putin and Russia.
During the second presidential debate on Sunday, Trump said "I think it would be great if we got along with Russia because we could fight ISIS together, as an example." Trump had previously – and controversially – praised Putin as being "a leader far more than our president has been."
Further adding to Clinton's frustration, Russian hackers are widely believed to be behind the Podesta leaks and other recent leaks of emails from Democrat operatives and aides.
"We have never in the history of our country been in a situation where an adversary, a foreign power, is working so hard to influence the outcome of the election," Clinton said during Sunday's debate. "And believe me, they're not doing it to get me elected. They're doing it to try to influence the election for Donald Trump."
Excerpts from Clinton's speeches -- the full transcripts of which the campaign has declined to release -- were contained in an 80-page document emailed to Podesta and others that flagged potentially problematic quotes.
Asked for comment on the details in the emails, the Trump campaign said in a statement, "Hillary Clinton has shown herself to be completely inauthentic and incapable of telling the truth."
The Clinton campaign did not immediately return a request for comment.
Earlier in the week, Clinton spokesman Glen Caplin, in an email to FoxNews.com, decried the Podesta document dump as "engineered by Vladimir Putin to interfere in this election."