Class of 2017 arrives on Capitol Hill, eyeing possible deal on infrastructure
The first of roughly 60 newly elected Senate and House members began arriving Monday on Capitol Hill – bringing luggage and briefcases and optimism about a quick deal on infrastructure and other bipartisan projects after a contentious White House race that still divides the country.
"I think we might be able to get more common ground than people anticipate. I certainly hope so because our country needs it more than ever," incoming Florida Democratic Rep. Charlie Crist said between exiting a cab and heading for House freshman orientation.
Crist, a former Republican and Florida governor, was among several incoming House members enthusiastic about Democrats and Republicans agreeing on a multi-billion-dollar spending package to create jobs and improve the country's crumbling roads, transportation hubs and other infrastructure.
COTTON: TRUMP, CONGRESS NEED TO REDUCE ILLEGAL IMMIGRATION
While President Obama took heat for years for his costly stimulus package that backed similar projects, infrastructure spending was touted this year by Hillary Clinton and Donald Trump.
"I know that President-elect Trump has talked about the fact that our airports and seaports need to be fixed, as well as our highways and byways," Crist also said. "So I'm optimistic about that."
Monday also marked the return of sitting senators and House members, who after a two-month recess for the elections have just six weeks to pass a budget to avoid a government shutdown.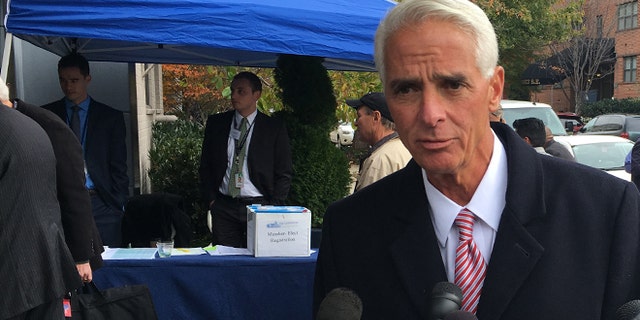 On the Senate side, Sen.-elect Catherine Cortez-Masto, who won the seat in Nevada of fellow Democrat and retiring Senate Minority Leader Harry Reid, was on Capitol Hill, with the six other new members still arriving.
"I'm honored to be the Senate-elect for the great state of Nevada," Cortez-Masto said during a brief press conference with Reid. "Thank you."
Perhaps the most activity in the upper chamber centered on the arrest of several demonstrators outside the office of New York Democratic Sen. Chuck Schumer, the expected next Senate minority leader.
One of the demonstrators told Fox News the group was made up of disaffected millennials who hold Wall Street-backed Democrats partly responsible for Trump's victory over Clinton, the Democratic presidential nominee.
They sat outside Schumer's office and called on him to withdraw his leadership bid.
House Majority Leader Rep. Kevin McCarthy told Fox News that Trump -- whose promise to dismantle the Washington establishment helped him win the White House -- is "going to shake this place up."
McCarthy, the No. 2 Republican in the GOP-controlled House, declined to say how his chamber will pass a spending bill to keep the federal government fully operational after Dec. 31, though it will almost certainly take the form of a stopgap measure known as a continuing resolution.
Trump's victory and Republicans keeping control Nov. 8 of their Senate majority will certainly help the GOP achieve its goals of further securing the southern U.S. border and finally getting to "repeal and replace" ObamaCare.
Neither issue is expected to face any sort of final vote in this so-called lame duck session of Congress. However, McCarthy, of California, suggested the House will be working on the issues long before Trump is sworn in Jan. 20.
House Republicans still have their internal vote for House speaker scheduled for Tuesday and are likely to nominate GOP Rep. Paul Ryan for another term, despite rumblings from some of the most conservative Republicans on Capitol Hill about delaying the vote or an outright change in leadership.
The announcement Sunday that Ryan's Wisconsin hometown friend and Republican National Committee Chairman Reince Priebus will be Trump's chief of staff may have helped blunt those efforts. Even Rep. Mark Meadows, R-N.C., a leader of the conservative House Freedom Caucus, said Monday he'll back Ryan for the post.
Meanwhile, a group of about 25 House Democrats on Monday reportedly asked for a delay on voting to reappoint House Minority Leader Nancy Pelosi. The California Democrat predicted her party would retake control of the chamber but won only a handful of seats.
"Our data and ground game and Trump's momentum was a recipe for success up and down the ticket," Republican National Committee spokesman Sean Spicer said Monday.
The House will have 59 new members, though incoming New Hampshire Democratic Rep. Carol Shea-Porter has already served in Congress. And four races remain undecided.
The Senate has six new members, including three newly-arriving Democrats: Cortez-Masto, Kamala Harris of California, and Maggie Hassan of New Hampshire.
The three others come from the House: Reps. Todd Young, R-Ind.; Chris Van Hollen, D-Md.; and Tammy Duckworth, D-Ill.
Fox News' Kara Rowland and Chad Pergram contributed to this report.