Cindy McCain: 'I don't know if I'll ever get over' Trump's prisoner of war comments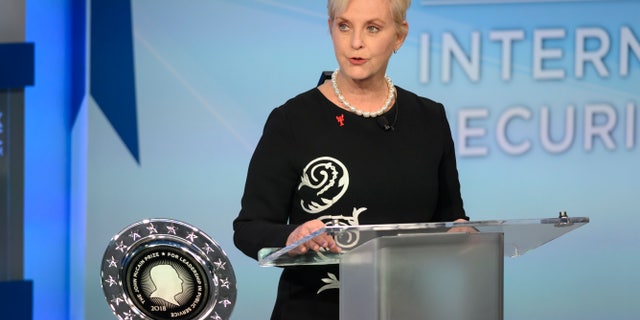 Cindy McCain, the wife of the late Sen. John McCain, recently said she's not sure she will ever get over President Trump's comments about her husband's military service.
In 2015, Trump — then just a presidential candidate — said John McCain "was a war hero because he was captured." The two Republicans often publicly clashed, particularly over foreign policy and human rights.
"I like people who weren't captured," Trump said, drawing widespread condemnation, including from those within his own party.
John McCain spent more than five years as a prisoner of war after his plane was shot down during combat in Vietnam. He was severely tortured, did not receive proper medical care for his injuries and spent two years in solitary confinement.
The longtime senator died in August at the age of 81 after a battle with glioblastoma, an aggressive brain tumor.
"I think that was a wrong thing to say, and I don't know if I'll ever get over it."
In an interview with BBC on Wednesday, Cindy McCain, 64, said Trump's "inappropriate" remarks were hurtful for her family and other men who had served or had been imprisoned with her late husband.
"I think that was a wrong thing to say, and I don't know if I'll ever get over it," she said. "But I'm the wife, that's my prerogative."
CINDY MCCAIN SAYS US NEEDS 'A STRONG LEADER, NOT A NEGATIVE NANCY'
During the interview, she also addressed the absence of Trump at John McCain's televised funeral.
"Even though it was a very public funeral, we are still a family. And for all of us, for the sake of my own children, I didn't want any disruption," Cindy McCain said. "This was about John, not about anything else at all in our country. It was important to me that we kept it respectful and calm and not politicize it."
LIEBERMAN AND GRAHAM DEFEND MEGHAN MCCAIN AFTER SHE TARGETS TRUMP IN FATHER'S EULOGY
The Arizona Republican was honored at a memorial service that was widely seen as a bipartisan rebuke of Trump. The service came after a cross-country funeral procession that John McCain planned himself, including its themes of preserving freedom and serving a greater cause.
Cindy McCain declined to say whether she would support Trump if he runs for re-election in 2020, adding she'd "like to see some softening of the rhetoric." She previously told CBS News the U.S. "needs a strong leader, not a negative Nancy."
Fox News' Madeline Farber and The Associated Press contributed to this report.