Cinco de Mayo pandering: Trump eats taco bowl, Clinton releases deportation ad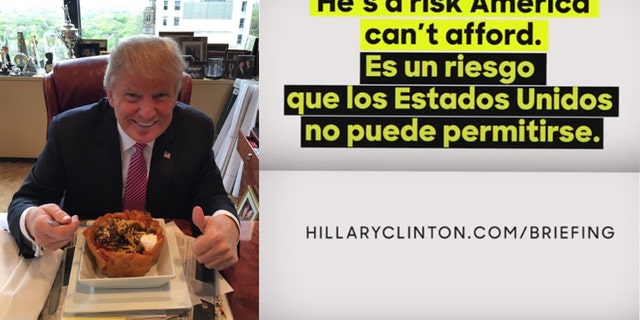 NEWYou can now listen to Fox News articles!
Both presumptive presidential nominees couldn't let Cinco de Mayo end without targeting Hispanic voters.
Donald Trump began his pitch to Hispanic voters as the presumptive Republican presidential nominee with a tweet and a Facebook post celebrating Cinco de Mayo. While Hillary Clinton, who is the front-runner for the Democratic nomination, released a bilingual ad attacking Trump.
Trump posted an image of himself eating a Taco Bowl from his office in Trump Tower while saying: "Happy Cinco de Mayo! The best taco bowls are made in Trump Tower Grill. I love Hispanics!"
Of course, the tweet launched a Twitter storm (see reactions below). Journalists pointed out that the Trump Grill does not in fact serve taco bowls. However, Fox News Latino can confirm taco bowls are available at the Trump Cafe.
Trump will have an uphill battle to win over Hispanic voters in a general election matchup with the Democratic presidential front-runner Hillary Clinton. The billionaire launched his campaign by referring to Mexican immigrants as rapists and criminals not to mention the Republican party is looking to rebound from losing the Hispanic vote in by a 71 percent to 27 percent margin in 2012.
Trump isn't the only candidate using Cinco de Mayo as a launch-pad to pander to Hispanics.
Clinton released the following bilingual ad attacking Trump for his proposal to deport all undocumented immigrants, many of whom are Latino.
"He's a risk America can't afford," the ad declares with snippets of Trump saying, among other things, that he's going to institute a deportation force.
Here are some of the Tweets and Facebook comments from Trump's post on Thursday: