Chinese activist addresses Washington hearing by phone, appeals to Clinton for help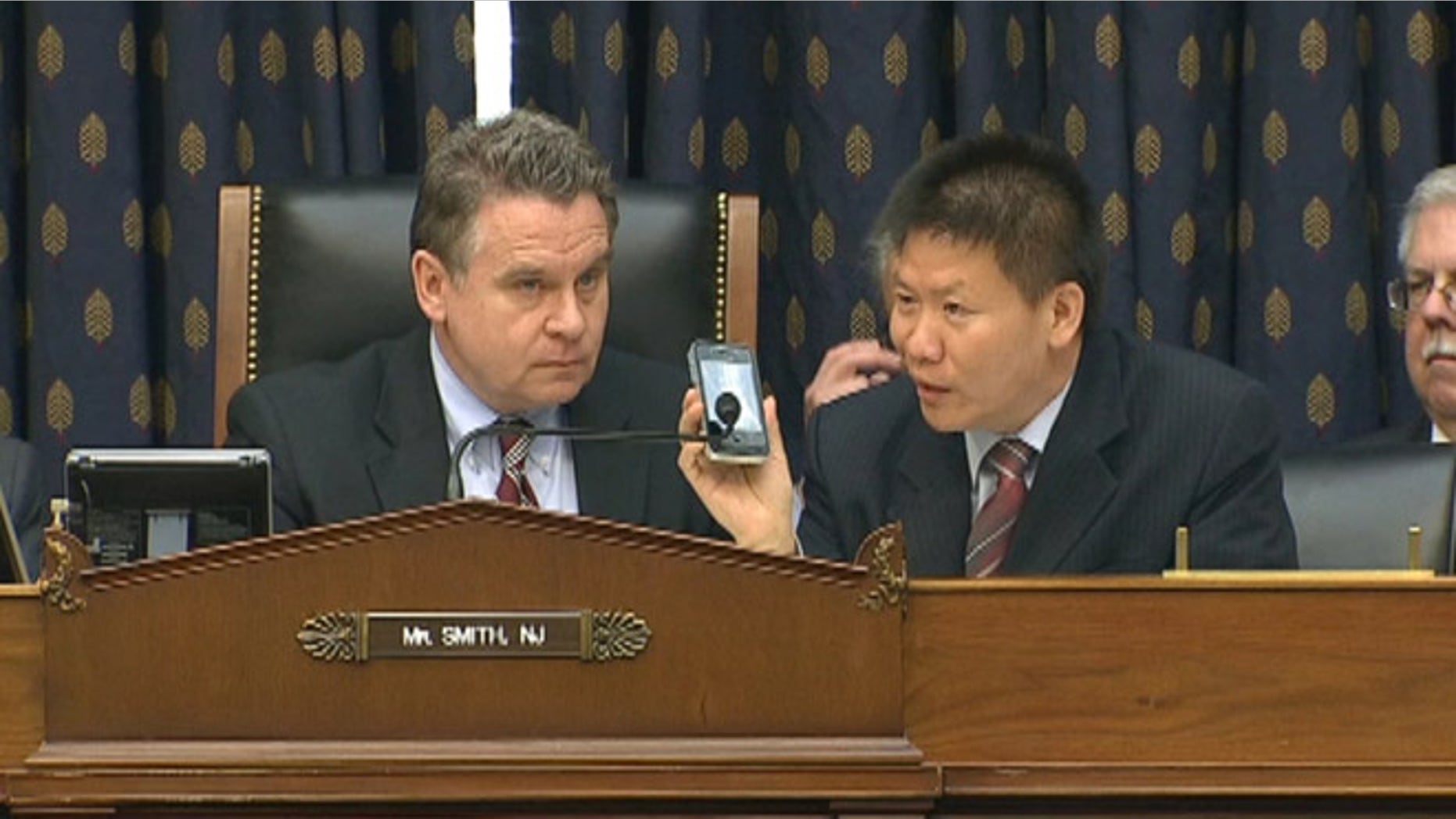 In a dramatic appeal, the Chinese dissident at the center of an international firestorm spoke to a Capitol Hill committee over an iPhone on Thursday and -- according to the translator -- asked for Secretary of State Hillary Clinton's help ushering him out of China and into the United States.
Chen Guangcheng called in to an emergency hearing held Thursday afternoon in Washington. He spoke for several minutes while a rights activist held up the phone to the microphone and translated from Mandarin to English.
Chen said he wanted to meet with Clinton and that he wanted to come to the U.S. for some "rest." He said he hoped Clinton could "help" him, and that he also wanted to thank her, as he detailed his concerns about his family's safety.
"I'm really afraid (for) my other family members' life," he said, according to Bob Fu, president of the rights group ChinaAid, who translated Chen's de facto testimony. "The thing I'm most concerned (about) right now is the safety of my mother, my brothers, and I really want to know what's going on with them."
The appeal, combined with some tough statements by Republican lawmakers, puts added pressure on the Obama administration to facilitate a resolution to the potential diplomatic crisis.
The blind activist first escaped house arrest and fled to the U.S. Embassy in China last week, touching off the diplomatic dispute. He finally left the embassy Wednesday to seek medical care and visit his family at a local hospital -- a decision U.S. officials described as his own.
Yet despite initial U.S. claims that the Beijing government offered assurances to Chen and that Chen wanted to stay in China with his family, that's not the story Chen is telling now.
He says he wants to leave China, apparently for the United States, and had previously claimed a U.S. official passed on a message from Chinese authorities that his wife would be killed if he did not leave the embassy, though U.S. officials deny that part.
White House Press Secretary Jay Carney said Thursday that the State Department is continuing to talk to Chen and his wife.
"At no point during his time in the embassy did Mr. Chen ever request political asylum in the U.S.," Carney stressed. He did not provide details of the discussions currently being held.
Meanwhile, Republican lawmakers stepped up pressure Thursday on the Obama administration to protect Chen and his family.
During Chen's phone call, Rep. Chris Smith, R-N.J., told him the case is a "test of the United States as to whether or not human rights really do matter."
Smith had called the hearing Thursday of the Congressional-Executive Commission on China.
The congressman, who chairs that panel, said he plans to call another hearing in order to hear testimony directly from Obama administration officials.
Rep. Frank Wolf, R-Va., too, said he will request all diplomatic cables surrounding the negotiations over Chen.
"There are more questions than answers at this juncture," he said. "The Obama administration has a moral, and a high moral, obligation to protect Chen and his family. ... To do anything less would be scandalous."
Both congressmen also raised questions as to why Smith, going through U.S. intermediaries, was unable to contact Chen on Tuesday despite Chen's expressed desire to speak with Smith.
Presumptive Republican presidential nominee Mitt Romney has started to speak up more forcefully on the controversy. He said Thursday that the administration had "failed" to protect Chen by factoring political considerations into the negotiations that ultimately led him to leave the U.S. Embassy in Beijing.
Campaigning in Virginia, Romney said if reports that the U.S. communicated implicit threats to Chen as he was deciding whether to leave the embassy are true, "this is a dark day for freedom and it's a day of shame for the Obama administration."
The State Department said this week it conveyed no implicit threats and the issue of violence never came up in its discussions with Chen. They told him, they said, that China had agreed for him to reunite with his family if he left the U.S. Embassy, and allow him to pursue a higher education.
Romney suggested U.S. officials were motivated by the politics of Chen's case, accelerating negotiations because of scheduled high-level talks in the country with Clinton, Treasury Secretary Timothy Geithner and their Chinese counterparts.
Carney said Obama "is not concerned about political back-and-forth on this issue." Obama has an eye on the larger U.S.-China relationship and will continue to press Beijing on human rights, he said.
"He is focused on the need to advance U.S. interests in our broad-based relationship with China -- very important economic, diplomatic relationship with China," Carney said. "He has and will continue to make a priority in that relationship or a part of that relationship an open and frank discussion of our concerns about human rights."
Fu also testified before the congressional committee Thursday, and said that Chen had told him he feels he is in "danger." Appearing to echo Chen's reported claims a day earlier, Fu said that Chen's wife -- after Chen escaped house arrest -- had been taken to an interrogation center "where she was tied and beaten and was threatened with life." Fu said the interrogator told her that if Chen did not leave the U.S. Embassy, "they will kill her."
He said he still has questions about whether the U.S. relayed that message to Chen.
The Associated Press contributed to this report.