China reportedly issues new warning over North Korean nuclear production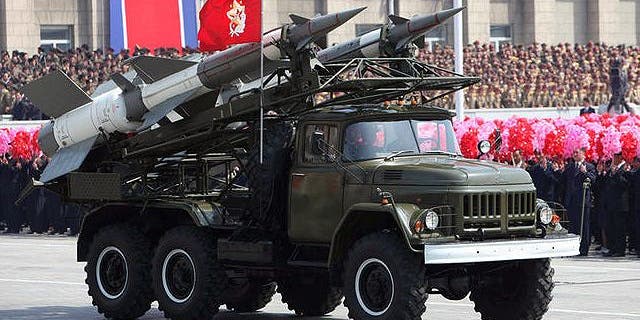 Chinese nuclear experts reportedly warned the U.S. earlier this year that North Korea's nuclear arsenal is larger than previously estimated, creating a heightened security threat to the U.S. and its East Asian allies.
The Wall Street Journal reported late Wednesday that by Beijing's estimate, North Korea may already have manufactured 20 nuclear warheads and is capable of producing enough weapons-grade uranium to double that amount by next year. U.S. experts have previously estimated that North Korea has between 10 and 16 nuclear weapons.
The Chinese estimates were presented to U.S. nuclear specialists at a closed-door meeting at the China Institute of International Studies in Beijing this past February. The Journal reported that Chinese military representatives and experts on the North's nuclear program were at the meeting.
Siegfried Hecker, a Stanford University professor and former head of the Los Alamos National Laboratory who attended the February meeting, told the Journal that estimates about North Korea's nuclear program involved a sizable amount of guesswork. He estimated that North Korea currently could have no more than 12 weapons, and as many as 20 in 2016.
"I'm concerned that by 20, they actually have a nuclear arsenal," Hecker said. "The more they believe they have a fully functional nuclear arsenal and deterrent, the more difficult it's going to be to walk them back from that."
Washington has not had high-level talks with Pyongyang since 2012, when North Korea conducted a banned nuclear missile test. In the intervening time, the U.S. has relied on China to use its economic leverage to put pressure on the impoverished nation's missile program while the Obama administration works toward a nuclear deal with Iran.
However, the Journal reports that relations between China and North Korea have deteriorated since the death of dictator Kim Jong Il in 2011 and the ascension of Xi Jinping to China's leadership the following year.
The Journal report comes a day after the U.S. envoy to the long-stalled six-nation talks said that North Korea should learn from the emerging nuclear deal with Iran that Washington is willing to engage its adversaries if it has a "credible" negotiating partner.
"The entire international community is looking for this type of policy shift in Pyongyang, and that policy shift would be positively responded to," Sydney Seiler told a Washington think tank Tuesday.
But Seiler said there was no sign in two years that Pyongyang is willing to denuclearize, adding that the country would need to halt its nuclear program and missile launches while any talks are underway.
The Associated Press contributed to this report.