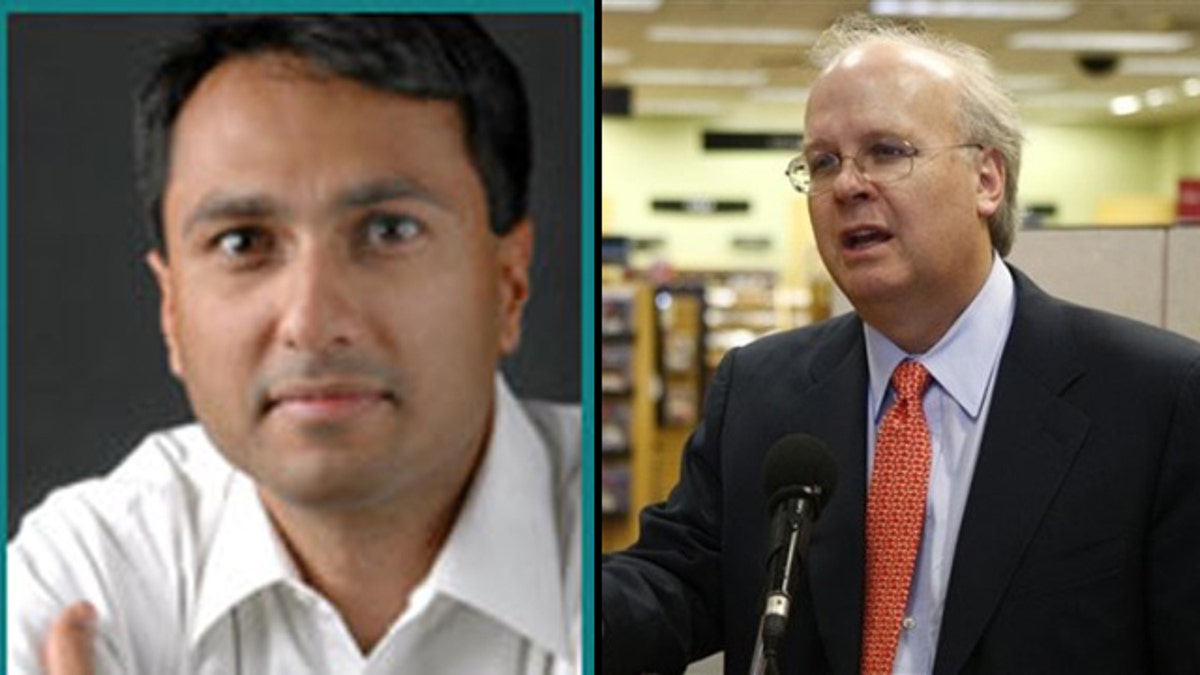 A private university in Chicago that refuses to host former senior Bush adviser Karl Rove, arguing that welcoming a "political" speaker ahead of the midterm elections could threaten its tax-exempt status, has added an Obama administration appointee to address the student body.
Loyola University Chicago is hosting Eboo Patel, an Obama appointee to the White House interfaith council, next month, calling into question the school's rationale for rejecting Rove's appearance.
"The news that Eboo Patel, an appointee of the Obama administration, will be allowed to speak at Loyola University Chicago, while Karl Rove was essentially barred, is further proof that the (university) administration either has zero understanding of tax law or is unabashedly biased," said Evan Gassman, a spokesman for Young America's Foundation, a conservative outreach group that was sponsoring the Rove speech.
University spokesman Steve Christensen told FoxNews.com that the topic of Patel's speech does not have a political motive, which would violate current speaker policy.
"Our university considers its on-campus speakers on a case-by-case basis, and very carefully," he said. "Dr. Patel's speech on Aug. 27 will focus on the importance of interfaith leadership and transformative education, two topics that are directly associated with the university's mission. This is a very different lecture than what was proposed by our College Republicans, who informed the university in their proposal that they are inviting Karl Rove 'to speak in October 2010 to speak about the upcoming elections and their impact on public policy.'"
The university previously argued that the timing of Rove's appearance for the upcoming school year could imperil its 501(c )(3) tax status.
"The timing of this event is problematic given the campaign cycle," Kimberly A. Moore, director of student affairs and Greek affairs, told students in an e-mail. "Loyola has to maintain impartiality in order to protect our tax-exempt status."
Adam Kissel of the nonpartisan Foundation for Individual Rights in Education told FoxNews.com that the school appears to be applying a "double standard."
"We often see rules applied strangely as a proxy for the real issue that a particular administrator or the whole institution doesn't want the lecture to happen and a pretext is developed to keep the speaker off of campus," Kissel said. "We see that time after time."
Rove, a Fox News contributor who gained prominence as the architect of former President George W. Bush's successful campaign strategies in 2000 and 2004, is not working on any campaign this season.
The school has offered to host Rove after the midterm election on Nov. 2, but the conservative group said Rove would not be able to speak then because of his busy schedule.
Conservative students point out that the school has hosted partisan speakers on election years before. In September 2004, the school hosted Howard Dean, who ran for president that year. A couple of weeks after his speech, political activist Ralph Nader, who also ran for president that year, spoke on campus -- a speech that was advertised as a campaign event in which donations were solicited.
Patel, whom Obama appointed last year to his advisory council of the White House Office of Faith-Based and Neighborhood Partnerships, will discuss interfaith leadership and transformative education, according to the school's provost who is sponsoring the speech. Patel was named by Harvard's Kennedy School Review as one of five future policy leaders to watch.
"It is very disconcerting to see Loyola not live up to the standards of academic freedom that they frequently preach about," said Sean Vera, the student who tried to bring Rove to the campus.
"I never expected Loyola would prevent the free exchange of ideas and they would do so in such a partisan manner," he said.
But the university said times have changed.
"In recent years, the IRS has become increasingly more scrutinizing over not-for-profit universities and their tax-exempt status as it relates to political or potentially political speakers invited to come on campus," Christensen said. "With that in mind, our university has become more cautious in its decision-making."
Kissel, of FIRE, called that a "false argument."
"It does not threaten the school's 501(c )(3) status to permit a student group to bring even a politician to campus while the politician is in office," he said.