Chicago police chief fired by Rahm Emanuel will run against him for mayor
Former Chicago Police Superintendent Garry McCarthy, a Democrat who said he was "thrown under the bus" when he was fired in 2015 by Chicago Mayor Rahm Emanuel, released a video Wednesday evening announcing he's running for mayor.
The video, posted on McCarthy's website, is titled, "Chicago Needs Change."
"Between the taxes, our economy, the schools and the crime rate here, we're a laughingstock in America," McCarthy told the Chicago Tribune. "The prevailing thought about Chicago is we're on our way down in all those areas, and they all infect each other, and nobody seems to get that. It's almost like a 'Wake up, Chicago' moment."
"Between the taxes, our economy, the schools and the crime rate here, we're a laughingstock in America."
McCarthy, a self-described pro-police, limited-government candidate, is taking on Emanuel, a liberal who sent shockwaves through the city when he fired McCarthy.
It will make for a very personal race and some fiery political theater as McCarthy be fighting back against a fellow Democrat and President Barack Obama's former White House chief of staff.
Emanuel recently stabilized from citywide demands and protests calling for him to resign after he was accused of helping secure his mayoral re-election by burying a tape that showed Chicago police Officer Jason Van Dyke shooting 17-year-old Laquan McDonald 16 times. Emanuel has denied any cover-up.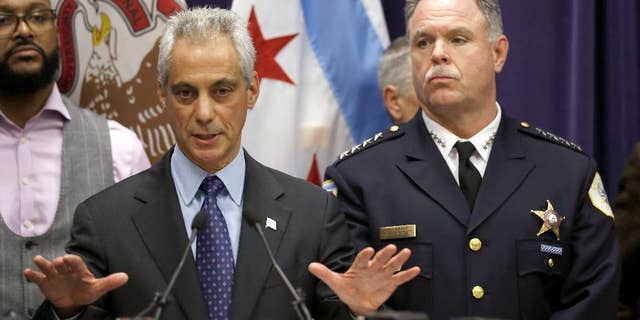 However, in the court of public opinion, Emanuel still hasn't necessarily been cleared of the widely accepted accusation that he kept the tape under wraps.
Emanuel has never gone into great detail about the alleged secrecy surrounding the tape and, after initially defending Van Dyke and McCarthy, Emanuel ultimately placed blame on the then-top cop and fired him.
McCarthy argues the tape was out of his hands and that Emanuel's city council voted to quickly pay the victim's family millions of dollars.
McCarthy told Fox News he plans to make the McDonald tape a key piece of his campaign against Emanuel and demand that the mayor publicly explain what happened. It could place Emanuel in some interesting positions in any potential public forums or debates.
An e-mail address provided for Emanuel's re-election campaign has not returned Fox News' e-mail seeking comment about McCarthy's campaign plans.
The officer involved in the videotape, Van Dyke, awaits trial on murder charges.
McCarthy's time as the top cop was not without blemish, but he is credited with significantly reducing crime.
One additional criticism against McCarthy is that he hails from New York and doesn't have true political experience.