Chicago credit downgrade hangs over Emanuel's mayoral runoff race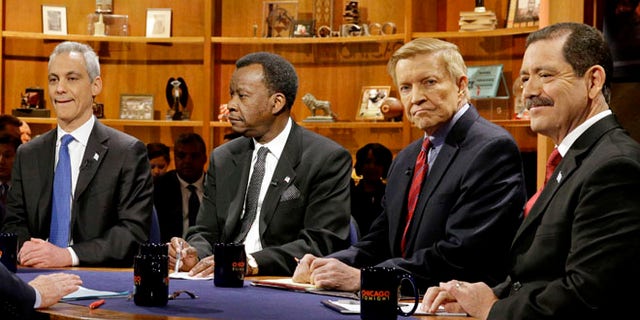 Chicago Mayor Rahm Emanuel's already struggling reelection bid has suffered another potential hit, with a fresh credit downgrade giving political ammunition to his runoff rival.
Moody's Investors Service last week downgraded the city's credit rating, citing $20 billion in unfunded pension liabilities. The agency lowered the rating on $8.3 billion in general obligation debt to near junk bond status and issued a cautious forecast about the city's longer-term financial future.
The news comes as Emanuel, a former chief of staff to President Obama, heads into a runoff for a second term, after failing to get 50 percent in the Feb. 24 election. He faces Cook County Commissioner Jesus "Chuy" Garcia, who finished second in the four-man race.
"The Moody's downgrade is yet another sign that Emanuel's financial priorities are simply wrong," said Garcia campaign manager Andrew Sharp. "It's time for change."
The credit-rating downgrade, from a Baa1 to Baa2, means that Chicago, the country's third-largest city, will have to pay more to borrow money in the future.
Chicago has the worst-funded pension system of any major U.S. city, with the roughly $20 billion hole spread across four accounts.
Legislation approved last year seeks to eliminate a $9.4 billion shortfall in two of those pension systems by cutting benefits and increasing contributions for both the city and employees.
But Emanuel's pension overhaul is being challenged in the courts by retirees and public labor unions, which contributed to Moody's also issuing the cautious outlook.
"Regardless of outcome of the legal challenges to pension reforms, we expect Chicago's unfunded pension liabilities -- and the costs of servicing those liabilities -- to continue to grow, placing significant strain on the city's financial operations," Moody's said.
Emanuel and Garcia, a fellow Democrat, are headed for an April 7 runoff.
Democratic strategist Philip Molfese said Monday he doesn't think the downgrade will have a big impact on the race because voters are more interested in deciding which candidate presents the best opportunity to achieve the goal of having a "world-class city."
"It's two Chicagos," he said. "This race is fundamentally about becoming a world-class city and the path to that in which people don't get left behind."
Molfese pointed out that Garcia is considered a grassroots candidate, compared with Emanuel "who might be seen as somebody who looks to experts."
But either way, he said, Chicago leaders have to hastily continue to reduce violent crime "because obviously the rate is not fast enough for anybody."
The Emanuel campaign is trying to downplay the Moody's report, saying other ratings services have reaffirmed Chicago's bond rating and citing Emanuel's moves "in righting the city's fiscal ship."
"The action by Moody's underscores the need to have a mayor who is willing to take on our challenges and level with Chicagoans, not try to distract them with empty rhetoric," said Emanuel campaign spokesman Steve Mayberry.
City Treasurer Kurt Summers said Emanuel has made significant progress in addressing the pension challenges without unfairly burdening taxpayers.
Moody's said action is needed to stop the debt from growing. The agency said commitments to increasing tax revenue or cutting costs could also prompt it to boost Chicago's rating.
However, Laurence Msall, president of the Civic Federation, told the Chicago Tribune it was difficult to see how the next administration would manage the crisis "without significant new revenue or dramatic reductions in city services."
"Decades of pension underfunding, failure of the General Assembly to provide pension reform, and the city of Chicago's years of reliance on debt to fund operations have put the city in this financial position," he said.
The Associated Press contributed to this report.