Charleston shooting: Obama shares 'deep sorrow'; presidential candidates cancel South Carolina stops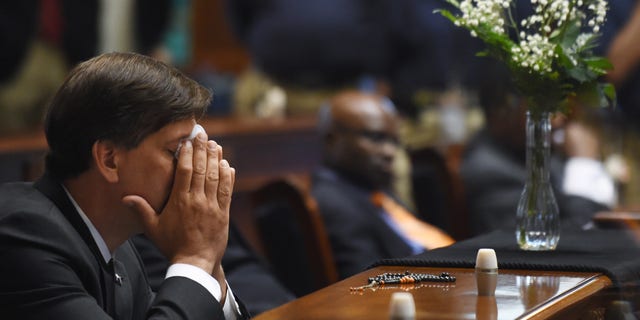 NEWYou can now listen to Fox News articles!
President Barack Obama delivered somber remarks Thursday alongside Vice President Joe Biden, expressing his "deep sorrow" following the fatal shooting of nine people at a historic black church in downtown Charleston, South Carolina.
"To say our thoughts and prayers are with them doesn't say enough to convey the heartache and sadness and the anger that we feel," Obama said. "There is something particularly heartbreaking about death happening in place in which we seek solace and peace."
Obama said he and First Lady Michelle Obama know several members of the Emanuel AME Church, one of the country's oldest black congregations, including its beloved pastor, state Sen. Clementa Pinckney.
"Mother Emanuel is in fact more than a church. This is a place of worship that was founded by African American seeking liberty," Obama said.
The president also called for another national conversation about gun control.
"Now is the time for mourning and for healing," Obama said. "But let's be clear. At some point, we as a country will have to reckon with the fact that this type of mass violence does not happen in other advanced countries."
Meantime, presidential hopefuls took a pause from the campaign trail on Thursday following news of the horrific shooting.
Former Florida Gov. Jeb Bush, who was scheduled to speak at the Charleston Maritime Center on Thursday, cancelled all campaign events for the day.
"Columba and I mourn today with the Emanuel AME Church and the families of the victims of this terrible crime," Bush said in a statement. "Our hearts are broken at the senseless loss of life. Our prayers are for the community that has lost its pastor and a brave leader."
He added, "May the families and the city of Charleston be lifted up by the prayers of our entire nation."
According to the Washington Post, Bush was to speak about foreign policy and the need to revamp the American military at a veteran's town hall meeting. The candidate has already visited New Hampshire and Iowa this week.
Meantime, former Secretary of State Hillary Clinton tweeted, "Heartbreaking news from Charleston – my thoughts and prayers are with you all." According to Charleston's Post and Courier, Clinton was at a fundraising about a mile from the church Wednesday evening, but she left for Nevada at least two hours before the shooting.
On Thursday afternoon, Congressional members held a prayer vigil for victims outside on Capitol Hill. It was led by South Carolina Republican Sen. Tim Scott.
South Carolina Senator and GOP presidential hopeful Lindsey Graham canceled his political schedule for the remainder of the weekend in order to return to his home state. Graham had been scheduled to deliver remarks in Philadelphia Firday and campaign in New Hampshire over the weekend.
Other presidential hopefuls like Florida Sen. Marco Rubio and Texas Sen. Ted Cruz also sent out condolences.
"Saddened by the news from Charleston," Rubio tweeted. "The victims and their families are in my prayers today."
"My thoughts and prayers are with the families of the victims of last night's shooting in Charleston, who were tragically taken from us as they gathered together in prayer inside their place of worship," Cruz said in a statement.