Chaotic protests hold up lawmakers outside GOP convention complex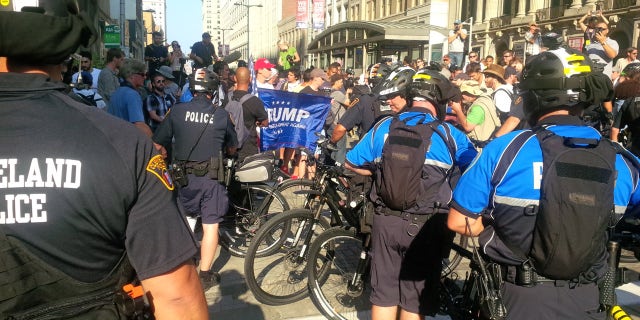 NEWYou can now listen to Fox News articles!
CLEVELAND – Angry street protests created havoc Tuesday at the Republican National Convention, forcing the Secret Service to temporarily suspend transportation for lawmakers and other officials trying to get to and from events within the roughly 1.5-square-mile complex.
Among the most chaotic scenes was a tense, midday standoff at an intersection close to where GOP congressmen and others do interviews at the TV networks' makeshift studios -- halting traffic and sending nearly a hundred police officers to the scene.
The incident involved Trump and anti-Trump protesters, Black Lives Matter members and self-described anarchists.
Police in riot gear and on bicycles diffused the situation by separating the groups before violence erupted.
"There were a lot of crazy people, a lot of uniformed people," said 18-year-old Sam Ditzhazy, a protester from Michigan who was holding a "Trump: Make America Great Again" banner.
There were unconfirmed reports later in the afternoon of protesters breaking storefront windows near that scene.
Earlier in the day, a skirmish broke out in the city's Public Square when right-wing conspiracy theorist and radio show host Alex Jones started speaking. Police on bicycles pushed back a surging crowd, and Jones was whisked away.
Minutes later, more officers on bicycles formed a line between a conservative religious group and a communist-leaning organization carrying a sign that read, "America Was Never Great."
The demonstrators also include anti-government and anti-Muslim groups.
The crowds and the police presence were some of the largest and most raucous gatherings in downtown Cleveland since the convention got underway Monday.
Cleveland Police Chief Calvin Williams was talking to the crowd Tuesday before some of the skirmishes broke out.
In addition, three people were arrested and charged with criminal mischief for climbing flagpoles outside the Rock and Roll Hall of Fame and Museum early Tuesday morning and hanging an anti-Donald Trump banner.
More than 300 officers from more than a dozen law enforcement agencies have come to patrol the downtown on bicycles over the four-day convention.
Rallies on Monday, the first day of the convention, included a small number of demonstrators openly carrying guns as allowed under Ohio law.
But the violence and destruction that many feared could erupt, amid an exceptional year of violence in the United States and overseas, has yet to occur.
Williams on Monday evening said the protests have so far been "peaceful" with just one arrest.
FoxNews.com's Joseph Weber and The Associated Press contributed to this report.