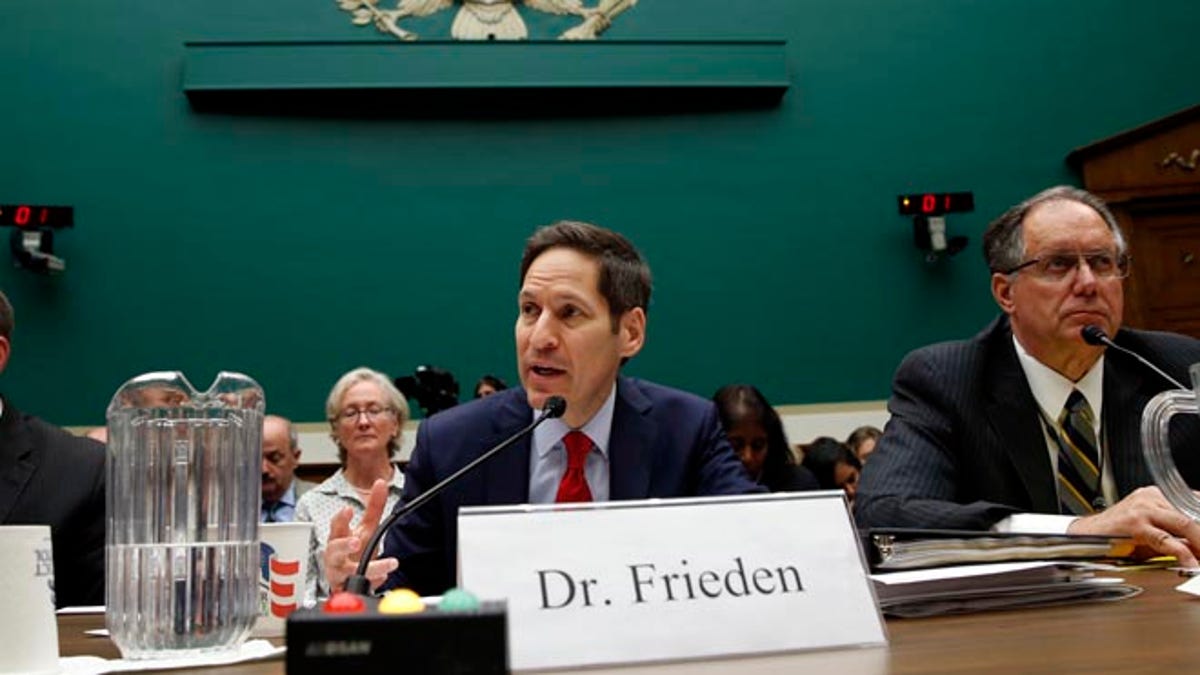 WASHINGTON – Tom Frieden, director of the Centers for Disease Control and Prevention, called a pattern of recently-discovered safety lapses -- including a mishandling of live anthrax and an incident involving a strain of bird flu at the Atlanta-based health agency -- "deeply troubling" and vowed to fix the issues.
Frieden told a House subcommittee on Wednesday that the incidents "should have never happened" and called the lack of adequate procedures and oversight that allowed them to take place "totally unacceptable."
The panel also was looking into allegations that the federal health agency tried to cover up its mishandling of dangerous pathogens at a laboratory.
"We have seen, at this point, no evidence of a cover-up, but we do see a need to strengthen the culture of safety that encourages reporting anytime there is a problem or potential problem, so we can assess it and take rapid and prompt action," Frieden said.
In his nearly two hours of testimony, Frieden promised to fix the various safety issues that have resurfaced in recent weeks.
Rep. Tim Murphy, R-Pa., chairman of the oversight committee of the House Committee on Energy and Commerce, cited several reports that over the years had pointed out lax safety standards at the CDC, including one that referred to recent incidents as "sloppy" and "inexcusable."
The CDC has been under fire after officials revealed that 84 lab workers had potentially been exposed to live anthrax bacteria. The CDC later disclosed the discovery of vials containing smallpox at a National Institutes of Health facility outside Washington.
``In hindsight, we realize we missed a crucial pattern: a pattern of incidents that reflect the need to improve the culture of safety at CDC,'' Frieden said.
He added that the anthrax incident revealed "a lack of proper protocol" and said the agency was working on how to improve the safety culture at the agency.
Nancy Kingsbury, a managing director at the Government Accountability Office, told the panel that her office had issued multiple reports taking the CDC to task over the way it approached biosafety at its labs.
Rep. Fred Upton, R-Mich., said Frieden's promises to beef up safety standards sounded similar to what the agency pledged two years ago.
"Why should we believe this time things will be different?" he asked.
Lawmakers also pressed Frieden on a 2006 incident involving that anthrax went unreported to Congress until last week. Two days later, Frieden revealed the mishap at a news conference.
Jere Dick, a top official at the U.S. Department of Agriculture's Animal and Plant Health Inspection Service, also testified.
Dick's department investigated the CDC and found dozens of safety and security problems with the way the CDC handled dangerous pathogens in the 18 months leading up to a June incident that involved the release of live anthrax to a lab not equipped to work with it, according to a memo lawmakers released Wednesday.
USDA investigators also found problems with faulty equipment, as well as an inability to document staff training.
In 2012, USA Today first raised concern about the CDC policing its own bioterror laboratories. Since then, the USDA has inspected CDC-run labs almost a dozen times.