Carter warns China over increasing militarization of South China Sea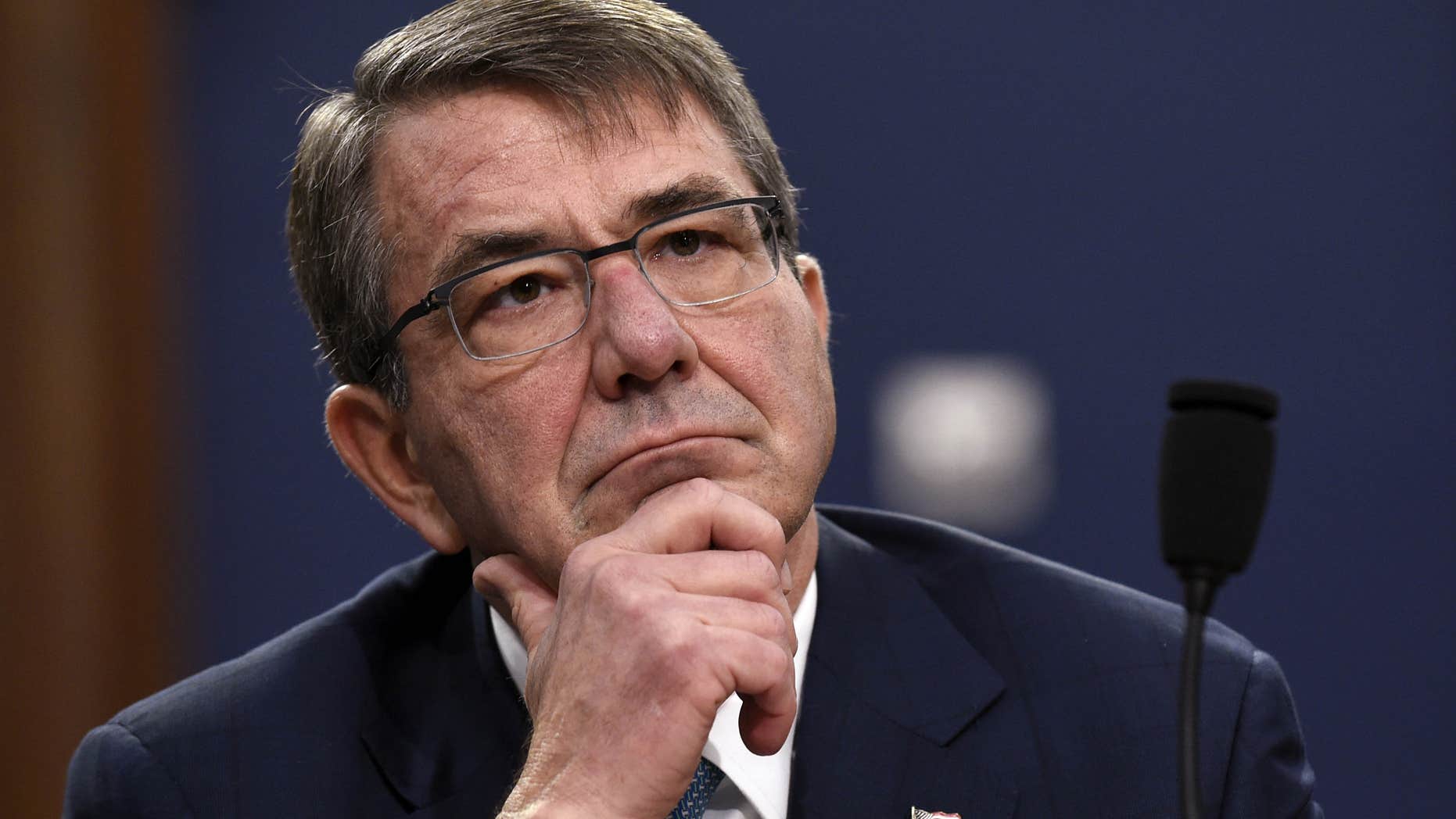 Defense Secretary Ash Carter warned China Tuesday against making increasingly aggressive moves in the disputed South China Sea region, days after satellite images revealed Beijing had placed surface-to-air missiles on one of its claimed artificial reefs.
"China must not pursue militarization in the South China Sea," China said in a speech in San Francisco. "Specific actions will have specific consequences."
Carter said if China doesn't heed the warning, the U.S. was prepared to increase military deployments to the Asia-Pacific region and would spend an additional $425 million to pay for more joint military exercises with countries that feel threatened by China's actions.
Additionally, Carter said the Pentagon is planning to spend more than $8 billion next year to expand its fleet of powerful submarines and undersea drones.
"There is no question that there are consequences for these actions," Carter said. "We have plans in all three of these categories. You'll see them unfolding."
Meanwhile, a mayor who heads a Philippine-claimed region in the disputed Spratly Islands, said he saw five Chinese coast guard and navy ships at the Jackson Atoll last week while flying over the area.
Eugenio Bito-onon said Chinese government vessels have not been stationed at the atoll, which the Philippines calls Quirino, in the years he has been passing by the uninhabited, ring-shaped reef.
Jackson Atoll lies several miles from the Philippine-claimed Mischief Reef, which China occupied in 1995 and has turned into an island containing what appears to be a runway. It lies midway between the western Philippine province of Palawan and Filipino-occupied Thitu Island in the Spratlys.
The Philippines Department of Foreign Affairs in Manila said it was trying to verify that reported Chinese presence, as well as a report by the Philippine Star newspaper that Chinese ships recently prevents Flipino fishermen from approaching the area.
A Philippine security official said the air force was preparing to fly a surveillance plane to verify the Chinese presence. The official spoke on condition of anonymity because the military does not discuss such covert missions publicly.
"I'm alarmed because we frequently pass by that atoll on our way to Pag-asa," Bito-onon told The Associated Press by telephone, using the Philippine name for Thitu Island, where he frequently travels to visit a Filipino fishing community guarded by troops. "What will happen now if we sail close by with all those Chinese ships?"
Philippine planes landing and taking off at Thitu have also been warned frequently to stay away by Chinese forces based at the nearby Subi Reef, one of seven reefs in the disputed Spratlys that China has transformed into islands in the last two years using dredged sand. The plane that Bito-onon was on last week that flew to Thitu was shooed away again by the Chinese at Subi, he said.
"When you take off or land, you'll hear their warning: 'You are flying within our security zone, please leave immediately to avoid miscalculation,'" Bito-onon said.
The U.S. and other Southeast Asian governments with rival claims, have expressed alarm over China's island construction, saying it raises tensions, threatens regional stability and could violate freedom of navigation and overflight.
Aside from China and the Philippines, Vietnam, Malaysia, Taiwan and Brunei have conflicting territorial claims in the Spratlys.
The Associated Press contributed to this report.