Can Obama scare supporters to the polls?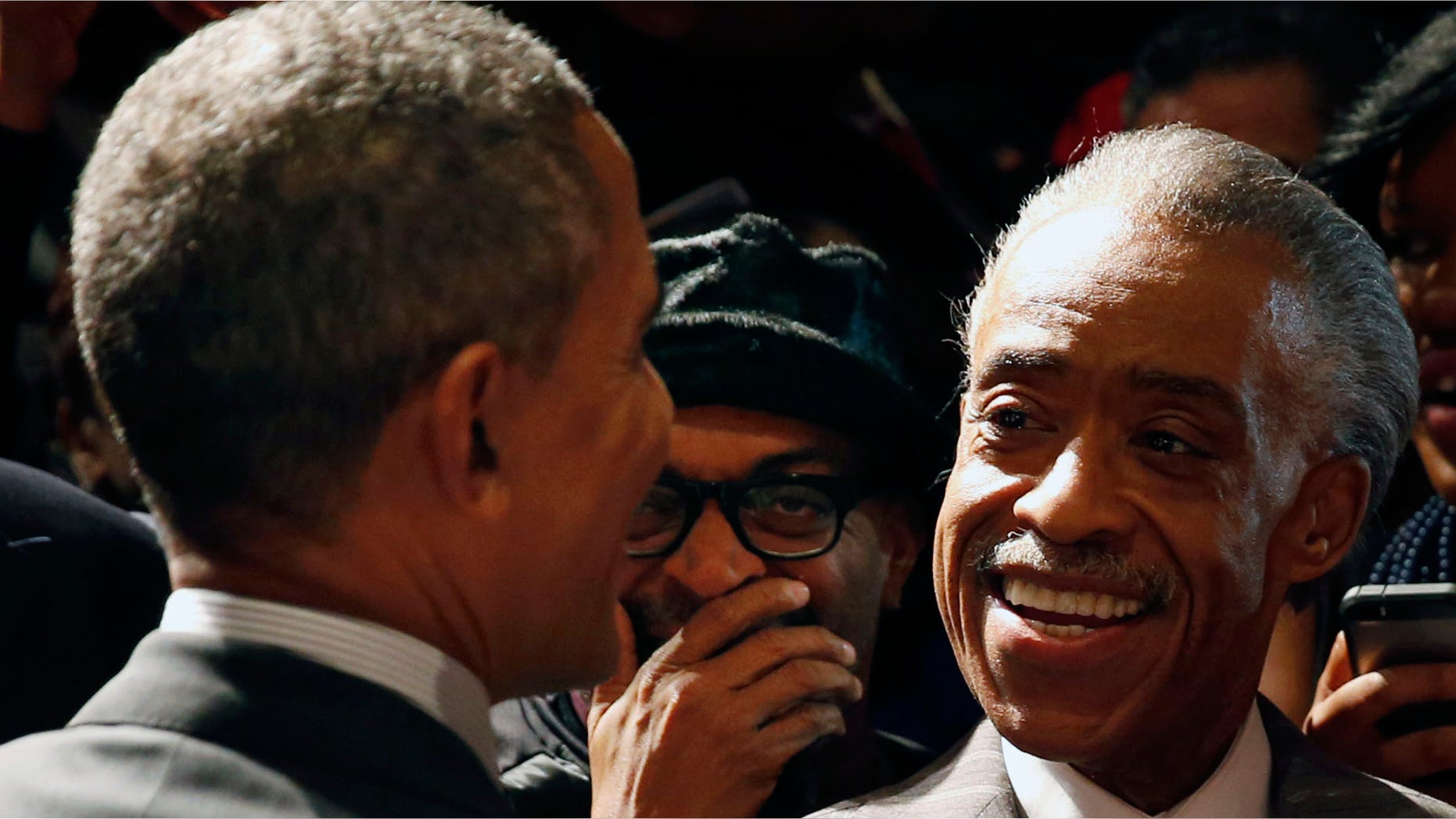 **Want FOX News First in your inbox every day? Sign up here.**
Buzz Cut:
• Can Obama scare supporters to the polls?
• Doctors despair at ObamaCare
• Hillary flies first class with Boeing
• Power Play: Dem struggles extend to Illinois
• Matzoh luck at the checkpoint
CAN OBAMA SCARE SUPPORTERS TO THE POLLS?
MSNBC host Al Sharpton is back at the White House today, this time for a Holy Week prayer breakfast with President Obama and dozens of faith leaders. Sharpton's arrival comes just two days after Obama embraced the controversial activist and former FBI informant at a New York event hosted by the liberal broadcaster. Obama used the Sharpton event to accuse Republicans of trying to reverse the 1965 Voting Rights Act and intentionally suppress black voters with state laws requiring voters to show identification. "The real voter fraud is those that try to deny our rights by making arguments about voter fraud." Obama compared the ID laws to the Jim Crow restrictions of the segregated South and cast himself as a modern-day civil rights leader. It may not wash with most voters, but will it be enough to frighten the Democratic base into action?
[WSJ: "[A blueprint first sketched out by a Yale University law student four years ago], which seized on a mostly ignored provision of the 1965 [Voting Rights] law, has become the government's strategy for challenging states it believes are enacting discriminatory voting laws, including North Carolina and Texas."]
It worked before - While liberals may be enthused that the president is back to attacking Republicans on matters of race, it's not a risk-free path. The administration discovered the dangers of ham-handed outreach last week with a botched effort to alarm the single, female voters on whom Democrats rely. After getting pasted over their pay-equity gambit, though, the Obama Democrats are showing no reticence about applying blunt political force to sensitive topics, this time on race. But as campaign watchers learned in 2012, audacious negativity is not something of which Team Obama is afraid. In fact, the forecast for the coming election is increasingly negative and hostile. Remember, whatever was said about Obama's unprecedentedly negative re-election campaign, it certainly worked.
Top house Dem: GOP animated by racism - Fox News: New York Rep. Steve Israel said Sunday a significant part of the Republican Party is 'animated by racism,' marking the third time in recent days that a leading Democrat has appeared to make race an issue and drawn a sharp response from Republicans… Israel made his comments after Attorney General Eric Holder testified Tuesday before the House Judiciary Committee, then suggested the next day at a forum on civil rights that the past five years in Washington have been marked by 'unprecedented, unwarranted, ugly and divisive adversity.'"
["This strikes me as kinda crybaby stuff from Holder. My sense about this is both Eric Holder and Barack Obama have benefited politically enormously from the fact that they are African American and the first to hold the jobs that they hold." –Brit Hume on "Fox News Sunday with Chris Wallace"]
No Obama generation in politics - NYT: "Unlike John F. Kennedy and Ronald Reagan, who inspired virtual legislatures of politicians and became generational touchstones... [President Obama] has so far had little such influence. That is all the more remarkable considering he came to office tapping into spirit of volunteerism and community service that pollsters say is widespread and intense among young people. Mr. Obama has come to represent that spirit, but he has failed, pollsters say, to transform it into meaningful engagement in the political process. 'If you were to call it an Obama generation, there was a window,' said John Della Volpe, the director of polling at the Institute of Politics at Harvard University. 'That opportunity has been lost.' He said the youth who came of voting age around the time of the 2008 election have since lost interest in electoral politics, and pointed to a survey he conducted last year among 18- to 29-year-olds. Although 70 percent said they considered community service an honorable endeavor, only 35 percent said the same about running for office."
DOCTORS DESPAIR AT OBAMACARE
The Daily Beast: "Unfortunately, things are only getting worse for most doctors, especially those who still accept health insurance. Just processing the insurance forms costs $58 dollars for every patient encounter, according to Dr. Stephen Schimpff, an internist and former CEO of University of Maryland Medical Center who is writing a book about the crisis in primary care. … What worries many doctors, however, is that the Affordable Care Act has codified this broken system into law. While forcing everyone to buy health insurance, [ObamaCare] might have mandated a uniform or streamlined claims procedure that would have gone a long way to improving access to care… Industry leaders are fixated on patient satisfaction, despite the fact that high scores are correlated with worse outcomes and higher costs. Indeed, trying to please whatever patient comes along destroys the integrity of our work. It's a fact that doctors acquiesce to patient demands—for narcotics, x-rays, doctor's notes—despite what survey advocates claim. And now that Medicare payments will be tied to patient satisfaction—this problem will get worse. Doctors need to have the ability to say no. If not, when patients go to see the doctor, they won't actually have a physician—they'll have a hostage."
OBAMACARE STRAINS TAX ENFORCEMENT
Here's one thing that might improve ObamaCare's popularity - AP: "As millions of Americans race to meet Tuesday's tax deadline, their chances of getting audited are lower than they have been in years. Budget cuts and new responsibilities are straining the Internal Revenue Service's ability to police tax returns. This year, the IRS will have fewer agents auditing returns than at any time since at least the 1980s. Taxpayer services are suffering, too, with millions of phone calls to the IRS going unanswered...Last year, the IRS audited less than 1 percent of all returns from individuals, the lowest rate since 2005…The IRS also is implementing large parts of President Obama's health law, including enforcing the mandate that most people get health insurance."
WAIT. WHAT?
"Clearly, the estimate that [the ObamaCare Web site] was ready to go Oct. 1 was just flat-out wrong." – Health Secretary Kathleen Sebelius in an interview with NBC News.
"I don't." – Sebelius in the same interview when asked if she had "any regrets" about her tenure.
My dear friend, whatshername - Breitbart: "…Health and Human Services Secretary Kathleen Sebelius misspelled the name of her successor, Sylvia Burwell, in her final goodbye email to her HHS coworkers… 'As you've no doubt heard by now, in the coming months I will be passing the baton to my friend and colleague, Sylvia Burrell [sic]...I've worked closely with Sylvia in her role as director of OMB…"
["There's no doubt that she was a good choice for OMB. That does not necessarily make her a good choice for HHS." – Sen. Tim Scott, R-SC, on "Fox News Sunday with Chris Wallace" expressing reservations about voting to confirm Sylvia Burwell as the next Health secretary.]
NEVADA RANCH STANDOFF STILL SIMMERS AFTER FEDS BACK DOWN
KVVU:  "[The Bureau of Land Management's] decision to 'conclude' the herding operation by Neil Kornze, the agency's director, was made after a week of protests at the Bunkerville ranch of Cliven Bundy. BLM said Bundy has refused to pay grazing fees for more than a decade, but Bundy has maintained that his family was using the land long before the BLM arrived."
Watch Fox – Fox News Correspondent William LaJeunesse has the latest developments on the standoff.
Reid a no-show, so far - Senate Majority Leader Harry Reid, D-Nev., has remained silent since the Feds fell back. But he may not be able to stay silent forever. Liberal group Americans Against the Tea Party claimed Reid "probably didn't want his name attached to the biggest civilian massacre in US history right before election season. The fact that they were and are classifiable as terrorists, and the fact that Bundy's new kingdom is federal property, seems to have lost out to the power of election season."
WITH YOUR SECOND CUP OF COFFEE...
David Grimm asks "How Smart is that Doggie in the Window?" for Time magazine: "Canines, in some ways, are even smarter than we are. We used them as tools for thousands of years — as hunters, guardians, and herders — but now they use us. When they're bored, we provide toys... And when they can't figure out a problem, they look to us for information. We've become the Internet for dogs…Every species has evolved the skills it needs to survive… The reason dogs seem so smart is because they've evolved to live in our world, to tackle the same social and cognitive problems we have. So, in many ways, when we peer into the mind of a dog, we're really peering into our own."
Got a TIP from the RIGHT or LEFT? Email FoxNewsFirst@FOXNEWS.COM
POLL CHECK
Real Clear Politics Averages
Obama Job Approval: Approve –  42.6 percent//Disapprove – 52.6 percent
Direction of Country: Right Direction – 29.8 percent//Wrong Track – 61.6 percent
Generic Congressional Ballot:  Democrats – 41 percent// Republicans 39.7 percent
HILLARY FLIES FIRST CLASS WITH BOEING
WaPo shares how 2016 Democratic frontrunner Hillary Clinton's cozy relationship with Boeing could be a boost in her campaign's pocket: "On a trip to Moscow early in her tenure as secretary of state, Hillary Rodham Clinton played the role of international saleswoman, pressing Russian government officials to sign a multibillion-dollar deal to buy dozens of aircraft from Boeing… A month later, Clinton was in China, where she jubilantly announced that the aerospace giant would be writing a generous check to help resuscitate floundering U.S. efforts to host a pavilion at the upcoming World's Fair. Boeing, she said, 'has just agreed to double its contribution to $2 million.' Clinton did not point out that, to secure the donation, the State Department had set aside ethics guidelines that first prohibited solicitations of Boeing and then later permitted only a $1 million gift from the company… The November 2009 episode was an indicator of a mutually beneficial relationship between one of the world's major corporations and a potential future president. Clinton functioned as a powerful ally for Boeing's business interests at home and abroad, while Boeing has invested resources in causes beneficial to Clinton's public and political image… In 2010, two months after Boeing won its $3.7 billion Russia deal, the company announced a $900,000 contribution to the William J. Clinton Foundation intended to rebuild schools in earthquake-ravaged Haiti... The company's ties came into play again this month when its in-house lobbyist, former Bill Clinton aide Tim Keating, co-hosted a fundraiser for Ready for Hillary, the super PAC backing her potential presidential run. The Boeing relationship meshed well with efforts by Clinton to expand the State Department's advocacy of U.S. economic interests abroad, part of a broader philosophy that has emphasized partnering government with businesses to solve problems. A potential side benefit for Clinton has been the chance to strengthen ties to the kind of powerful allies in the business community who could assist a possible presidential bid..."
[Hugh Hewitt explains why Hillary Clinton is President Obama's George H.W. Bush. "Bush the Elder won easily in 1988, with 40 states and 426 electoral votes. The third term, but calmer, is a good pitch. To stop a sequel the GOP will have to avoid their Dukakis, the man who seemed different, but who wasn't, in the end, anything except a decent but dull pol from a base state. The GOP will need a nominee with both fire in the belly and brains in abundance; rhetorical ability and an understanding of the world as it is, not as we would wish it to be."]
Meet the Clintons' diet guru - NYT profiles the diet doctor who helps the Clintons get back into fighting trim for the campaign trail. "Nine years ago, on their 30th wedding anniversary, Hillary Rodham Clinton gave her husband a gift she hoped would ensure many more years together: Dr. Mark Hyman. Dr. Hyman was charged with helping the former president after a 2004 quadruple bypass surgery. In the time since, the doctor has become part of the Clintons' circle of friends and advisers, but one with an important difference. The Clintons, after all, have a small army of aides who offer political and policy advice, but not many who can tell a former and potential president to lay off the ranch dressing…As she contemplates another run for the presidency, few topics receive more scrutiny than Mrs. Clinton's health. And as with most female candidates, Mrs. Clinton's personal appearance often emerges as a topic of conversation."
PAUL KNOCKS JEB ON ILLEGALS' 'ACT OF LOVE'
Fox News Latino: "Sen. Rand Paul, [R-Ky.] a potential 2016 presidential contender, took aim at another possible Oval Office candidate – Jeb Bush – over the former Florida governor's recent comments defending undocumented immigrants. In an interview on ABC's 'This Week' that aired Sunday, Paul said that Bush was inarticulate when he described immigrants who come to the United States illegally as committing an 'act of love.' Paul said that those immigrants 'are not bad people' but added the United States 'can't invite the whole world' inside its borders. Paul…says Bush should have kept his focus on controlling the U.S. borders. Bush says the GOP cannot demonize immigrants and should show compassion. He described illegal immigration as an 'act of love' by people trying to provide for their families."
[Reuters breaks down the dynamics for the GOP field in the first in the nation primary state.]
Paul backs off Cheney criticism - Paul also walked back his pre-Senate swipe at former Vice President Dick Cheney. Paul had suggested Cheney's enthusiasm for the invasion of Iraq may have been motivated by seeking profits for his former employer, Halliburton "I don't think Dick Cheney did it out of a malevolence. I think he loves his country as much as I love this country."
PALIN PRAISES HANDEL'S CONSERVATIVE CRED IN AD
Georgia Republican Senate hopeful Karen Handel's first television ad hits airwaves today with a spot featuring former Gov. Sarah Palin, R-Alaska. In the ad, Palin touts Handel's conservative bona fides, "We don't have to be surprised when Karen comes though, doing the things she says she will do." Handel is vying for the GOP nomination to succeed retiring Sen. Saxby Chambliss, R-Ga., in a May 20 primary.
PICK SIX
Republicans are hoping to pick up an additional six seats to gain control of the Senate this November. Which Democrat-held seats will prove to be the most likely flips for the red team? The current consensus among Fox News First readers: Arkansas, Montana, Louisiana, South Dakota, North Carolina and West Virginia.
Share your top six picks. Email them – just your top six, please – to FOXNEWSFIRST@FOXNEWS.COM or tweet @cstirewalt.
POWER PLAY: DEMS STRUGGLES EXTEND TO ILLINOIS
In the latest edition of "Power Play with Chris Stirewalt," Chris talks to Rep. Rodney Davis, R-Ill. Davis won his seat by just over 1,000 votes in 2012 in a state President Obama won handily. The race says a lot about the political atmosphere for other races in the president's home state and around the country. Watch here.
[Ed. note: It seems fitting to share this on the 149th anniversary of the assassination of President Abraham Lincoln. Davis's district includes many Lincoln historical sites in and around Springfield, including Lincoln's Tomb in Oak Ridge Cemetery.]

REPUBLICANS BROADENING MINORITY BASE
Fox News: "A group of Asian Americans is starting a grassroots effort to garner support for the Republican Party and its candidates, saying the GOP most closely aligns with their core values including family, education and entrepreneurship. The group, the Asian Republican Coalition, is co-founded by international investment banker John Ying, who during the 2012 presidential election cycle served on the Republican National Finance Committee… over the past three presidential election cycles, Asians have increasingly voted Democrat:…"
For the ladies - The Republican National Committee is upping its efforts to attract women. RNC Co-Chairwoman Sharon Day and Rep. Shelly Moore Capito, R-WV, launch a new GOP strategy, "14 in '14," today to recruit women under the age of 40 to spread the conservative message in the final 14 weeks before the November elections.
GREEN GROUPS TEAM UP FOR CAMPAIGN SPENDING 
WaPo: "Two major environmental groups will announce Monday that they are creating an alliance between their two political action arms, in an effort to expand their influence on national policymakers. The League of Conservation Voters and the National Resources Defense Council Action Fund are starting LeadingGreen, a collaboration that will steer donations to federal candidates and enlist the help of major donors in lobbying elected officials."
POLITBURO CHIC
The Week: "White House Press Secretary Jay Carney and his family are featured in a worshipful profile in this month's Washingtonian magazine. It's the sort of adoring journalistic exercise reserved for only the most handsome of the power elite… But keen observers may notice the kitchen decor in the photo: Soviet propaganda posters. They really are the perfect pop of color whether you are the dour and sincere Nikita Khrushchev or the cheeky press-wrangler for a president who is constantly accused of being a socialist himself."
[Daily Mail: "The photograph shows Carney and Shipman standing in front of a briefing podium, miming the routine of a press conference by taking questions from their enthusiastic children. The bookshelf is situated behind them. A dozen or more cut-and-paste operations later, 12-year-old Hugo Carney's left pinky finger wound up halfway across the room, left behind when a book jacket was cloned."]
MATZOH LUCK AT THE CHECKPOINT
With the beginning of the Jewish holiday of Passover at sundown tonight, observant Jews are racing the clock to be with their families for start of the High Holiday. But those flying to get there they needn't worry about cracked crackers. The Transportation Security Agency says it is "aware" that matzoh, the un-leavened, and frankly bland, "bread of haste" is fragile. If you're Seder-bound, you can take solace from this TSA Travel Advisory: "Some travelers will be carrying boxes of matzoh, which are consumed as part of the Passover ritual. Matzoh can be machine or handmade and are typically very thin and fragile, and break easily. Passengers traveling with religious items, including handmade matzoh, may request a hand inspection by the TSO of the items at the security checkpoint." Just don't try telling them that your extra carry-on bag is for Elijah, the unseen prophet.
Chris Stirewalt is digital politics editor for Fox News. Want FOX News First in your inbox every day? Sign up here.