Can ex-Playboy model Karen McDougal talk about alleged affair with Trump? A look at her recent settlement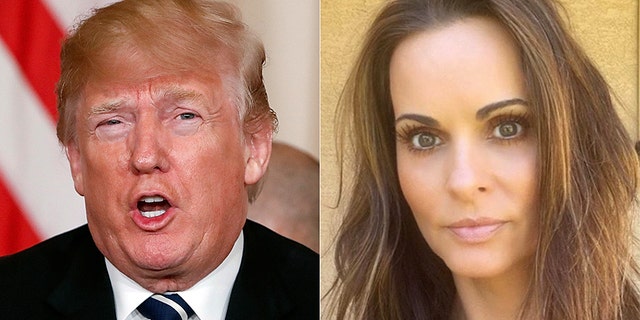 NEWYou can now listen to Fox News articles!
A former Playboy model who said she had an affair with President Trump more than a decade ago has settled a lawsuit with a tabloid company that previously paid her for the rights to the story.
Karen McDougal settled with American Media Inc. (AMI), the parent company of supermarket tabloid the National Enquirer, after filing a lawsuit in March. In the suit, she asked for her contract with AMI to be invalidated, claiming she was misled into signing the agreement.
McDougal claimed she had an affair with President Trump in 2006 that lasted nearly a year. In her suit, McDougal said AMI ultimately did not publish her story because its owner, David Pecker, is "close personal friends" with Trump. She also said Trump's attorney, Michael Cohen, had inappropriately intervened in the deal.
The president has denied the affair with the former Playmate, according to the White House. McDougal's lawyers say they are prepared to sue Trump if he calls her a liar, Politico reported.
Here's what McDougal can do under the terms of the settlement.
She's free to tell her story
"My goal from the beginning was to restore my rights and not to achieve any financial gain, and this settlement does exactly that," McDougal said in a statement. "I am relieved to be able to tell the truth about my story when asked, and I look forward to being able to return to my private life and focus on what matters to me."
AMI argued that McDougal already had the rights to speak about the relationship. The contract, it said, gave the company discretion over whether to publish the story.
McDougal already discussed what she called a "consensual, loving relationship" with Trump in an interview with CNN in March. She said she saw Trump "many dozens of times" in a 10-month period starting in 2006, and their relationship was intimate.
Trump married first lady Melania in 2005. Their son Barron was born a year later.
She can keep the money
The tabloid paid McDougal $150,000 for her story, which never ran, in August 2016.
Under the settlement agreement, McDougal can keep the full amount she was paid, but AMI has the rights of up to $75,000 for any future profits from her story about the alleged relationship. The company also retains the rights to photographs of McDougal that it says it already has, according to the settlement.
She will be a published author
Under the agreement, McDougal will be featured on the cover of Men's Journal in September 2018, AMI said in a statement. A feature length article in that magazine will also be dedicated to McDougal, AMI said.
Additionally, AMI will publish at least five of McDougal's fitness columns.
The settlement also granted AMI the ability to publish any articles about McDougal "in the normal course of its journalism," AMI said.
She could sue in the future
While the settlement says McDougal and her associates cannot sue AMI, it allows for her to still have claims against Cohen or Keith Davidson, her lawyer who negotiated the deal with AMI, The New York Times reported.
Fox News' Matt Richardson and The Associated Press contributed to this report.