Campaign Rivals Accuse Reid of Using Immigration Push to Help Senate Bid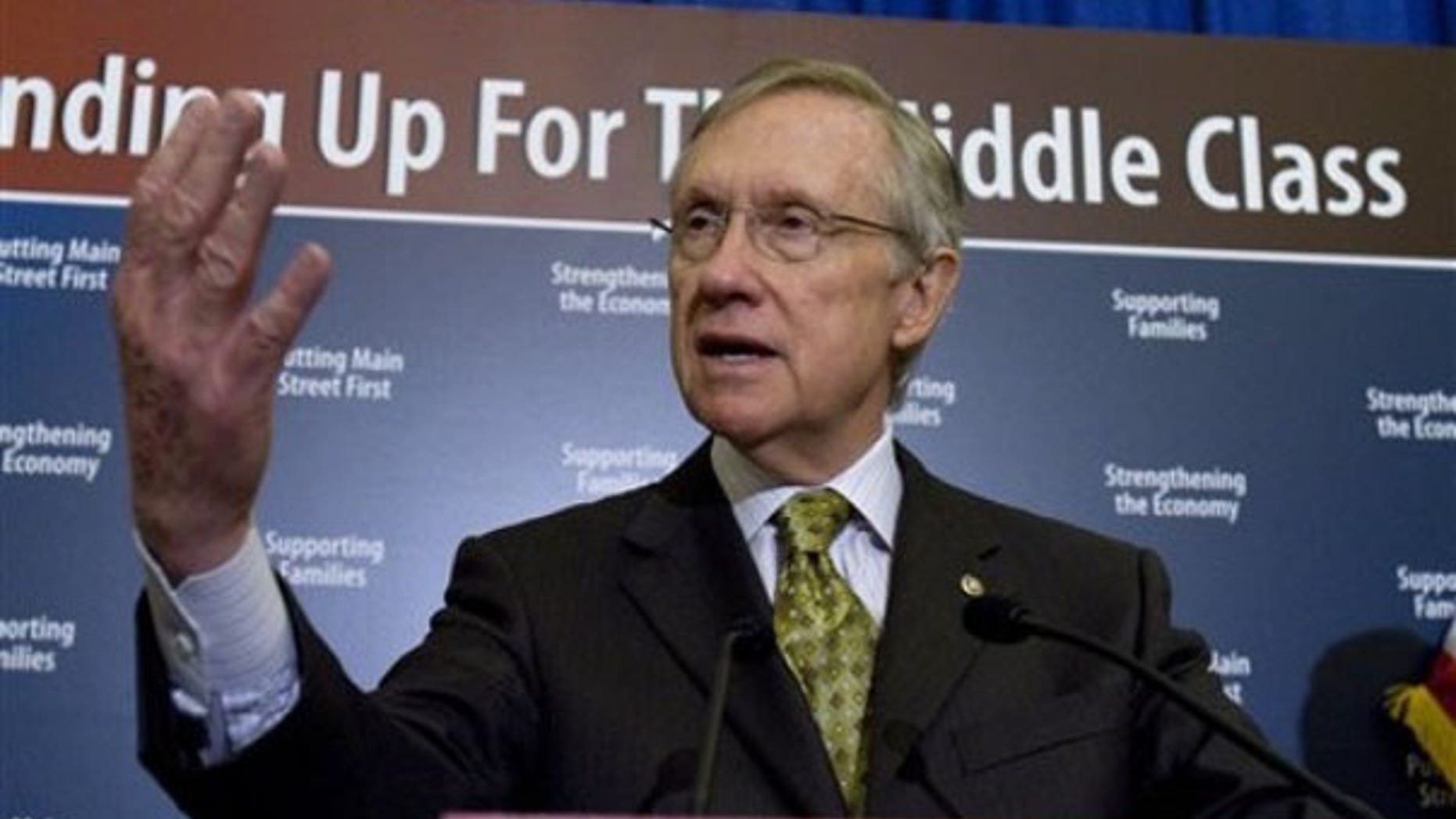 Harry Reid's campaign rivals are accusing the Senate majority leader of pivoting toward immigration legislation in Washington in order to save his political hide back home in Nevada.
All three of Reid's top Republican challengers accused him on Monday of having an ulterior political motive in pulling immigration to the front-burner. With polls showing the Nevada Democrat trailing in his race for re-election this November, challengers said Reid is trying to shore up his Latino voter base -- while dragging all of Washington along with him.
"He's seeing that his voting base is waning and he's getting desperate to try to do something and turn it around," Danny Tarkanian, a former college basketball star and local businessman vying for the GOP nomination, told FoxNews.com.
The accusations come on top of concerns from several congressional Republicans who have questioned the timing of Reid's move to tackle immigration while Congress simultaneously pushes a Wall Street regulation bill and figures out what to do with a major climate bill.
Though violence is raging along the U.S.-Mexico border, and the tough-on-immigrants law passed last week in Arizona has led Democrats to call for Congress to act on the issue, Reid's political opponents say his push for a federal overhaul is firmly rooted in local politics.
"His thinking is that if he offers amnesty, somehow that will ingratiate him with the populace here in Nevada," said Sharron Angle, a former Nevada state assemblywoman who also is seeking the Republican nomination to face Reid in the November. "For Reid, it's always about Reid. ... He's always working toward his next election."
Reid's campaign rejected the charges, saying the senator's commitment to securing the border and bringing illegal immigrants "out of the shadows" is "nothing new." The campaign described Reid's work on immigration reform as something that has spanned administrations -- not popped up in the middle of the election season.
"No senator has worked harder both with current and previous administrations to strengthen our immigration laws and ensure that earned legal status means going to the back of the line, paying a fine and learning English," the campaign said in a statement to FoxNews.com. "Instead of playing political games to shore up the Republican primary vote, the GOP Senate field should help Senator Reid fix our broken system that is undermining both our national and economic security."
Right now, Reid's re-election prospects aren't looking so good. The latest Las Vegas Review-Journal poll, conducted by Mason-Dixon, showed GOP frontrunner Sue Lowden leading Reid by 10 points, 47 percent to 37 percent, in a hypothetical match-up.
Nevada's Latino base is nothing to dismiss -- Latinos make up 25 percent of the state's population -- but voters in the state are split on the idea of legislation that would give illegal immigrants a path to citizenship. A separate Review-Journal poll conducted April 13-14 found more people oppose the idea than support it.
It's not clear how hard Democratic leaders will push for an immigration bill this year. Movement on the issue has taken place more in the forums of rallies and Sunday talk shows than it has in back-door meetings on Capitol Hill. Senior Senate Democratic leadership aides told Fox News that leaders are months away from making substantive progress on the issue, despite the public bluster.
But the bluster sounds convincing.
Reid first shifted public attention away from health care and financial regulation during a rally in Las Vegas two weeks ago when he said Congress would "do immigration reform just like we did health care reform" and pledged to tackle it this year.
The issue rose in prominence as President Obama started calling Republican lawmakers to discuss the topic and other Democrats started using the Arizona law as a rallying cry for federal action.
The sudden push led to a political standoff over the weekend, as Sen. Lindsey Graham, R-S.C., a key GOP supporter in the push for climate change legislation, threatened to walk away from the energy bill if Congress tackles immigration first.
In a letter to Senate leaders, he called the move a "phony, political effort on immigration" and said it "demonstrates the raw political calculations at work here."
A spokeswoman for Lowden, the former Nevada Republican Party chairwoman who polls show leading the GOP primary pack against Reid, echoed that statement.
"Harry Reid has put immigration reform on the backburner for years, only choosing to address the subject during an election year when his re-election is in grave jeopardy," spokeswoman Crystal Feldman said in an e-mail to FoxNews.com, calling the timing "suspicious."
But Reid and other Democrats say Congress can handle more than one big issue at once. In a statement Saturday responding to Graham, Reid said immigration and energy legislation are "vital" to the country's economy and national security.
"(The American people) expect us to do both, and they will not accept the notion that trying to act on one is an excuse for not acting on the other," he said.