Campaign attacks follow Romney, Gingrich into last debate before Florida primary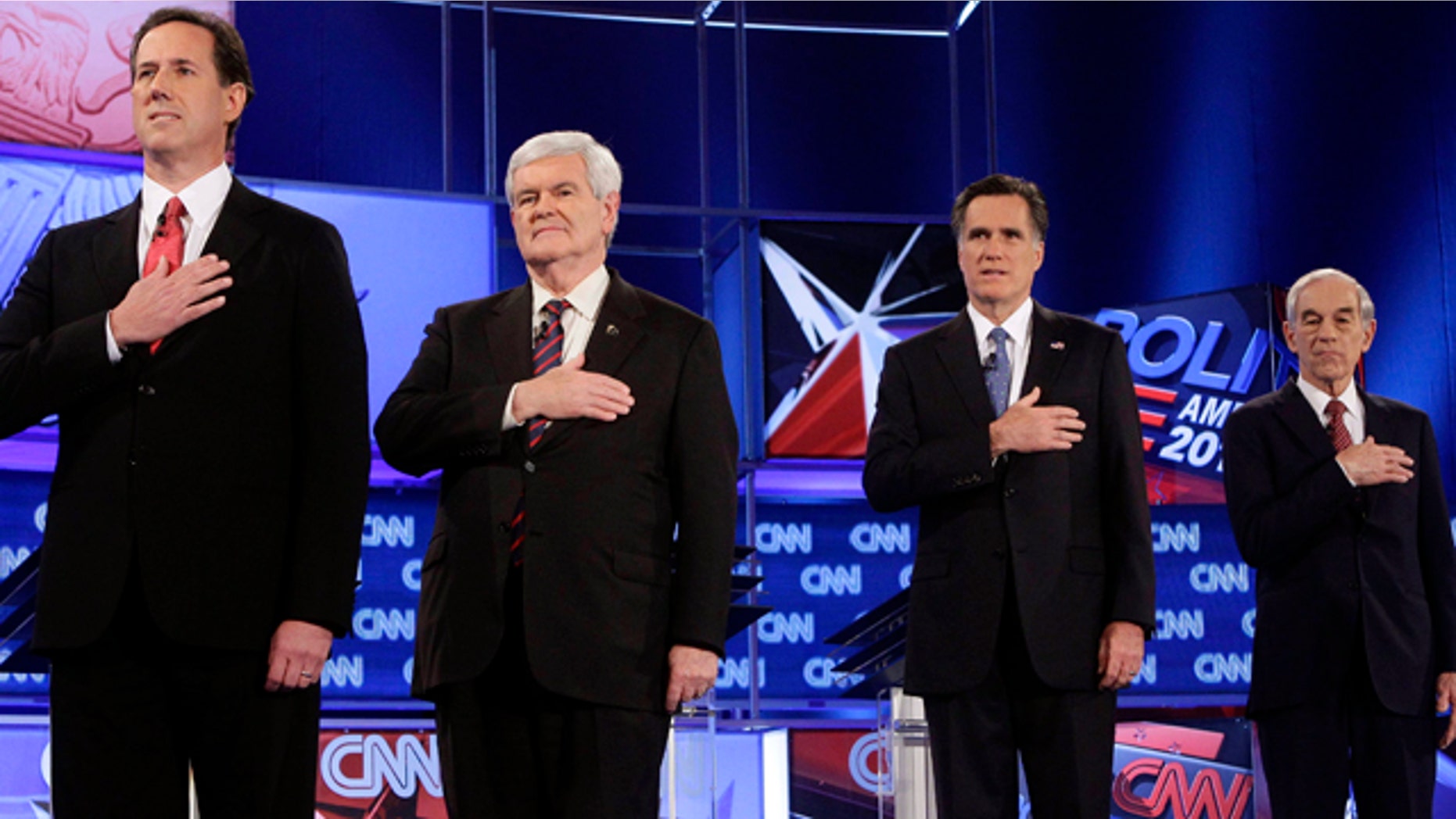 JACKSONVILLE, Fla. – Mitt Romney, armed with a string of polished comebacks, aggressively sparred with Newt Gingrich on Thursday in the last debate before the Florida primary as he tried to puncture his opponent's criticism on key issues – including Romney's immigration stance and personal wealth.
Romney called Gingrich's criticism over-the-top and "repulsive."
The former House speaker mostly kept his cool on the debate stage in Jacksonville, as he was pressed repeatedly to engage Romney. Still, Gingrich stood by a claim that Romney is the most anti-immigrant candidate in the race. And, perhaps trying to reprise the blockbuster moment from last week's debate, Gingrich at one point accused the moderator of focusing on "nonsense" issues.
Opinion polls indicate the race is close, with two other contenders, former Sen. Rick Santorum of Pennsylvania and Texas Rep. Ron Paul, trailing far behind.
While the clashes between Gingrich and Romney dominated the debate, Santorum drew applause from the audience when he called on the two front-runners to stop attacking one another and "focus on the issues."
"Can we set aside that Newt was a member of Congress ... and that Mitt Romney is a wealthy guy?" he said in a tone of exasperation.
Romney tore into Gingrich early over an ad his campaign pulled following objections from Florida Sen. Marco Rubio. The ad called Romney the "most anti-immigrant candidate."
Gingrich suggested he ran the ad because Romney had criticized his plan to let some illegal immigrants with deep ties to their community stay – he described it as a way to prevent the deportation of grandmothers and grandfathers. Asked if he still thinks Romney is most anti-immigrant, Gingrich said: "I think of the four of us, yes."
Romney fired back, "That's simply inexcusable. That's inexcusable."
"I'm not anti-immigrant. My father was born in Mexico. My wife's father was born in Wales," he said. "The idea that I'm anti-immigrant is repulsive. Don't use a term like that."
He then said Gingrich should "apologize," and that a difference of opinion "does not justify labeling people with highly charged epithets." He clarified he doesn't want to round up grandparents and deport them.
Gingrich then suggested Romney was coming around to his immigration plan after previously criticizing it.
Romney said: "Our problem is not 11 million grandmothers."
Gingrich appeared to avoid a clash Thursday night over a string of articles and columns in the media that have questioned his relationship with the late President Reagan – a figure Gingrich repeatedly has invoked on the campaign trail.
"It's increasingly interesting to watch the Romney attack machine coordinate things," Gingrich said, referencing all the articles that have popped up. He argued he is "vastly closer" to Reagan than Romney and cited an endorsement from Reagan's son Michael.
Romney, though, did not try to claim the Reagan mantle, and acknowledged he was "looking at politics from afar" while Reagan was president.
But a major clash of the night came over how each of the two candidates has made his money.
Gingrich initially brushed off an attempt by the CNN moderator to address whether Romney has been transparent about his financial records.
"This is a nonsense question," he said. Though Gingrich had pressed the Romney campaign to release the candidate's tax returns and this week said Romney lives in a world of "Swiss bank accounts and Cayman Island accounts," Gingrich said he was happy to say those things in TV interviews – as opposed to national debates.
Romney chimed in. "Wouldn't it be nice if people didn't make accusations somewhere else that they weren't willing to defend here?" he said.
Gingrich acknowledged he thought it was "unusual" that Romney used to have money in a Swiss bank account, after which Romney suggested Gingrich was trying to imply there was something wrong with his success.
"You've indicated that somehow I don't earn that money. I have earned the money that I have. I didn't inherit it," he said. "I'm proud of being successful."
They also traded barbs over their income from mortgage firms Fannie Mae and Freddie Mac.
Gingrich criticized Romney's investment in mutual funds that included the lenders, as well as Wall Street giant Goldman Sachs. Gingrich said Romney is profiting from home foreclosures that plague Florida, and asked how much of Romney's personal fortune came from those foreclosures.
But Romney defended the investments, saying his blind trust handles his finances, and he criticized Gingrich for his paychecks as a consultant to the lender that some blame for the housing crisis.
"We should have had a whistleblower, and not a horn tooter," Romney said.
And he said Gingrich himself owns mutual funds that also invest in the quasi-government lenders.
Gingrich responded that comparing their investments is "like comparing a tiny mouse with a giant elephant."
Santorum later got in a heated debate with Romney over the former governor's health care overhaul in Massachusetts which contained an individual requirement to purchase health insurance – like the federal health care overhaul Romney opposes.
And Ron Paul, who is 76, challenged the moderator when he was asked whether he'd release his medical records.
"There are laws against age discrimination, so if you push this too much, you'd better be careful," Paul said – though he indicated a willingness to release the records.
The Associated Press contributed to this report.