California Republican eyeing governorship hit for hard-line illegal immigration stance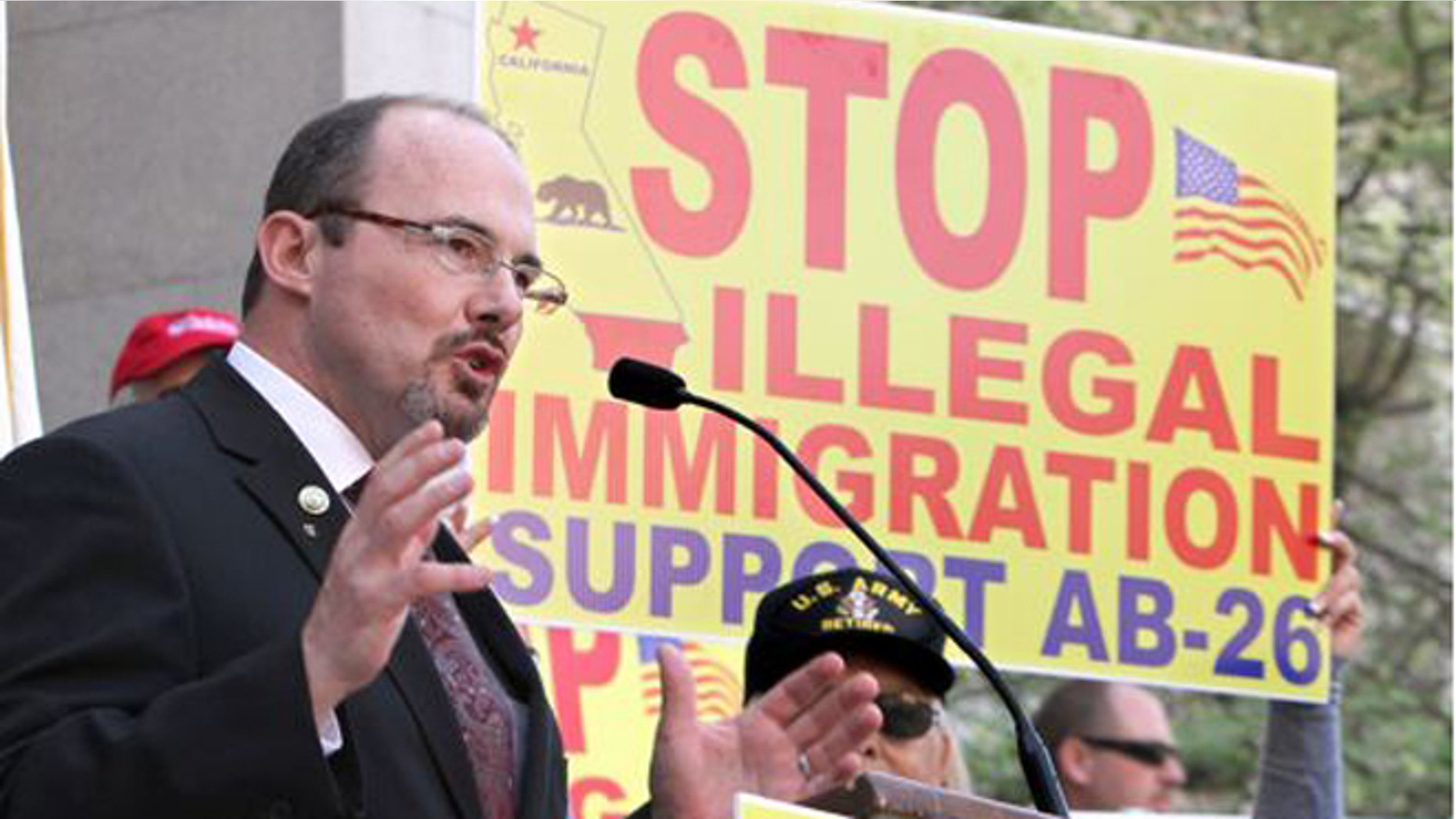 A California Republican with strong views about illegal immigration is facing party backlash after expressing interest in running for governor in 2014 – a sign the party is committed to its post-election pledge to connect with Hispanic voters.
State legislator Tim Donnelly -- a former member of the Minutemen Project that tried to stop illegal immigration  – announced shortly after Election Day that he was forming an exploratory committee for a potential run.
Donnelly's announcement was followed last week by a statement of non-support from the president of the influential Lincoln Club of Orange County.
"Donnelly's views on immigration do not represent the views of the (club), nor do I believe he represents the views of most Republicans or Californians," president Robert Loewen wrote. "We cannot support Republicans who continually target immigrants, who are members of our community, as scapegoats for their own political advantage."
Donnelly was elected to the State Assembly in 2010 and is the first Republican known to express interest in a 2014 California gubernatorial run.  The Tea Party-backed lawmaker told the conservative political website Politichicks.tv that he was running because "there's just nobody out there" fighting for Californians, including many "fleeing for a better life" because of bad economic conditions.
Republicans in Washington and elsewhere in the country said publicly after the Nov. 6 election that the party needs to connect better with Hispanics – considering President Obama won roughly 71 percent of their vote, compared to about 27 percent for Mitt Romney.
But the realization was especially glaring in Orange County – once a conservative stronghold.
Republicans now account for just 41 percent of registered voters in that Southern California county, compared to the mid-1990s when the number was 52 percent. A major reason is changing demographics – with voting districts in and around the county seat of Santa Ana, for example, now largely Hispanic.
Scott Baugh, chairman of the county's Republican Party, said afterward that Hispanics belong naturally in the GOP because of their shared values for faith, family, education and hard work. Baugh also said the party can win over Hispanic votes in large part by leading the way in comprehensive immigration reform.
Donnelly, who represents the San Bernardino area, remains a controversial figure, despite no longer being a member of the Minutemen.
In March, he pleaded no contest to a misdemeanor charge of bringing a loaded pistol to an airport earlier this year. Donnelly said he made an "honest mistake," forgetting to remove the gun from his briefcase.
The Minutemen Project was essentially a group of volunteers monitoring the U.S.-Mexico border that gained national attention in the early part of the decade.
"We as conservative Republicans call upon members of our party in Congress to support real reforms to our antiquated immigration laws," Loewen wrote, as reported first by Politico. "That includes creating a 21st-century, market-based, temporary-worker system that pairs labor with businesses needs and gives both future immigrants and those illegal immigrants who are already here an opportunity to gain legal status."
The 50-year-old group of business men and women supports candidates and causes to limit the size of government.