California Prison Crisis Lands at the Supreme Court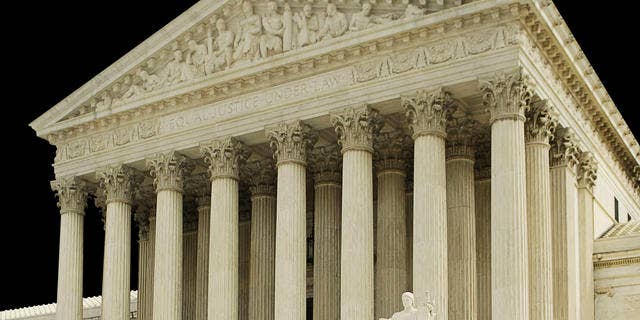 For two decades, the issue of prison overcrowding in California has been building to a boiling point. The dispute over who has the authority to dictate a solution landed at the Supreme Court on Tuesday. Though California officials have undertaken efforts to reduce overcrowding, all sides admit there is still much to be done. The question now becomes: will federal authorities be allowed to step in and force California to take specific actions?
A group of inmates is waging a legal battle, arguing that the Eighth Amendment's ban on cruel and unusual punishment is violated on a daily basis because of the lack of adequate medical care and facilities. By their estimation, every eight days an inmate dies for lack of proper medical attention.
Referencing the photographs and evidence he has seen regarding the current situation, Justice Stephen Breyer today called the conditions "horrendous."
Donald Specter, attorney for the inmates, says prisoners are "dying, committing suicide, spending time in feces-smeared cells because there's no room for them in other areas."
Following years of legal wrangling, a three-judge federal court issued an order (currently on hold until the Justices render an opinion) aimed at significantly cutting the number of incarcerated inmates within a two-year period. California says it cannot safely release the suggested 40,000-plus inmates within that time frame.
When asked today what the numbers show about recidivism rates among criminals released from California prisons, Specter admitted that it runs at 70 percent "within the first three years." That prompted Justice Samuel Alito to comment, "If I were a citizen of California, I would be concerned."
Attorney Carter Phillips, arguing on behalf of the State of California, says great progress has been made in efforts to reduce the state's prison population without simply turning random prisoners loose. One method involves providing increased "good time credits" for positive behavior. Other options include diverting probation violators away from actual time behind bars.
In addition, Phillips says "significant construction" on expanded prison facilities has gotten underway over the last couple of years. That seemed to be Justice Alito's preferred solution to the overcrowding issue. During Tuesday's arguments, Alito asked, "Why order the release of all those people, rather than ordering the provision of the construction of facilities for medical care, facilities to treat mental illness?"
Alito went on to question the logic of reducing the prison population, while not addressing the underlying issue of inadequate medical facilities.
But, Justice Alito may be in the minority. At least five of the Justices expressed deep concerns about the current situation, as California prisons reportedly hover at 195% of intended capacity.
California continues to argue that federal judges have no right to step in as the state works toward finding its own solutions.
Justice Ruth Bader Ginsburg, noting the long history of this legal battle and the suffering that has gone on as it has played out, asking, "How much longer do we have to wait - another 20 years?"
A decision from the Supreme Court is expected in early 2011.